Faith leaders united in prayer for Christchurch victims
Christian, Muslim, Jewish and other faith leaders united in prayer yesterday, along with thousands of SEQ locals, at a service at the Islamic College of Brisbane for victims of Friday's Christchurch mosque attacks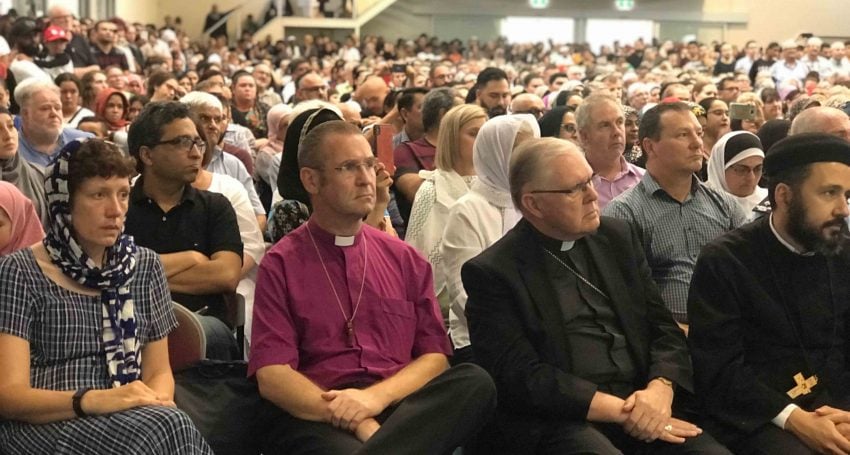 Christian, Muslim, Jewish and other faith leaders united in prayer yesterday, along with over 6,000 community members, at a prayer service at the Islamic College of Brisbane for the Christchurch mosque attack victims, their families, and the New Zealand and Australian Muslim communities.
Bishop for the Southern Region The Right Rev'd John Roundhill attended the service, along with his wife Frances Thompson and local Anglican clergy, parishioners and staff.
Bishop Roundhill said that he was filled with hope by the large number of attendees who came together to pray at the school, with two large halls packed with people and hundreds more spilling out onto the pavement.
"As inspiring as the speeches and the haka honouring those who have passed were, the highlight of the service was the sheer number of people prayerfully present," Bishop Roundhill said.
A number of high-profile political and community leaders spoke, including the Queensland Premier, the Lord Mayor of Brisbane, the Commissioner of the Queensland Police Service, the Islamic Council of Queensland President Habib Jamal, the President of the Queensland Council of Imams Uzair Akbar and Jagera elder Uncle Sam Watson.
Premier Annastacia Palaszczuk told attendees that Queensland was proud of its multicultural and multi-faith community.
"We gather today, friends, in sorrow, but we gather and stand united," Ms Palaszczuk said.
"We will not give in to the hatred that was behind this atrocity."
After the speeches, a haka was performed to honour those who died, and Amazing Grace sung in Maori.
Bishop Roundhill then joined other faith leaders on the stage in prayer, which was led by Imam Uzair Akbar.
Imam Akbar said that the gathering of faith leaders on the stage, prayerfully united, was the most moving part of the service for him, in a time when Muslims are often vilified.
"It is a common trend in modern times to blame a whole religion for the actions of a small minority of people," Imam Akbar said.
"So, as people of faith who uphold and preach human values, we should ensure that our voices are stronger and nothing can be stronger than standing by those who are of a different faith.
"There were many great things about today's prayer service, but if you were to ask me which was the highlight, it was when we were as one on stage praying for peace."
Interfaith Chair for the Jewish Board of Deputies Gail Paratz said that she was moved by the prayerful show of solidarity by the tight-knit local interfaith community, which supported her Jewish community last year following an attack on a United States synagogue, and the powerful show of support from South East Queensland Maoris.
"The interfaith community in Queensland has a sincere and meaningful relationship, a friendship that has developed over at least 15 years – we are family," Ms Paratz said.
"When an evil act is perpetrated on one of our family, we gather together to give help and support and to show that 'we are one'.
"Last year, in Pittsburgh USA, when mainly elderly members of The Tree of Life synagogue were murdered by a lone gunman as they worshipped in their synagogue, our brothers and sisters in the interfaith community supported each other in our Jewish time of great sadness.
"The highlights of the prayer vigil were the strong shows of support for our Muslim friends by thousands of people from diverse backgrounds and from the various faith leaders representing their communities.
"The Maori haka followed by their beautiful singing of a Christian hymn in Maori language were powerful and brought tears to the eyes of us in the audience."
During the emotional prayer service, Islamic leaders pleaded for immediate action and community support to address increasing hatred against Muslims.
Islamic Council of Queensland President Habib Jamal told of local Muslims living in constant fear for their safety, women whose hijabs had been pulled off in public and Muslims spat upon, insulted and physically attacked.
Bishop Roundhill said that as the grave effects of the Friday mosque attacks unfold, local Christians need to consider their role as peacemakers, especially in the wake of the alleged ramming of a car by a 23-year-old Browns Plains man into the gates of the Baitul Masroor Mosque on Saturday and a number of reported verbal and physical attacks on Muslim women over the weekend in Brisbane suburbs.
"The horror of the massacre is still unfolding, with 50 dead and more than 35 people in hospital – all those people killed and injured by one man armed with semi-automatic weapons, walking unopposed into a mosque during Friday prayers," he said.
"In the coming weeks we will have to do some reckoning on how an average Aussie becomes an outright terrorist – that is not going to be easy for us as a country.
"We need to talk when a Queensland Senator states that 'The real cause of bloodshed on New Zealand streets today is the immigration program which allowed Muslim fanatics to migrate to New Zealand in the first place,' and then quotes Matthew 26:52 to reinforce his point.
"As Christian theologian Dietrich Bonhoeffer said in the context of the rise of Fascism: 'Silence in the face of evil is itself evil: God will not hold us guiltless. Not to speak is to speak. Not to act is to act.'
"That is why we need to talk."
Jump to next article