New innovative learning space for Cannon Hill Anglican College
Cannon Hill Anglican College (CHAC) recently launched a new phase of development, officially commencing the construction of a new contemporary learning and student precinct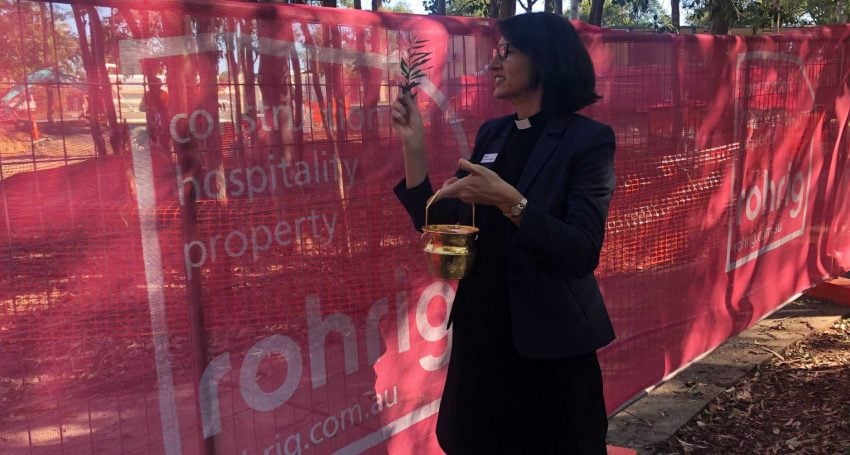 Cannon Hill Anglican College (CHAC) recently launched a new phase of development, officially commencing the construction of a new contemporary learning and student precinct.
Architecturally designed, the new double storey building will house six new teaching and learning spaces, breakout spaces, an outdoor deck, locker bays, student amenities, contemporary kitchen and a new food and beverage precinct for students.
The construction of the new facility was officially launched by the Chair of the College Council, Dr Gavin Nicholson, and the College Principal, Mr Gary O'Brien, by breaking the ground at the construction site.
Gavin Nicholson said that the design of the precinct kept student collegiality and solidarity at the forefront.
"Our College is continually looking to provide facilities that will take our students into the future," Dr Nicholson said.
"The innovative design of this new building encourages collaborative learning and provides social opportunities to fostering our spirit of collaboration and co-operation.
"It is this community spirit that grounds our students, gives them self-confidence, fosters tolerance, and prepares them to actively contribute to the society of the future."
The new building's design is sympathetic to the local environment and will feature colours and textures that enhance its natural surroundings.
The Rev'd Canon Sarah Leisemann carried out a special dedication at the ceremony.
Year 10 student Juliet Munro said that she is especially looking forward to seeing students' ideas flourish even more when the new precinct opens.
"I am so grateful to CHAC for breaking down the boundaries of normal school learning and creating a space where I can learn surrounded by my peers, mentors and the beautiful environment," Miss Munro said.
"I believe the new precinct will be greatly enriching to my studies, as it will be an open, stimulating learning space where the best ideas will be nurtured and given the opportunity to flourish."
CHAC is one of Brisbane's leading independent schools, and the development of the contemporary, flexible learning spaces highlights the College's commitment to developing work- and world-ready individuals.
Blueline Architecture and Rohrig Construction have been engaged by the College to transform this section of the campus.
Construction is expected to be completed by April 2020.
Development timeline – 2019/2020 (subject to change):
June/July – demolish current D Block
July – Construction launch
August – building works begin
January – half-way point of building works
March/April – completion and opening
Jump to next article