Season of Creation
Bishop John Roundhill reflects on what his coal-mining father would think about climate change and the current state of the Earth: "I suspect my father would be applauding 16-year-old Swedish climate justice activist Greta Thunberg as she sails across the Atlantic on a high-tech, wind-powered yacht to tell the truth to powerful world leaders at the UN Climate Change Summit…"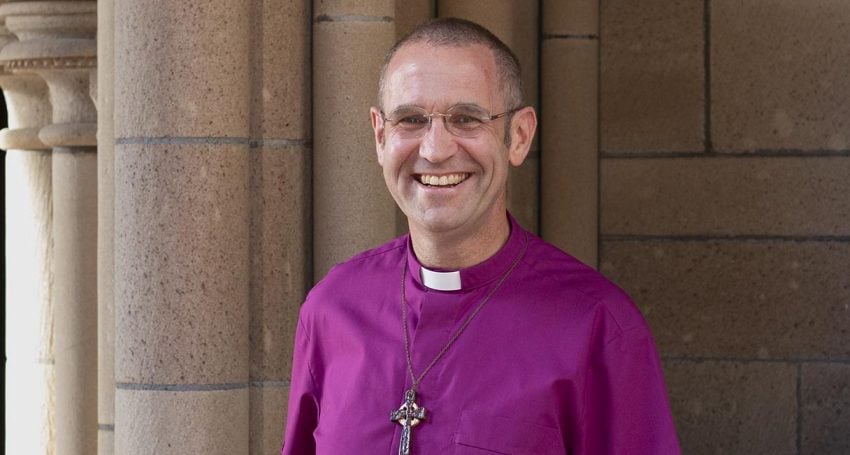 "The Lord God took the man and put him in the garden of Eden to till it and keep it." (Genesis 2.15)
In the second account of creation in the book of Genesis, the first thing that God anticipates of humanity is that the garden of Eden is tilled and cared for. Lately, humanity has fallen very short at caring for our earthly Eden. As records are broken around the world for the hottest, wettest, driest, and so on, it is often hard to know what caring for our shared home looks like and what we should be advocating for.
What is God asking of us? Is a 'keep cup' a good thing and is there much point taking it with me when I fly down to Sydney or Melbourne for a daylong meeting?
One of the Marks of Mission that is shared across the Anglican Communion is: "To strive to safeguard the integrity of creation and sustain and renew the life of the earth."
Yet even though we might agree with and support all of the Marks of Mission, it can be hard to know where to start. It can be difficult to take what we know in our heads and turn it into action. We are at times left paralysed and not knowing what to do as a result.
My father was a coal miner in Betteshanger Colliery and so was his father and his father. I grew up in a house where we would gather around a coal fire most nights of the year. I was used to dealing with the accumulated ashes on a Saturday morning and, like my mother, I was rather skilled at breathing a fire back to life from the glowing embers in the morning. Periodically, my father would take us down to the town of Deal in Kent so we could visit his old home, a tiny pit village house, just like the one next to it and the one next to that. Coal mining has now largely disappeared in the UK and so have the coal-mining communities and the tiny homes.
Yet I suspect my father would be applauding 16-year-old Swedish climate justice activist Greta Thunberg as she sails across the Atlantic on a high-tech, wind-powered yacht to tell the truth to powerful world leaders at the UN Climate Action Summit in New York during September. As he applauds her, I bet he would be tracking her journey and shocked at how serious the current situation is for the Earth, and consequently for us.
Fundamentally this Earth is not ours to exploit and despoil. Yet for years we have treated the Earth as a plentiful, never-ending resource. Monday 29 July was 'Earth Overshoot Day', marking the day when humanity's demands for ecological resources, including fish, forests, air, and fresh water, exceeded what the Earth can renew in a year. In economic terms, we are operating in deficit for the rest of the year.
In the time since my great-grandfather was born the number of humans on the earth has increased from just over 1.2 billion to 7.7 billion, a six-fold increase. We can see this population boom as a spectacular success of the gains made in fields like medicine and education, but it has introduced huge strains on our natural world.
The need for action by all of us is more apparent than ever. This will involve lifestyle changes. Yet piecing together what this new 'greener' life might look like is tough, and leave us stuck not knowing where to start.
This September we enter the Season of Creation – a chance for churches, both in teaching and in liturgy, to reflect the giftedness of this Earth and our duty to care for it.
Many of us have been drenched with statistics, forecasts and images that we do not quite understand, leaving our behaviours largely unchanged. Something more might be needed to help us take up the challenge that is before us. If we are not sufficiently moved by the Intergovernmental Panel on Climate Change (IPCC) warning us that we have only 12 years to limit climate change catastrophe, or by images of melting polar ice caps, might the power of well-crafted Anglican liturgy move us? Might we through worship put the pieces together not just in our heads, but in our hearts?
These are not just questions I am asking of you, this Bishop needs to be moved, too. I, too, need to do what I can to care for this Earthy Eden.
Resources for the Season of Creation can be found here and here.
Key September Season of Creation dates:
Sunday 1 September – Season of Creation launch: St John's Anglican Cathedral, at Evensong, Catholic Bishop of Fiji is the guest speaker. See Facebook for more information.
Sunday 1 to Sunday 15 September – Queensland Churches Environmental Network Season of Creation photography/art display: St John's Anglican Cathedral. See Facebook for more information.
Monday 9 September 12.30pm to 1.15pm – Precinct Lunch and Living the Change presentation: St John's Anglican Cathedral Courtyard. See Facebook for more information.
Wednesday 18 September 6pm to 9pm – 2040 film and discussion night: St John's Anglican Cathedral. See Facebook for more information.
Jump to next article