What is it like to experience homelessness while on Newstart?
"I have been homeless on and off for half my life…I am going to tell you my story, and also what it's like to live on Newstart Allowance," says 23-year-old Angelina in her Anti-poverty Week account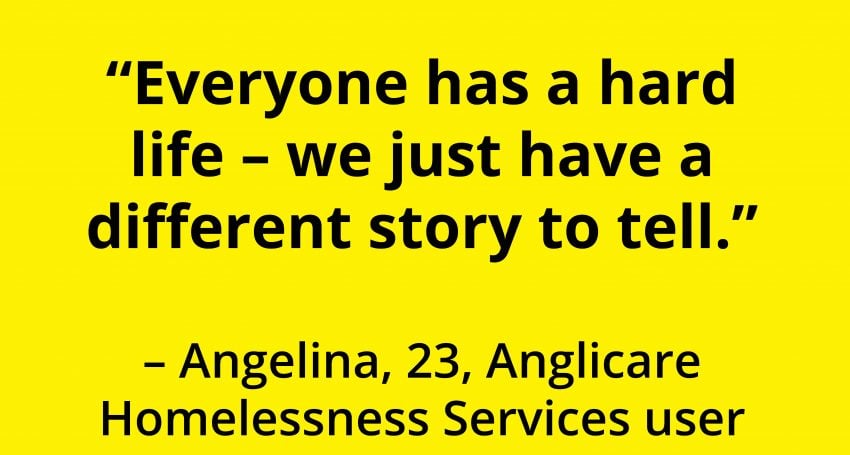 My name is Angelina*. I'm 23 years old. I have been homeless on and off for half my life, and I am currently residing in an Anglicare homelessness shelter for women. I am going to tell you my story, and also what it's like to live on Newstart Allowance.
When Newstart is paid, the first thing I buy is phone credit because it keeps me connected, I can organise appointments and it keeps me sane. After I pay my rent, contribute to the electricity bill, and pay for my phone credit, medication, go card and groceries, I only have $13 a week to pay for unexpected expenses. I can't just buy a three-dollar singlet if I see one on sale, or a bottle of water if I am parched or a cup of coffee.
I have requested to be paid Newstart weekly, instead of fortnightly, because I can't make it last for two weeks. I would often go for a full week without any money — unable to buy food if I ran out. Weekly payments have helped me to budget better, but the amount is still the same. Because of this, I have sometimes felt as though I didn't have any other option but to steal food and other necessary items so I could survive. I help other people living on Newstart by telling them that they can also get it paid weekly instead of fortnightly.
Most of the time I can't afford to buy fresh ingredients, like meat or fresh vegetables, to prepare food from scratch, so I eat cheap microwaveable meals. I'm aware that these are not as nutritional, and I am concerned about how these may be detrimental to my health and wellbeing in the long term. I can't afford small things to treat myself, and it's hard spending time with friends because I can't afford to do anything with them.
At the shelter, my rent is calculated at 25 percent of my income. There is no way that I could afford to live in a private rental on my income, as private rentals in the Brisbane area cost around 75% of my weekly Newstart Allowance. The cost of living has increased so much, but Newstart has not been increased in 25 years. How do politicians expect people to get by on Newstart? They have no idea what it would be like to live like this, as they are paid too much.
I am always looking for work, but I find that employers are hesitant to employ me because of my disability, my gender, and the fact I have a criminal record.
I have lived with a significant hearing impairment since I was a baby, and will have ongoing costs in relation to my hearing and my hearing aids for the rest of my life.
I'm a transwoman, so having my nails done is really important for me, so I feel in touch with my femininity, and for my self-esteem, self-worth and my mental health. I also have costs related to my treatment for my gender dysmorphia, which I will have for the rest of my life. It's hard to afford these costs on Newstart.
People don't choose to have disabilities, physical or mental health issues, but these issues impact on many people's ability to work. I tried working at a department store and a big supermarket, but the loud and constant register beeping was overpowering with my hearing impairment, and I couldn't hear the intercom announcements or the phone ringing. I would like to work in a small place with the same three to four staff members, so it is quiet enough for me to hear everything and to know what to do.
Even though some people may not want me on their work team because I am trans and they may worry that their customers may not come back, people's attitudes toward trans people are changing. One of my younger brothers is proud that I am trans and he likes to make up cute stories about his imaginary trans friend 'Mary' at school to let me know. A trans person working at David Jones said hello to me last week. That was great.
I believe in God. I talk to God sometimes. I go to church sometimes. When people who go to church start listening to us trans people, they start understanding us. I like going to church – I leave church feeling relaxed.
I am employable because I am positive, bubbly, always early, organised, honest and memorable. If people meet me, they remember me — even years later. I am also very neat and tidy. I like keeping my unit clean. Last night I stayed up late cleaning.
One day I would like to be a vet nurse. I am more comfortable with animals than people because they don't judge or confuse me. They don't need to talk to tell me how they feel — I can read their body language. They don't pretend. If they are happy, they are happy.
I nearly finished Year 12, but I left because I was picked on for being trans. I came out three months before school finished. From the age of six, I knew I was a girl. My sister was a tomboy, so we used to swap clothes. I used to like dressing up in my mum's white halter-neck dress and beige high-heels and sing Britney Spears songs out the window to the people on the street in the mornings. My favourite colour is yellow, and so I Iike wearing bright yellow dresses.
I first ran away from home when I was nine years old, and I once slept under a backyard BBQ cover for a while. One of my brothers and one of my sisters have also been homeless. Some of my brothers and sisters have also been taken by Child Safety. I grew up in an industrial town in New South Wales. My mum and dad were drug users. I went into Child Safety when I was 14 years old. I have five primary school-aged brothers. I helped look after them last year when I went back home at 22 years old, after leaving at 14. I was their mum for a while because my parents kept taking off. I got my brothers vaccinated. I took them to school and I got them into sports and karate. I bought them chickens to show them how to care for animals. I took them to the hospital to get them checked because some of my brothers are also deaf. I spent my own money to care for them.
Everyone has a hard life – we just have a different story to tell. This is what I want people to learn from my story.
Anglicare supports Raise the Rate, a campaign advocating for Newstart and other allowances to be raised by $75 a week. People can help people like me by doing the same. People can also help people like me by writing to their Members of Parliament and asking them to also support the raising of Newstart.
Clergy and lay people across our Diocesan Commissions and Regions are currently exploring what it is like to live on Newstart Allowance. Recently, a number of these clergy and lay people met with Angelina, and other women who are experiencing homelessness and on Newstart, to find out what living on Newstart is really like and to find out more about the Raise the Rate campaign. These courageous women are writing their stories for anglican focus to show that people living on Newstart have more going on in their lives than their employment status.
Jump to next article