The importance of Philip Strong's story
Bishop Jonathan Holland seized the chance to tell the complete story of Philip Strong, former Bishop of New Guinea and Archbishop of Brisbane – explaining why Strong's story is so significant and captivating and why he devoted himself to the task for several years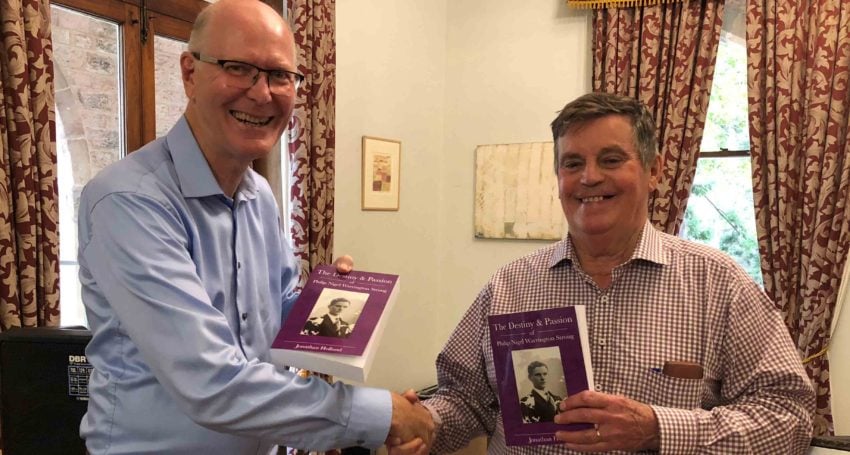 I was asked to write the biography of Philip Nigel Warrington Strong (1899 to 1983) following publication of my previous book, Anglicans, Trams and Paw Paws in 2013, which covered Strong's time as Archbishop of Brisbane between 1963 and 1970. Strong's literary executors Dr David Wetherell (recently retired Honorary Fellow in History at Deakin University) and Michael Collins Persse, together with Strong's long-time friend and companion Elsie Manley, asked me to write his complete biography. They each have been very encouraging along the way and I was delighted when David Wetherell agreed to launch the biography at St Francis College last week.
Research for the book took me to many inspiring places in England, including Sherborne Castle in Worcester, Wisbech in Cambridgeshire, parts of Leeds, Dodford in Derbyshire, Sunderland and Durham in north England – places where Strong had connections or where records of his childhood and early priesthood existed. Later I also travelled to Papua New Guinea, including the remote Dogura where Strong had his cathedral and mission centre. Then there were trips to Canberra to access archived material in the National Library, as well the Mitchell Library in Sydney.
Along the way I met many wonderful people with fascinating memories. One who stands out was an elderly woman – Elsie – whom I met at St Ignatius Sunderland. She could recall as a little girl listening to the parish priest – Strong – preach there in the mid-1930s:
"We [children] would stand at the back of the church and watch. We could not follow what he was saying, but we were fascinated by his passion. He would lean over the pulpit, standing on his tip-toes and wave his arms about as he spoke. He meant every word he said."
In the National Library in Canberra there are around 60 boxes full of Strong's archived material: letters, sermons, diaries, photos, bibles, prayer books, magazines and memorabilia of all sorts. Among it all, I found a single A4 sheet of paper with spidery handwriting in black ink all over it. It was Strong's dedication to God, made when he was 14 years old, and following a mystical experience in Worcester Cathedral, when "I felt the presence of Jesus encompassing me." The paper was creased and aged and looked as if it had been kept folded in a coat pocket over many years. The final words are in Latin: 'Mea vita pro Deo et aliis' ('My life for God and others').
During my research, I also unearthed original final letters from some of the New Guinea Martyrs (Anglican missionaries who were murdered in New Guinea in 1942), which were very moving to read and hold. I also held Strong's prayer book, which has a bullet hole through it. He left it on board the mission launch when he and others jumped overboard to escape a Japanese sea-plane which was firing on them in March 1942 – arguably the first enemy action on Australian soil (Papua was an Australian Territory) in World War II.
The book is important for three reasons. First, it tells Strong's story (which itself is quite an adventure) with sufficient detail for readers to gain an appreciation of the many facets of the man and his remarkable contribution to the Anglican Church and to public life. Secondly, it chronicles the life and times of one of our most important Archbishops who was also Primate of Australia. And thirdly, because his life – and that of many of his peers – shines a light on a past age, its values and ways of thinking and asks us whether there is something in the way he and others of his generation chose to live that is worth recovering.
Editor's note: if you would like to order a copy of Bishop Jonathan's book, please email him via JHolland@anglicanchurchsq.org.au
Jump to next article