The Stinson plane crash and the SSA
"Sister Joan serves as yet another example of how sometimes it is the small brush strokes on a large canvas that can make all the difference," writes Archives Researcher Adrian Gibb on Sister Joan Michael SSA, who nursed one of the Stinson plane crash survivors to recovery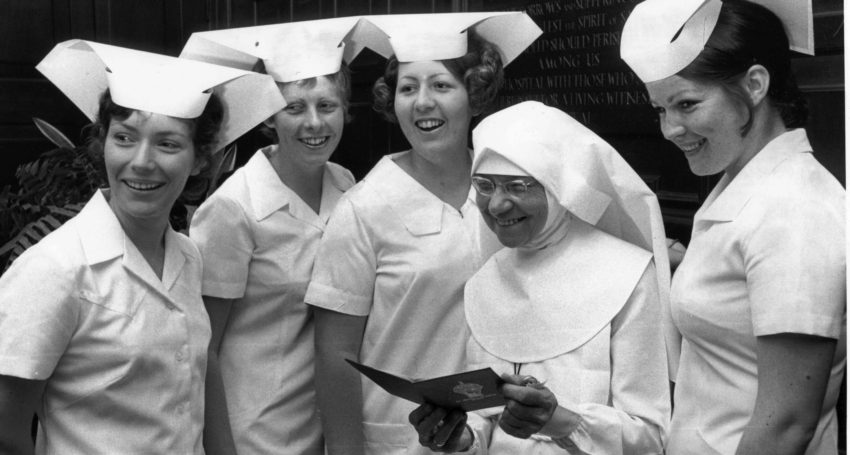 It was perhaps one of the most dramatic air crashes and rescues in Queensland's history, but what is often forgotten is the role our Diocese and the Society of the Sacred Advent sisters played in the story. In February 1937 a plane flying from Brisbane to Sydney, with two pilots and five passengers, crashed into Lamington National Park. Sadly, all but three died upon impact. Of the three survivors, a young man named John Proud was by far the worst injured. Joseph Binstead was also seriously hurt, while another, James Westray, had minor injuries, including burns. Westray set off to get some help but tragically fell over a cliff in his searching and, despite literally crawling to try and find someone to assist them, died of his wounds.
Proud and Binstead, who stayed by the downed plane for days, would have likely succumbed to their injuries, exposure, or thirst, had it not been for Bernard O'Reilly, who trekked into the rainforest to search for possible survivors. After two days of searching, he discovered the wreckage and the two desperate survivors. Many residents of Brisbane have stayed at the guesthouse established by O'Reilly, who became famous in his day for saving these two men.
Our Diocese enters the picture when John Proud and Joseph Binstead, who were initially treated at Beaudesert Hospital, were brought to St Martin's War Memorial Hospital on the Cathedral site for their recovery. The hospital, run by the Sisters of the Society of the Sacred Advent (SSA), became the centre of media attention as a result, with media interest intensifying as the days went on. Newspapers from all over Australia clamoured to get information about the Stinson plane crash survivors. One of the SSA sisters working at St Martin's War Memorial Hospital at the time was a young woman named Sister Joan Michael. She had been professed on 1 October 1929, having begun as a novice at the age of 20. In the book St Martin's Hospital: a history, author Val Donovan relates that it was while spending time as a patient herself in a hospital that Sister Joan developed an interest in nursing. This was encouraged by the Mother Superior and so, after spending some years in Charters Towers, she returned to Brisbane to begin her training at St Martin's War Memorial Hospital in 1934, only three years before the famed airplane disaster.
It was Sister Joan who was tasked with nursing John Proud, the more seriously injured of the two survivors. This not only meant attending to the physical needs of Mr Proud, but also dealing with the media who were keen for information about his recovery. This attention only increased when, on 24 March 1937, a Coronial Inquest began investigating how the crash occurred and how the deceased perished. As John Proud was unable to leave his bedside, the Inquest came to St Martin's in order to hear his testimony, with a bedside hearing held in Proud's room. Meanwhile Sister Joan was helping him deal with his very serious injuries, which included burns, broken limbs, and, according to some reports, even gangrene.
Despite the trauma of the crash and its aftermath, Sister Joan looked back at her time nursing John Proud with great fondness. She started a lifelong friendship with the Proud family as a result of that tragic accident, and, on 1 October 1999, when a 94-year-old Sister Joan celebrated the 70th anniversary of her profession, she spoke of this time as one of her most memorable.
This time was, however, only the beginning of a distinguished life of service to the SSA and our Diocese. Not only was she a stalwart of St Martin's War Memorial Hospital, culminating in her being the last matron before the hospital closed in the early 1970s, she also supervised boarders at St Margaret's Anglican Girls School, served as Mother Superior to the SSA for a time, and was considered quite an expert in musical and artistic pursuits.
John Proud eventually recovered and left St Martin's, going on to lead a successful and long life. John Proud, who was the son of the Prouds the Jewellers founder, decided to focus on mining engineering instead of the family business and went on to a highly significant career in the field, eventually being knighted on 3 June 1978. His name can also be found in the mineral 'Proudite', named in his honour in 1976. He died on 9 October 1997, at the age of 90. He was only 29 when he was taken to St Martin's Hospital and cared for by Sister Joan.
Sister Joan herself passed away at the age of 95 on 8 January 2001. In her time, she had served as novice, professed Sister, Matron of St Martin's Hospital, Mother Superior, and as a much respected and revered member of the Society.
Sister Joan helped heal John Proud's physical, and perhaps even emotional wounds. In return, the Proud family gave Sister Joan Michael a lifetime of friendship and pride in her role as both a nurse and a professed religious sister. In researching this article, I contacted Sister Gillian Gardiner of the SSA. She recalls that Sister Joan would sometimes meet up with past nurses of St Martin's Hospital at Sir John Proud's home in Sydney. And, on the 50th anniversary of the crash, Sir John Proud is said to have paid for a number of the SSA sisters to holiday at O'Reilly's.
Sister Joan serves as yet another example of how sometimes it is the small brush strokes, on a large canvass, that can make all the difference.
Jump to next article