Anglican leaders call for men detained in a Kangaroo Point hotel to be released into the community
Anglican clergy and lay people recently gathered at the Kangaroo Point cliffs to pray for the more than 100 men, sent to Brisbane from Manus and Nauru, who are being indefinitely detained in a Kangaroo Point hotel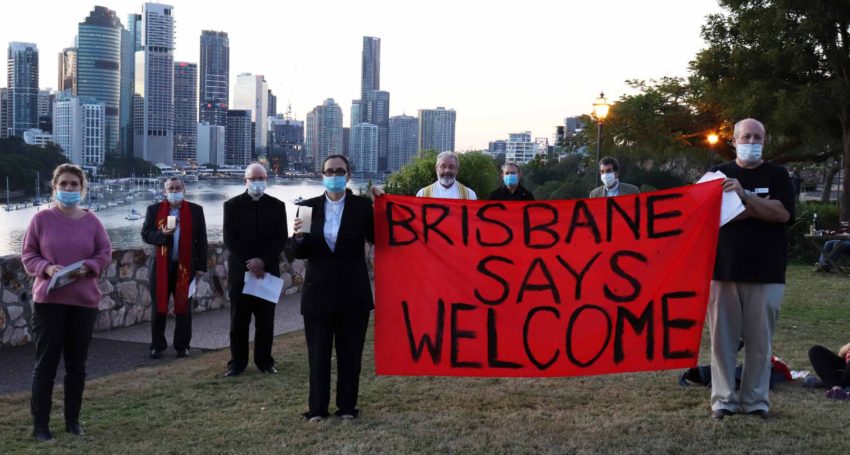 Anglicans recently gathered with other people of faith at the Kangaroo Point cliffs to pray for the more than 100 men, sent to Brisbane from Manus and Nauru, who are being indefinitely detained in a Kangaroo Point hotel.
The majority of the men held in the Kangaroo Point Central Hotel came to Brisbane under medevac laws and have been detained there since last year following almost seven years in offshore detention.
Over 80 per cent of the men detained in the Kangaroo Point hotel have been found to be refugees, while a number of others have requested that their claims for asylum be processed onshore.
St Mary's Anglican Church, Kangaroo Point parish priest The Rev'd Canon Gary Harch, who attended the vigil last month, has called upon Federal Government representatives to ensure fairness and transparency and release the men into community detention.
"The Federal Government's current policy prevents refugees from Manus or Nauru from rebuilding their lives in our communities despite the fact that seeking asylum is legal," Canon Harch said.
"So, they continue to be detained after spending seven years trapped on Manus and Nauru instead of being released into community detention.
"The great majority of the men from Manus and Nauru in the Kangaroo Point hotel have been found to be refugees, so as leaders we have to ask, 'Why are these men being detained indefinitely?'
"Given this, one might make the assumption that these men are being used as political footballs to win votes.
"Rightly, the Federal Government recently announced new visa arrangements for Hong Kong passport holders to remain here, with pathways to permanent residency.
"Thus, one has to ask, 'Why can't the men in the Kangaroo Point hotel be extended the same compassion?'
"As leaders, we must hold the Morrison Government to account and ensure all people who need protection are treated with fairness and consistency."
A number of local Anglican community members have been actively advocating for these men by writing letters to and phoning their elected representatives, including St Andrew's Anglican Church, South Brisbane parish council member Erica Lloyd-Smith.
Ms Lloyd-Smith said that as a Christian she is compelled to respond to the Biblical calls to assist refugees and love our neighbour.
"Throughout the Old and New Testaments, we are exhorted to help widows, orphans and refugees," she said.
"The greatest commandment Christ himself gave us is to love the Lord our God and to love our neighbour as ourselves.
"Surely in the world we are living in, this most emphatically includes those who are seeking asylum."
The Friday 12 June prayer vigil was organised by the Queensland Community Alliance, which the Anglican Church Southern Queensland's Social Responsibilities Committee is a member of.
A number of other Christian faith leaders and lay people joined local Anglicans at the prayer vigil, including from Catholic and Uniting churches, with people from other faith backgrounds also joining in the prayers.
Canon Harch said that Christians are called to advocate for these men and to pray for both the men and our elected representatives.
"As Christians, we are called to love our neighbour and to treat others as we would like to be treated," he said.
"So, as Christians, we can each ask ourselves, 'How would I want to be treated if I had been detained for over seven years on an island and in a Kangaroo Point hotel by a government who was breaching my right to live in peace and safety with my family?'
"Some of these men have families living locally and yet they are not allowed to read their children a story or hug their wives.
"The prophetic nature of the Christian life is that we advocate for their right to safety and freedom and for the right of their family members to live in peace with their fathers and husbands.
"We must also pray for the men in detention and pray for all of our elected representatives, many of who declare to be Christians, that they ensure justice, transparency and fairness for these men."
Jump to next article