New ecologically inspired student hub opens at CHAC
Students at Cannon Hill Anglican College returned from holidays recently to find the highly anticipated new student hub complete and open for learning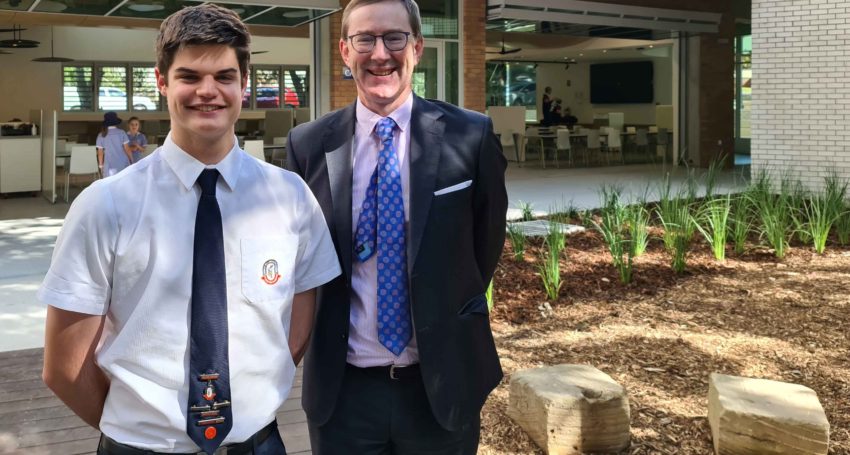 Students at Cannon Hill Anglican College (CHAC) returned from holidays recently to find the highly anticipated new student hub complete and open for learning.
Designed to harmonise with the College's natural environment, the architecturally designed two-storey building is home to six innovative learning spaces, a commercial kitchen, performance space and a student cafeteria that opens onto a garden boardwalk.
For the past 12 months, the College community watched as the construction took shape.
Year 7 student Meri Adamson said she is enjoying the new facilities.
"It was really exciting to see the new building when we returned from school holidays because there was lots of space to hang out with friends. It is completely different to what we had seen before," Meri said.
The building was modelled on ecological sustainability principles for indoor and outdoor environments. The development also considered the bushland surroundings and kept as many major trees as possible.
Year 12 student Elizaveta Leach said she appreciates the tranquillity of the space.
"Each classroom provides evidence that the learning method spectrum has been accounted for," Elizaveta said.
"The generous windows showcase eucalyptus trees dancing and writing poetry across the skies, bringing forth a sense of tranquillity, while reminding us of the privilege of living in such a beautiful country.
"It's very nice to see so many lovely faces enjoying the boardwalk, making the campus feel more like a community or family."
To maximise the learning opportunities for students, the building design was carefully considered to encourage positive connections, collaborative learning and innovation.
The College community has embraced the impressive facilities, with Year 12 student Will Ewart saying the space is conducive to learning.
"The new D Block building is an amazing addition to the College with its futuristic design and functional classrooms throughout," he said.
"As a student who has spent multiple classes in the new area, I can safely say that the classrooms provide a sense of possibility, while also giving a safe and supportive feeling where my classmates and I are able to share ideas and enjoy class to the fullest."
Year 12 student Lachlan Parenti said he is making the most of the building before graduating at the end of the year.
"The new D Block facility, particularly the cafeteria, is so useable – it has quickly become the most popular place to spend lunch," he said.
"As a Year 12, I'm happy that I can spend my lunchtimes here and get to use this new facility before graduating."
The development forms part of the College's Master Plan, which over the coming years will see further infrastructure growth and an enhanced student experience.
Jump to next article