Sunday Devotion: 16 August 2020, Eleventh Sunday after Pentecost
The path to peace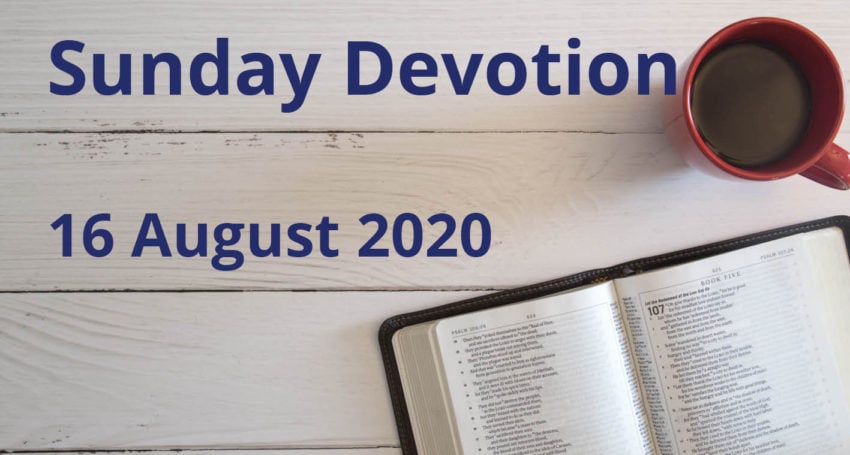 Written by clergy and lay people across our Diocesan community, 'Sunday Devotions' is a column of short reflections based on a Lectionary reading of the day, suitable for small group discussion or personal use.
Main readings: Genesis 45.1-15; Psalm 133; Romans 11.13-32 (33-36); Matthew 15.(10-20) 21-28; [Isaiah 56.1, 6-8; Psalm 67]
Supplementary readings: Psalm 81; Matthew 15.29-39; Genesis 48.8-20; Psalm 67; Romans 11.17-28
"Then Jesus answered her, 'Woman, great is your faith! Let it be done for you as you wish.' And her daughter was healed instantly." (Matthew 15.28)
As a young Brownie-guide, I learned origami and folded many paper cranes, which were strung together and sent to Japan with thousands of others from Queensland, in a heartfelt wish for world peace. This was done to honour Sadako Sasaki, who was a toddler when she survived the atomic bombing of Hiroshima in August 1945. Sadako folded the 1000 origami cranes of Japanese legend in order to be granted her wish for healing. Although she died aged only 12, her story of perseverance and faith has inspired generations of children to fold paper cranes for world peace, reconciliation and healing.
In today's Gospel, Jesus' compassion towards the non-Jewish woman, and his respect for her perseverance and faith, gives us hope that our prayers for mercy and healing reconciliation with God and each other will be heard. Jesus came to save us all, that we might have eternal life in God. By understanding the words, ministry and amazing sacrifice of Jesus, we receive God's transformational love that heals our inner-selves and shows us the way to reconciliation with others.
This weekend marks 75 years since the armistice with Japan, which was the 'fallout' of the Hiroshima and Nagasaki atomic bombings, ended WWII hostilities – prompting me to think again of folding paper cranes.
Reconciliation, mercy and forgiveness for each other begin in God's transformation of our own hearts, manifesting in our words and actions to promote healing and unity with all peoples. May our faith be great and our world be healed.
Jump to next article