Performing arts honour for Glennie past Principal
The Glennie School has dedicated its Performing Arts Centre to former Head of School, Wendy Ashley-Cooper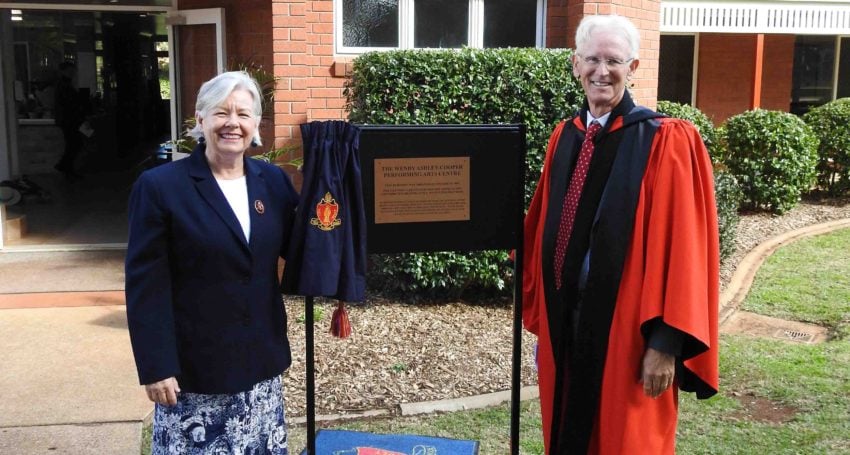 The Glennie School has dedicated its Performing Arts Centre to former Head of School (2001-2016), Mrs Wendy Ashley-Cooper.
The Glennie School Principal Mr Peter Crawley said that Mrs Ashley-Cooper was a passionate supporter of the arts, and music in particular.
"During her time of leadership, Wendy built a community which gave voice and confidence to the girls through performance and opportunities. It is a privilege to dedicate the Performing Arts Centre in her honour," Mr Crawley said.
Former Head of School Mrs Wendy Ashley-Cooper said that she felt greatly honoured, and somewhat overwhelmed, to be recognised in this way.
"I have always loved and supported the performing arts at Glennie and I have been given to shedding involuntary tears whenever I heard a beautiful piece of music being played perfectly by Glennie girls. For many years the girls were encouraged to 'make Mrs Ashley-Cooper cry' when preparing for Eisteddfodau,' Mrs Ashley-Cooper said.
During the dedication service, Mrs Ashley-Cooper asked the girls to imagine that they had a lump inside them, which grew bigger and harder with each hurt, disappointment or failure in life, but which was softened and dissolved by every positive experience, such as achievement, friendship or the sheer enjoyment of taking part in such pursuits as music, dance or drama.
She reminded those present of the power of music, especially, to help us express emotion and console or lift us up in difficult times.
The Glennie School Arts Committee Captain Lauren Baryla said that hundreds of Glennie girls have rehearsed, performed and laughed in the Performing Arts Centre.
"It has been a home away from home for many, a place of acceptance and challenge, a place to express personality and individual talent and a place to join with others in the pursuit of delightful harmonies and stunning orchestral sounds," Lauren said.
The Glennie School Arts Committee Vice-Captain, Kate Bellars, thanked parents for their dedication to the arts.
"Without parents willing to drop us at school at 7.30 am or pick us up at 6.00 pm, we would not have the amazing music, drama and dance programme that we do. Today we thank our parents for all of the time, patience and persistence they offer to girls in the arts," Kate said.
The Wendy Ashley-Cooper Performing Arts Centre was dedicated and blessed by The Right Rev'd Cameron Venables, Bishop of the Western Region.
The dedication service took place on Founder's Day (12 August), celebrating the 112th anniversary of the foundation of The Glennie School by Archdeacon Benjamin Glennie.
The Centre was originally opened in 1997 with a significant financial contribution from The Glennie School Parents and Friends' Association.
Jump to next article