St Margaret's students raise more than $82,000 for Queenslanders affected by cancer
Over 70 students and five teachers at St Margaret's Anglican Girls School participated in the Ponytail Project recently, raising more than $82,000 for Queenslanders affected by cancer and donating their ponytails for wigs for people who have lost their hair while undergoing treatment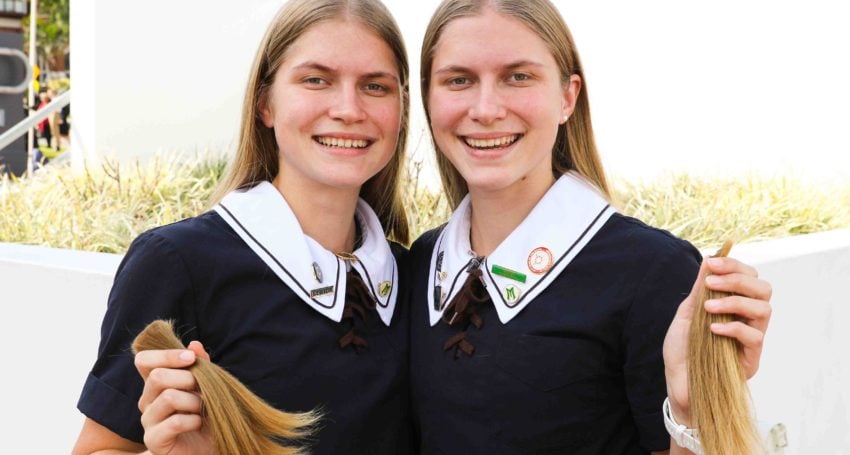 Over 70 students and five teachers at St Margaret's Anglican Girls School participated in the Ponytail Project recently, raising more than $82,000 for Queenslanders affected by cancer and donating their ponytails for wigs for people who have lost their hair while undergoing treatment.
St Margaret's Principal Ms Ros Curtis said the Ponytail Project initiative started five years ago when a group of students felt compelled to make a difference in response to a St Margaret's parent being diagnosed with cancer.
"The Ponytail Project is one of the biggest and best examples of St Margaret's culture of student philanthropy," Ms Curtis said.
"Each year, we see the girls motivated and inspired to genuinely make a difference in the lives of others through the very selfless act of cutting their own hair.
"The girls realise that not only are their ponytails going to be turned into a wig for someone who has lost their hair, but that through this campaign they are also making an important donation towards Queenslanders whose lives have been impacted by cancer.
"It's very empowering for them to know they are making a real difference."
So successful was the Ponytail Project concept, in 2019 Cancer Council Queensland adopted the project encouraging schools across the state to join the cause.
Cancer Council Queensland CEO Ms Chris McMillan commended St Margaret's students on their efforts and dedication to the cause.
"Each year the students at St Margaret's show their commitment to supporting those impacted by cancer, and we are incredibly grateful for their incredible fundraising efforts," Ms McMillan said.
"Not only does the Ponytail Project provide a way for students to raise funds for the work of Cancer Council Queensland, it gives them the opportunity to learn about the impacts of cancer, including ways to reduce their own cancer risk through making healthy lifestyle choices from early on in life."
Year 12 twins Ruby and Olivia Howard, like so many people, have experienced firsthand the impact cancer can have on loved ones witnessing close family members and teachers battling the disease.
"It's empowering as well as a great privilege knowing that I have the ability to help transform the life of another and the community around me," Ruby said.
"It's not every day that we get an opportunity to give and I believe that when chances like this arise, we should jump at the chance especially when it makes a difference to the life of another."
Olivia said she felt proud of the school community for igniting the initiative.
"It is a legacy I am so grateful to be a part of and to see take flight over the years," Olivia said.
While it was many of the senior students who took part in the hair cutting, St Margaret's primary students also had the opportunity to witness the older girls take part in the very important campaign and learn how, as an individual or a collective community, they too can make a difference in the lives of others.
The younger girls sported crazy hair styles and braids in a display of their support.
Jump to next article