Blessings Bench and Kindness Path initiated by St Hilda's students
Three very special St Hilda's School students tell us about their Blessings Bench and Kindness Path initiatives, inspiring others with their insights into the meaning of friendship and the importance of kindness: "Kindness is an important part of being a good friend and friends are such a big part of life and are always there for you. It is important to show kindness to everyone because we don't know what people are going through. Even just a little act, like a smile, can make a difference and make people feel safe and welcome"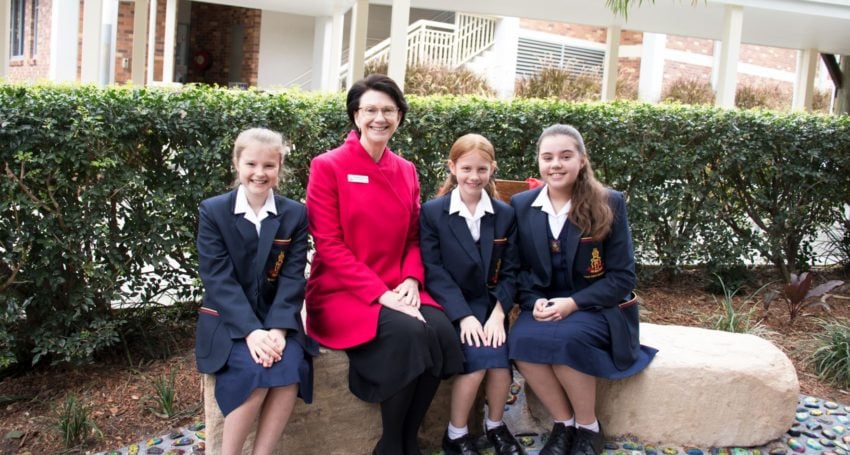 At St Hilda's School our motto is Non Nobis Solum, 'Not for ourselves alone'. It was with this motto in mind that the idea of the Blessings Bench and Kindness Path came to life in a Junior School Student Council meeting.
It is a place for young girls that is quiet and peaceful and allows them to reflect on their emotions and have time for themselves. This is also a place for students to extend friendship to those who may need it.
We created the stones for the Kindness Path while celebrating 'B Kinder Day', in remembrance of Billie Kinder, a Year 6 Anglican schoolgirl from Sydney who died after being trampled by a horse in 2016. Billie was known for her remarkably kind and generous spirit. After her tragic accident, her parents and family came together to create an organisation, flyhighbillie, to raise awareness about kindness, empowering children and proving that everyone can make a difference.
Girls and teachers in the Junior School painted special stones which now form the Kindness Path. The symbol of B Kinder Day is a rainbow, so we asked younger Junior School students to paint rainbows on their stones to signify kindness (and to seem magical!). Our older Junior School girls painted sunflowers to symbolise that the path is a place to seek happiness. We wanted as many people as possible to paint stones, as we wanted the path to include a little part from everyone in our Junior School.
The purpose of the bench is to be a 'buddy bench'. If girls are looking to take a breath or looking for someone to talk to, they can sit on the bench. If they are with friends, they can talk here together in a peaceful place or if they are by themselves, other girls will feel welcome to check in. As we are a Christian school, we decided that the name 'Blessings Bench' fits perfectly. It is a place where our School values of Love, Compassion, Forgiveness, Hope and Grace can be put into practice.
Kindness is an important part of being a good friend and friends are such a big part of life and are always there for you. It is important to show kindness to everyone because we don't know what people are going through. Even just a little act, like a smile, can make a difference and make people feel safe and welcome.
We also created little fairies all around the trees and flowers, so students can also reflect upon the words of kindness whilst walking along the path.
We feel this benefits the Junior School in so many ways and we encourage other schools to create a space like this for their students. This initiative has brought different year levels and different friendship groups together and new friendships have been created.
The St Hilda's Junior School Student Representative Council would like to acknowledge and thank our wonderful Maintenance Team who built the special space, all the teachers that helped us make this possible and all the girls who made the Fairy Garden a thriving place that brings us all kindness and joy.
Jump to next article