St John's hosts ninth UN International Day of Peace Lecture in Brisbane
75 years after the creation of the United Nations, its envoys and supporters say their role is more important than ever in advocating for refugees and people seeking asylum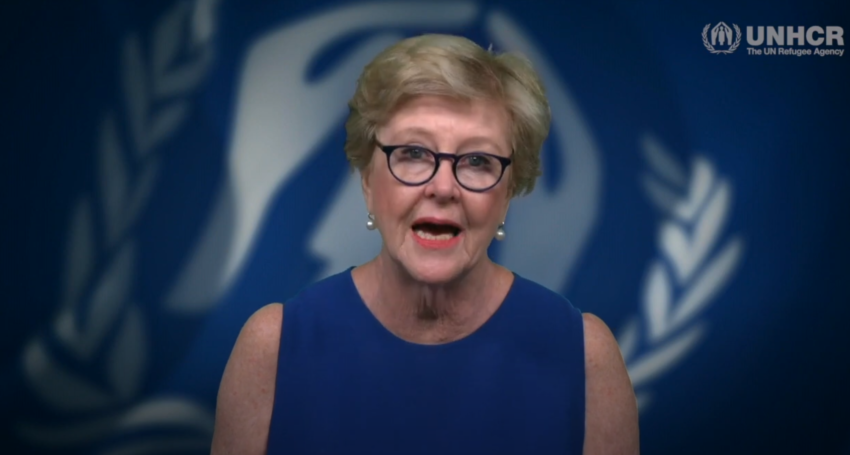 Protection of refugees around the world during the COVID-19 pandemic was a key theme when St John's Anglican Cathedral hosted its ninth consecutive International Day of Peace lecture, with human rights and peace campaigner Professor Gillian Triggs presenting the keynote address from Geneva, Switzerland.
The annual Brisbane International Day of Peace lecture recognised human rights as a foundation for peace, and was held on Monday 21 September during an extraordinary juncture in history as the world collectively faces one of the greatest challenges that humanity has encountered in the last 100 years.
The Dean of Brisbane, The Very Rev'd Dr Peter Catt, welcomed the small crowd of around 75 people and said the Cathedral was honoured to have Professor Triggs deliver the keynote address with Dr Tilman Ruff, Nobel Peace Prize recipient, providing an introduction.
Professor Triggs spent five years leading the Australian Human Rights Commission. In 2019, she was appointed to the very senior United Nations position as Assistant Secretary-General to serve as the Assistant High Commissioner for Protection, Office of the UN High Commissioner for Refugees.
In her role with the UN she has made it a priority in 2020 to emphasise the importance of protecting and supporting, during the COVID-19 pandemic, people already displaced from their homes or homelands, as a result of war, persecution, climate change or the impact of extreme poverty.
Dr Catt said it was more important than ever to observe the International Day of Peace.
A special Peace Day message was first presented by the United Nations Secretary-General, António Guterres, which was read (in person) by Annette Brownlie, Peace and Security Program Manager of the United Nations Association of Australia (Queensland Division):
"The International Day of Peace is devoted to urging warring parties everywhere to lay down their weapons and work for harmony.
As the COVID-19 pandemic continues to ravage the world, this call is more important than ever. That is why I appealed for a global ceasefire in March.
Our world faces a common enemy: a deadly virus that is causing immense suffering, destroying livelihoods, contributing to international tensions and exacerbating already formidable peace and security challenges.
The focus of this year's International Day of Peace is 'Shaping Peace Together'.
In that spirit, and to mark our 75th anniversary, the United Nations is bringing people together for a global conversation about shaping our future and forging peace in trying times.
In these days of physical distancing, we may not be able to stand next to one another. But we must still stand together for peace.
And, together, I know we can – and will – build a more just, sustainable and equitable world."
Brisbane performer Leah Cottrell provided a live and inspirational version of 'Lean On Me', written and recorded by American singer-songwriter Bill Withers.
Dr Ruff told the peace lecture: "75 years after the first UN resolution calling for countries with nuclear weapons to surrender their weapons of mass destruction and despite every nation being obligated to achieve nuclear disarmament, the sword of Damocles of the most acute existential threat we confront not only looms over all of us, every hour of every day, but the danger of nuclear war is as great as it has ever been and it is growing."
It was a welcome (virtual) return to St Johns for Professor Triggs who was the guest speaker at the 2016 annual Loaves and Fishes fundraising event.
Professor Triggs reflected on the UN's 75 years of commitment to global peace since its creation in the aftermath of World War II.
She said that, sadly, the UN's Charter for prohibiting and responding to conflict has not been achieved over the last 75 years.
"Long-term modern conflicts (such as Iraq and Afghanistan) have led to unprecedented numbers of asylum seekers, refugees, people displaced in their own country or people who are stateless – over 80 million people globally – or forcibly displaced by inter-communal violence and other root causes such as poverty, food insecurity, gender inequality, climate change and degraded environments.
"These global emergencies have now been joined by another global crisis. COVID-19 is a crisis superimposed on many others."
The event also announced two recipients of the Celebrating Queensland Agents of Peace Awards, presented by the University of Queensland's School of Political Science and International Studies and the Rotary Peace Centre. They were:
Sister Wendy Flannery, from the Sisters of Mercy, Brisbane, who has been involved in the search for climate justice, women's education, human rights, and anti-nuclearism for decades, and who has worked with the UN on these issues.
The Queensland Program of Assistance to Survivors of Torture and Trauma (QPASTT) which provides a range of important services to people from refugee and migrant backgrounds, including those who have survived torture or war-related trauma.
The full lecture can be viewed on the St John's Cathedral YouTube channel.
Jump to next article