The woman who spearheaded Mission to Seafarers: Amy Proctor
One woman's desire to help those in need and honour her family's legacy has led to hundreds of thousands of seafarers being helped for over a century in our Diocese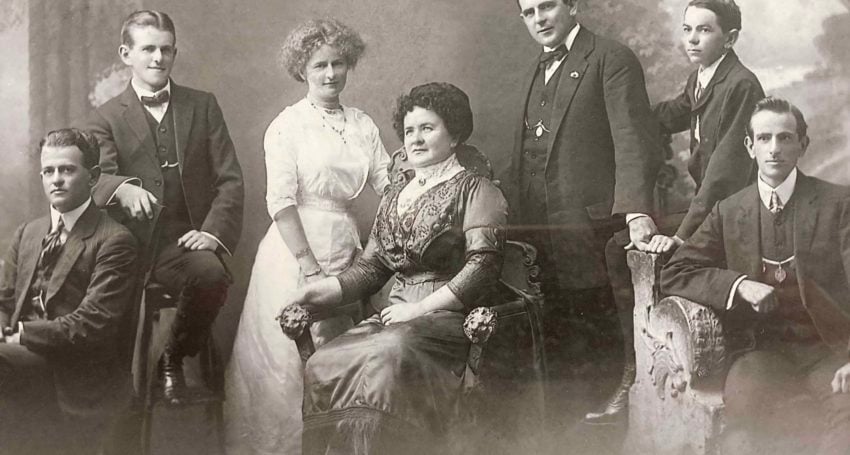 Located in the Port of Brisbane Precinct, The Mission to Seafarers (MTS) provides welfare, pastoral and spiritual support to over 10,000 seafarers each year. While their mission is familiar to our Diocesan community, what is not as well-known is how the Brisbane branch of the MTS was established. It was the sheer will and determination of one woman, Amy Proctor, in 1892 that began this ongoing engagement with seafarers coming into our port.
Amy Proctor was born Amy Martha Barrett in Dunedin New Zealand in 1866. In her mid-20s she arrived in Brisbane with her husband Percy Proctor. The Barretts had been an old Navy family from the Bristol region in the UK, and Amy believed that there needed to be a form of ministry to the many sailors coming into Brisbane at the time. She decided to form a committee of like-minded women and began setting up rooms to function as a clubhouse for these seafarers where concerts could be performed, Bible classes given, and even Sunday services held. While the idea was a noble one, due to outgrowing premises and being at the whim of landlords, what followed were two decades of moving from one facility to another in order to keep what became known as 'Mrs Proctor's Mission to Seamen' alive.
The mission's first home was in small rooms in Elizabeth Street, behind the GPO. Shortly after they moved to 301 Queen Street, they shifted to the YMCA headquarters in Brisbane. While not a Diocesan organisation, Mrs Proctor was an Anglican herself, and was delighted when St Mary's, Kangaroo Point offered their hall for her mission. For many years afterwards, Mrs Proctor's institution was known as 'St Mary's Mission to Seamen', even after it had left the cliffs of Kangaroo Point. The final move as an independent body came around 1903, when it was decided that the coastal eastern suburb of Pinkenba would be a more suitable location because the Orient Line mail steamers had begun docking there.
Amy Proctor worked with her daughter, also called Amy, and engaged in untiring efforts for the welfare of sailors. In a small biography of Amy Proctor we have here in the Records and Archives Centre, her daughter, by now Amy McDowell, states:
"She always took the services, preached the sermon and played the hymns herself, besides carrying on all the rest of the work. She received thousands of letters of appreciation from sailors and parents."
Indeed, upon her death, these letters were found to have been kept, and were still in her possession. An obituary on Mrs Proctor in The Courier on 5 June 1931, remarked on her long-term association with St Mary's, Kangaroo Point, and noted that she had a passion for teaching the boys' Bible class there, which she conducted for many years.
We are also lucky enough to have in the collection a scrapbook that Mrs Proctor kept in 1906. Not only does this contain important clippings providing dates and context for her work, the book also contains hand-written notes. On 19 April 1906, for instance, she writes, in her beautiful hand, of farewelling the ship Wellgunde. This was a fully-rigged German vessel that went on to be captured in World War I.
In 1914 the then Archdeacon of Brisbane, Henry Le Fanu, wrote in the Yearbook that the Mission to Seamen was now 'officially connected' to the Brisbane Diocese. It is not certain exactly why this step was taken. Mrs Proctor was said to have had failing health, perhaps from overwork, and it has also been written that she had rather bad anxiety as her sons were fighting in the war. Whatever the reason, the now Bishop Le Fanu promised to find a building for the work of the mission, and Amy Proctor stayed on as Superintendent. She resigned in 1916, only a few months before the first Seaman's Institute building was opened in Fortitude Valley, near Brisbane's CBD. Mrs Proctor kept a keen interest in the mission, and saw another new building, this time in Macrossan Street in Petrie Bight, open in 1926, after road widening in Fortitude Valley necessitated a move.
Amy Proctor passed away in June 1931 at her home in Wellington Street, East Brisbane. The July 1931 parish paper of All Saints' Church, Wickham Terrace, states:
"She began this work at her own desire, and because she saw clearly the need of the mother hand to the wandering sons of the sea…under her great love and courage the work grew…"
Her death was reported in Sea Breezes, a monthly magazine devoted to worldwide shipping. This prompted a J. Blackburn, the Master of the SS Irwell, to write to the magazine in December of 1931 and state:
"As I spent my last afternoon and evening with Mrs Proctor before I left Brisbane I have a feeling of sorrow when I read of the passing of a lady who was a dear friend to all seafarers regardless of class, and who was held in affectionate regard by everybody with whom she came in contact."
He had been in Brisbane in 1903, and had been presented with a book by Amy Proctor, inscribed with her best wishes.
She was recognised during her lifetime for her incredible efforts, receiving gifts from the Duke and Duchess of York, later to become King George V and Queen Mary, a plaque from the Lords of the Admiralty in London, and even a gold anchor brooch set with diamonds and rubies from the 'Sailors and Friends of the Seamen's Institute'.
Even now, 89 years after her death, her presence is still very much felt. Mrs Proctor's daughter, Mrs Amy McDowell, donated the family bible to the mission and it can be seen, to this day, in the MTS Chapel at Fisherman Island.
In 1978 the Proctor family dedicated a stained-glass window in St John's Cathedral to Amy, with a plaque commemorating her work with seafarers.
More recently, on 23 August 2017, the Mission to Seafarers celebrated their 125th anniversary. Invited to the event were the descendants of Amy Proctor, who came from all around Australia and met with Archbishop Phillip Aspinall.
It is fitting to recognise that one woman's desire to help those in need, and honour her family's legacy, has led to hundreds of thousands of seafarers being helped for over a century.
Editor's note 20 October 2020: Mission to Seafarers is a registered charity and worldwide missionary society of the Anglican Church, operating in over 230 ports internationally and in 28 ports around the Australian coastline. For more information on MTS Brisbane, visit: www.mtsbrisbane.org.au
Jump to next article