Pollinators populate the Precinct
Find out how an unexpected conversation on a surprising subject matter serendipitously led to a wonderful solution for the Cathedral team and a population of native bees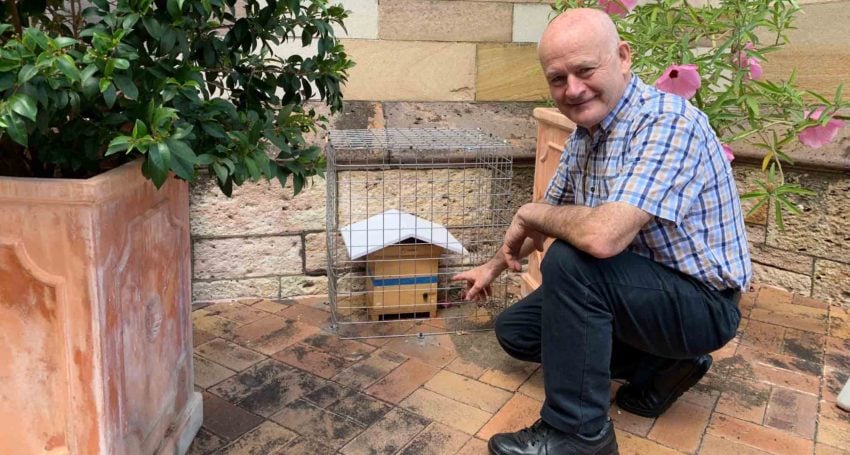 The Very Rev'd Dr Peter Catt and Cathedral Warden Helen Wootton tell us about the special new home that has been installed for stingless social bees, showing us how conversation and collaboration build community – for both humans and our precious pollinators.
The Very Rev'd Dr Peter Catt, Anglican Dean of Brisbane
Over the past several years we have been actively adding to the number of flowering plants, including a number of native species, in order to feed our growing bee population. We also provide them, and other creatures onsite, with essential water in bird baths and in a small fishpond.
A hive of European honeybees was introduced to the Precinct about four years ago and a hive of native stingless social bees (Tetragonula) made the Precinct their home just over a year ago. Blue-banded bees and teddy bear bees, both native species, are the two other species we have observed here. I can attest to the fact that they all like basil flowers very much. They are all very important pollinators, as are paper wasps, which we encourage rather than kill.
In this past week, the stingless social bees have begun the process of establishing a new colony. They initially decided to make their second home in the wall of my office. They have since been given more upmarket accommodation onsite by a local apiarist, as shared by Helen.
The stingless social bees' decision to form a second colony is a sign that our site is operating in a healthy way. We ceased the use of herbicides and pesticides several years ago in the hope of increasing the environment's health.
Consequently, we have noticed increased numbers of other insects. We gain a sense of hope due to our increasing populations of pollinators. Across the globe pollinator populations are in decline because of human activity, including pesticide and herbicide use, air pollution and habitat loss. Places where pollinator populations are strong and strengthening remind us that these declines can be reversed.
Pollinators are essential for the production of our crops and the habitats that many native animals rely upon for food and shelter. Perhaps our churches can become sanctuaries for all creatures great and small, including bees.
Helen Wootton, St John's Cathedral Warden
Last year I had an incidental conversation with The Rev'd Richard James who was a theology student at the Cathedral. He mentioned that he had just installed a native bee hive in his garden. As I was interested in native bees due to their importance to the environment, I asked Richard for the contact details of his 'bee man'. I rang Giorgio Venturieri, a local bee man who has spent his life studying bees, but it was the wrong time of year for splitting existing hives and trying to establish new hives, so I wasn't able to proceed at that time.
However, when I exited the Cathedral earlier this month after leading Morning Prayer, I was delighted to discover a swarm of native bees between the Cathedral and St Martin's House. Upon enquiring, the Dean told me they had only been there for the last couple of days and it appeared that they were looking to establish a new hive in the stone wall of The Dean's office. So, I rang Giorgio and told him of our excitement to have native bees looking for a new home. Giorgio is passionate about native bees and has a company that builds the hives and helps to establish new hives.
Giorgio brought what he calls a 'capture hive' to the Precinct. He coated the inside of the new hive with a substance that would attract the bees who were looking for a suitable new home. Giorgio connected the new hive with a tube from the hole in the stone wall of the Dean's office, with another small tube at the front of the bottom tier of the hive operating as a 'front door' to the new hive. The hives he builds have perspex tops so that when you lift off the roof, you can see if the bees are starting to build structures within the hive. However, it is important not to disturb the hives too much, so this should only be checked once a month.
As it can take up to 12 months for the hive to be developed to a stage where it can be moved, it was necessary to build an enclosure that would allow full access by the bees while keeping the hive safe. The enclosure was built by my husband Bruce and Cathedral events manager, Gerard Finn.
We subsequently discovered that the bees had emerged from a hive that the Dean already has in his herb garden. It is part of the natural cycle of native bees that as one hive outgrows its current home, some of the bees go off looking for a suitable place to establish a new home.
The collaborative nature of this project has been a highlight for me. I believe the relationships and connections we develop in our church and wider communities are so very important. There is always someone who knows someone who can be part of the solution to any challenge or opportunity. It just needs one person to start the ball rolling. In this case, it just happened to be me after I happened to have a conversation with Richard, who mentioned in passing about his new bee hive. This became the basis for a great outcome when we discovered the swarm of native bees. Conversations, chatting, sharing new ideas – all these can lead to something special and unique.
For more information, check out Giorgio Venturieri's website or call him on 0487 121 432.
Editor's note: If your ACSQ parish, ministry, school or agency is doing anything novel or exciting to help care for creation, please email the anglican focus Editor, Michelle McDonald via focus@anglicanchurchsq.org.au. 
Jump to next article