Q&A with North Pine Youth & Families Ministry Coordinator, wife, mother and Alpha course participant, Sharon Armstrong
Meet Sharon Armstrong and find out about her current ministry projects, faith journey and best childhood memories and what she would write on a billboard and why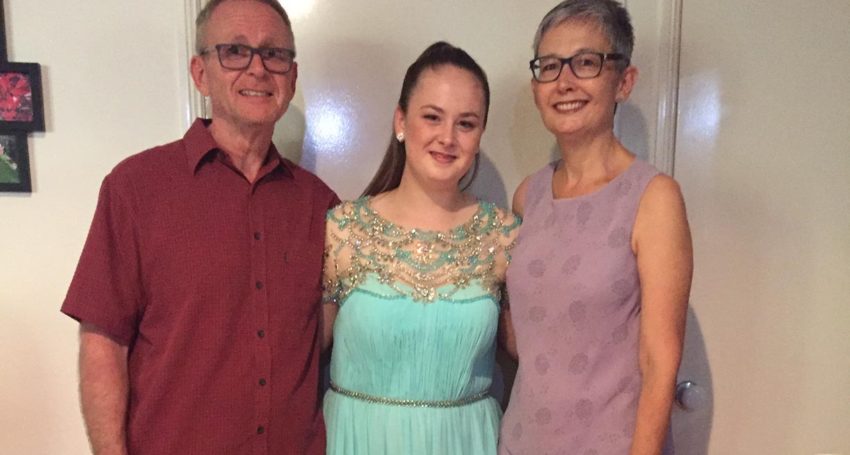 Sharon Armstrong is a member of the North Pine Anglican Church community. She is a faith-filled mother who likes to give away books and drink tea and is passionate about youth.
Where do you currently live and where do you worship?
I have lived in Petrie on the north side of Brisbane since 1997. North Pine Anglican in Petrie is my home church.
How long have you been involved in the Anglican Church and in what roles?
I was born into a non-Christian family, but was baptised as an infant at St Andrew's in Lutwyche and had a brief stint in Sunday School there. That was it for me and the Anglican Church until 2006 when I came to faith and then enrolled in an Alpha course at North Pine Anglican where I have been involved in a range of lay ministry roles ever since!
What are your current roles, including any voluntary roles, and what do your roles involve?
In February 2020, I commenced in the new role of Youth & Families Ministry Coordinator. My role includes overseeing/participating in our Friday night youth group, our Kids' Church ministry on Sundays, and our ministry to families. I serve as Chair of a local chaplaincy committee in a state primary school and connect with local school chaplains and the leader of the Australian Fellowship of Evangelical Students (AFES) group that meets at the University of the Sunshine Coast's Moreton Campus. A few years ago, I started leading a Bible study group and in 2020 became a member of our worship team.
What projects and activities are you currently working on?
Our vision for youth and families at North Pine is to welcome families and young people into God's family. We want to form a family of committed followers of Jesus who love and serve our community. For that reason, we're really excited that our church was approached by Bush Church Aid (BCA) to run the youth programme at their Queensland Field Staff retreat in April. We have also partnered with Scripture Union Queensland (SU Qld ) to run a children's holiday programme in July and have just partnered with St Bart's, Toowoomba to run a youth camp in October.
What have been the highlights of your ACSQ service so far?
Serving Jesus as a member of the ACSQ has provided so many highlights and wonderful memories. I've had the opportunity to grow in my relationship with God, do life with my church family, receive support and mentoring from our clergy, see others come to faith, and become involved in ministries that have shaped who I am today. I'm now a passionate advocate for the importance of investing in our children, youth and families and am having a ball serving in those areas. There's never a dull moment!
What have been the key challenges of your roles so far and how have you worked through these?
It would always be nice to have more money to plough into our ministries and facilities, but God has faithfully provided what we need. Probably our greatest challenge is the busyness of modern life that impacts volunteer involvement in all churches. Similarly, our children and young people have a lot of opportunities to be involved in extra-curricular activities that somewhat 'compete' with their attendance at church. Our goal is to deepen the relationships in our ministries and make what we do so beneficial for our kids, families and young people that they naturally prioritise being here.
Can you tell us a little about your personal faith journey?
I believe God began seriously calling me around 2002/2003. On paper I had everything – a happy marriage, a good job and a beautiful daughter, but I couldn't shake the feeling that something was missing and thoughts like, "Is this it? Is this all there is to life? Just working, paying bills, buying stuff, etc?" God started nudging me to get to know him and what the Church was all about, so I was searching the Internet and basically 'stalking' God! He led me to make some Christian friends, who answered some of my questions and invited me to church. During the very first service I attended, I was convicted that I was lost without Jesus and gave my life to him. Best decision ever!
How does your faith inspire you and shape your outlook, life choices and character?
My faith inspires me every day through the example of Jesus, the apostles, and so many modern-day saints that I am privileged to work, serve, and worship with. The knowledge of my brokenness and the undeserved grace, love and mercy that God pours out on me every day shapes my interactions with others and has made me a much more compassionate person.
What is your favourite scripture and why?
I can almost hear a few friends at church groaning and yelling, "Hebrews! She loves Hebrews!" The sweeping overview of our place in God's story, the incredible person and sacrifice of Jesus Christ that we read about in Hebrews, and the vision of that 'great cloud of witnesses' cheering us on is just so uplifting!
What person of faith inspires you the most and why?
One of the most incredible stories I have ever read is that of the late Dr Helen Roseveare, an Englishwoman who dedicated her life to providing medical care to the people of the Belgian Congo through the most horrendous trials imaginable. Her faith in Jesus was unshakeable and her love for his people knew no bounds. She poured her life out serving her Saviour. Her autobiography, Count it All Joy, is a humbling must-read that will stay with you.
What are the primary strengths of the Church and what is the best way to make the most of these for the benefit of our communities?
I sincerely believe that, in addition to Jesus, the Church has what everyone in our society is desperately searching for: a place to belong, to be accepted, and to be loved and nurtured in a real family. The Church also offers a myriad of ways to serve our Lord through which he will grow your character and skills in ways you never thought possible.
What are the primary challenges currently encountered by the Church and what is the best way to overcome these for the benefit of our communities?
Obviously, there are major challenges for the Church currently in managing the impact of COVID-19 and in speaking into the dizzying pace of global political and cultural changes. We owe it to God's people to ensure that we stay abreast of all this and not be afraid to 'do church' in different ways. If we stand firm in our calling to the vital and unchanging work of bringing Biblical truth to bear on all these issues and events, the Gospel will go forth and Christ's Church will endure.
What is the kindest gesture you have ever received or witnessed?
Hard to choose just one! I have always valued the pastoral ministries of our North Pine congregation, but I never really grasped their impact until I was terribly ill a few years ago with a kidney infection. The kindness of my church family at that time was so humbling and very gratefully received.
What is the best piece of advice you have ever received and who gave you this advice?
One thing that has stuck with me was the advice of a lady I worked with back in my early 20s. She said that when a document/email/phone call comes to her, she does her best to "only touch it once." It was a lesson in efficiency and not putting off what we can do today, and I still try to adopt that approach whenever possible.
What do you do in your free time to recharge and relax?
I have five guinea pigs that I love to cuddle and care for. I enjoy cooking and reading. Drinking tea and spending time in God's beautiful creation with friends and family. My current guilty pleasure is watching Grantchester with my husband on Monday nights!
If you found yourself on a deserted island, what three things would you choose to have with you?
Apart from my precious husband and daughter, I would require my Bible, a big sun hat, and an endless supply of tea.
If you could have a billboard with any text on it, what would it say and why?
It would have to be something along the lines of, 'Make time to investigate Jesus for yourself'. You can tell why I'm not in marketing! Seriously though, so many people dismiss the Christian faith without doing any kind of personal investigation into it. I can say from personal experience that I made the time, and it changed my life forever.
What book have you given away most as a gift and why?
I tend to give away books about Christianity, like the book from the Alpha course. Sometimes it's a less intimidating way for people to start getting to know God before they take more public steps towards him.
Where do you do your best thinking?
In my study at home or in the shower.
What's your best childhood memory?
Definitely camping, swimming, holidaying and four-wheel driving at places like Fraser Island, Rainbow Beach, and the holiday home my grandparents had at Caloundra where we would slice up a locally grown watermelon and eat it on the grass in the back garden after a huge day in the surf.
If you are having a bad day, what do you do to cheer yourself up?
Have a cup of tea, first and foremost! Hug my husband and daughter. Pray and remember how blessed I am. Cuddle my guinea pigs. Go for a walk. Tick something off my 'to do' list at home that has been bugging me for a while.
What makes you nostalgic and why?
Thinking about my father, who passed away in February 2020. Especially when I go to places like Shorncliffe where we spent time swimming and eating ice cream as children. Also, thinking about the early days of our married life in England when my husband Pete and I were very carefree.
What day would you like to re-live and why?
The day our daughter, Lily, was born. It was incredible in so many ways! To see that perfect baby emerge and finally hold her. They do grow up so quickly and I'd love to cuddle Lily again as a baby.
Jump to next article