Canterbury students set to be world ready
Canterbury College's Centre for Entrepreneurship and Leadership (CCEL) is set to deliver innovative entrepreneurial and leadership opportunities that will allow students to develop, grow, cope and engage in an ever-changing world from the start of 2021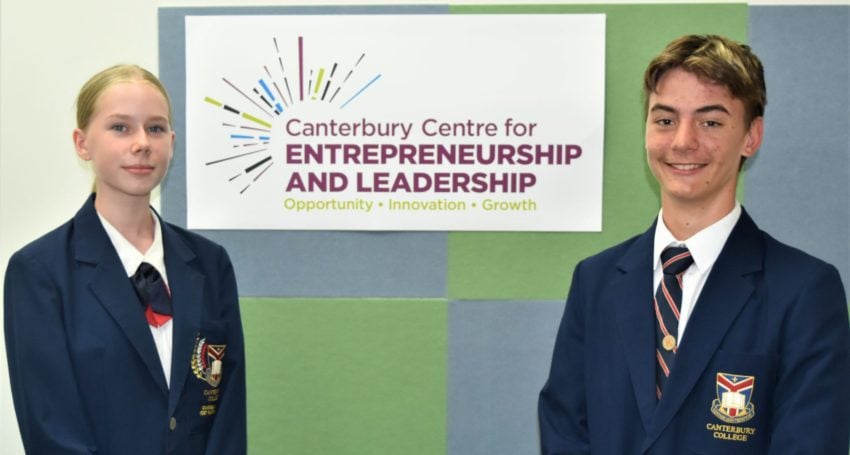 Canterbury College's Centre for Entrepreneurship and Leadership (CCEL) is set to deliver innovative entrepreneurial and leadership opportunities that will allow students to develop, grow, cope and engage in an ever-changing world from the start of 2021.
The Head of the CCEL Greg Wacker said that the centre is founded upon key contemporary skills and values.
"The foundations for the CCEL are built on the four 21st century skills of collaboration, communication, creativity and critical thinking and support the three student-centric visions of opportunity, innovation and growth," Mr Wacker said.
These are all underpinned by the students' passion as the CCEL nurtures and expands their entrepreneurial mindset as they grow into resilient world ready leaders."
Year 10 Canterbury student Ashlyn Dinsdale, the owner of startup company Rose + Quill, has been successfully selling her handmade personalised art and calligraphy online for over a year.
She said she is excited about the possibility of accessing coaches and mentors through the CCEL to help grow her business.
"I know that the experience of other successful business owners will assist me in making good decisions about the next step for Rose + Quill and there are so many other students who are also looking for this opportunity," Ashlyn said.
Year 11 student Charlie Johnstone has been involved in many entrepreneurial opportunities since Year 8, most recently competing in Australia's largest open government and open data hackathon GovHack.
Using his understanding of language-based code for web orientated algorithms, Charlie successfully developed an app to help tackle the issue of common waste items affecting sea life.
The app was called 'Bin Bingo' and won his team second place in their chosen category from over 300 teams.
Charlie said that he is thrilled to be part of the CCEL, which reflects the College's adaptive approach to learning.
"Canterbury has always allowed for students to extend their engagement beyond the curriculum boundaries, providing creative ways for them to truly thrive," Charlie said.
"CCEL is yet another example of Canterbury's eagerness to help students grow and develop, and I am very excited to be part of this initiative."
Principal Daniel Walker sees a broader range of leadership and entrepreneurship opportunities as benefitting not only Canterbury College students, but also strengthening the quality of community partnerships in Logan and beyond.
"Schools have a responsibility to do more than create high ATARS; we must bridge the gap between school and the real world," Mr Walker said.
Throughout the year, the CCEL will be proactively establishing a range of innovative events and activities that will engage students with local industry and community organisations to help broaden students' understanding of the world of work and enrich their school learning experiences.
This will include providing opportunities to partner with, meet and learn from various industry professionals through a structured internship program, solve real-world problems and engage in diverse learning experiences that reach beyond the traditional approaches to learning in a school context.
Mr Wacker said that the days of one-off work experience visits are no longer a valued model.
"The reality is that young people need to understand the range of new and emerging skills, knowledge and capabilities valued in the workplace," he said.
The CCEL model is a whole school approach with a range of experiences established for Junior and Secondary School students at Canterbury and around the country.
Jump to next article