Records and Archives Centre news: indexes, a mystery grave and a new website
Find out the latest Records and Archives Centre news, including how the Archives team assisted a local researcher to identify the owner of a mystery grave in our Western Region, as well as about the new indexes and tools now available to assist enquirers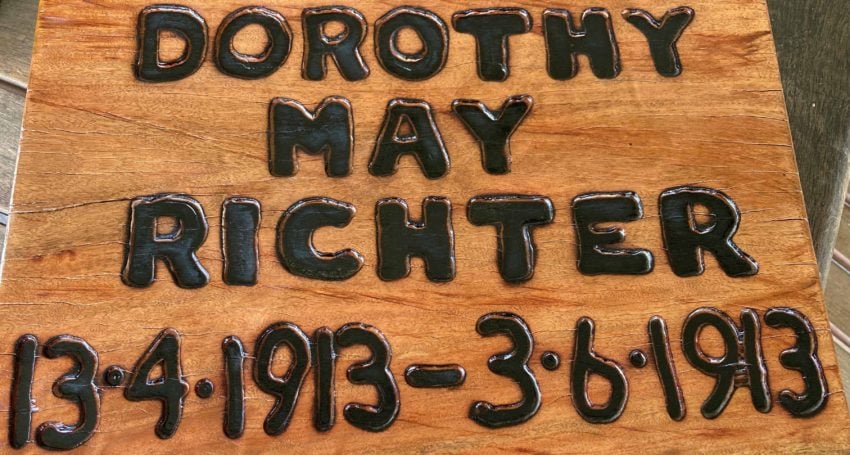 In my anglican focus feature published in July 2020, I noted how COVID-19 had impacted the Records and Archives Centre – particularly in the ways staff and volunteers work and interact. Despite the recent 'lockdown' and requirement for stricter physical distancing, we have managed to re-establish a 'new normal' at Church House and are encouraging researchers to once again make appointments to review records in the Arnott Reading Room. We have also relaunched our new public website, where we have published several new online collections, indexes and finding aids.
During the past year, one of our team of volunteers (Glenda Murrell) has been indexing The Bush Notes as published by the Bush Brotherhood of St Paul. The notes were a monthly publication (first published not long after the establishment of the Bush Brothers in 1905) and they record the baptisms, marriages and burials that the Brothers conducted. The indexes have been published on our new website. The website includes a gallery of images for St John's Cathedral, a link to our Military Chaplains Exhibition, a section on First Nations peoples, and an online enquiry form.
Other indexes that we have recently published include our Index to Marriages (1843-1910). This index was originally created in 1999. The index (originally recorded in an old Access database) has been inaccessible for several years. Archives staff have had to rely on the printed published version. We recently discovered an online tool which has allowed us to convert the index into an Excel spreadsheet for internal purposes, and then into an Adobe PDF for publishing. The index has been published in the form as entered; however, we are looking at ways to make it more user friendly for our researchers.
One of the index entries notes the first marriage at the new St John's Cathedral – that for The Rev'd Bertie Peregrine Walker and Alice Maud Townshend. The Archives holds an original wedding invitation for the marriage, noting that Alice's father was a Mr R.E. Sexton. Alice had kept her original name when her mother had remarried after the death of her biological father. The marriage was conducted by Archbishop Donaldson, as noted in the Marriage Register and the newspaper article for The Brisbane Courier.
The entry for The Rev'd Bertie notes that he was then residing in Gayndah – which provides a good link to another index that has recently been published on our new website – that being early baptisms for Gayndah. The index covers the baptisms recorded in the first and second Baptism Registers for the Parish of Gayndah, including Burnett District (1860 to 1877) and (1891 to 1894) and Gayndah (1882 to 1891]. The indexes have been collated in the order that they were recorded in the registers.
Several of the entries note German and Chinese settlers, and there are also references to First Nations peoples. Additional information and links from other sources have been included where the individual or family are notable. Four entries note the baptisms for children of Thomas Skelton, who had been transported from England to Australia as a convict.
Thomas was born in Cavendish, Suffolk around 1830. In 1849 he was transported to the Moreton Bay colony after being found guilty of stealing 10 chickens in 1846. In 1856 he married Maria Taylor at his residence at Dalgangal, Queensland. The marriage was entered into the marriage register for Maryborough and is noted in the Marriage Index. In 1858 he took the licence of the Prince of Wales Hotel, Mundubbera. By 1870, he was running a hotel in Gayndah, passing away in 1873.
Our researchers continue to send us many and varied queries – while many are in relation to baptisms and marriages, we do receive enquiries concerning funerals and burials. One of the most notable recent enquiries concerned a lone grave in Anduramba (just north of Crow's Nest).
The grave was on the former site of St Hilda's Anglican Church (dedicated in 1911) in Anduramba. The church was relocated in 1953 to Maclagan (east of Dalby), and the land sold to a private buyer in 1975. Since then, the land has gone through several hands – but it was always known that there was a single grave on the site, where a climbing rose currently grows.
Local stories mention a young child who died of diphtheria and that her mother (known only as Richter) had an older child. Another story said that it was the older child that had died, and possibly only three years old at the time. There was unfortunately no clarity as to the year of burial (just that it occurred sometime between 1910 and 1940).
The current owner (Trish Mason) purchased the land in early 2019 and was determined to identify the individual. Trish managed to obtain birth and death certificates of likely candidates from The Registrar-General of Births, Deaths and Marriages. After some research by Archival staff a relevant entry in the July 1913 edition of The Church Chronicle was located (have I mentioned previously what an excellent publication this is?). It notes that a Mr and Mrs George Richter had lost their little one, and that the child had been buried at St Hilda's in Anduramba.
A review of the baptism registers for Crow's Nest noted a baptism for an Edmund Richter (parents George and Caroline Richter), but nothing regarding a baptism for other children of George and Caroline prior to the burial.
From a Crow's Nest Family History site (and from the certificates that the owner obtained from the Births, Deaths and Marriages office) we have been able to work out that George and Caroline had four children, including two at the time of the burial. The second child, Dorothy, was born in April 1913 and died on 3 June. Her death certificate notes that she was buried at the Church of England at Anduramba – meaning that it is almost certain that it is Dorothy that lies in the unmarked grave (as Edmund passed away in 1984).
At the time of publication, Trish has placed an iron trellis above the grave for the climbing rose and was arranging for a plaque to be placed on the grave.
The Archives continues to receive enquiries from researchers regarding family and local history, as well as from parishes after going through their cupboards, storage spaces and filing cabinets. We encourage other parishes to review their records – if you have any questions, please get in touch! We are especially looking for church registers – which includes of course those that detail burials.
The Record and Archives Centre team encourages anglican focus readers to visit their new website.
Jump to next article