Sunday Devotion: 28 March 2021, Sixth Sunday in Lent
Not my will, but yours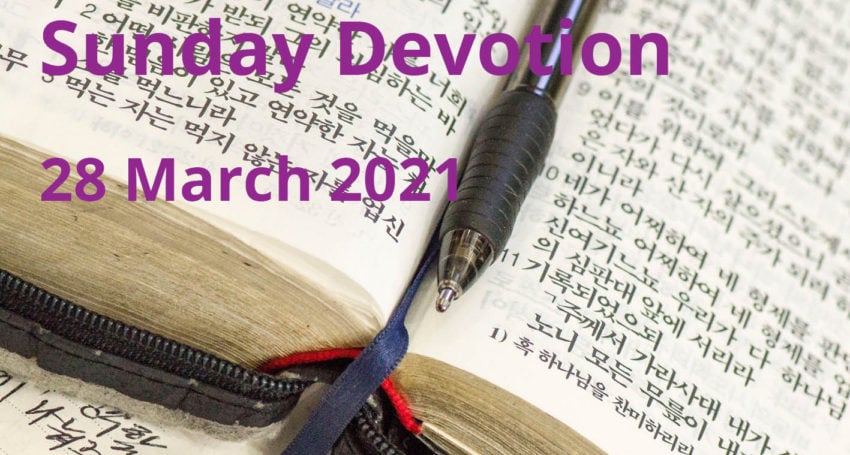 Written by clergy and lay people across our Diocesan community, 'Sunday Devotions' is a column of short reflections based on a Lectionary reading of the day, suitable for small group discussion or personal use.
Main readings: Isaiah 50.4-9a; Psalm 31.9-18; Philippians 2.5-11; Mark 14.1-15.27 or Mark 15.1-39 (40-47)
Supplementary Readings: Psalm 70; Galatians 3.10-14; Exodus 13.1-3, 7-9; Psalm 118.1-16; John 12.20-32
"Let the same mind be in you that was in Christ Jesus." (Philippians 2.5)
At different stages of life, I've joined various teams; some formal (like a club basketball team) and some less so (like at pub trivia nights). More recently, the term 'team' has come to include colleagues in my professional life. In each team situation, the things I'm called on to undertake differ.
Paul encourages us to put others ahead of ourselves. When reading his exhortation to the Church in Philippi to imitate Christ's humility this Holy Week, we are reminded of the mindset of Christ as he entered Jerusalem. Anticipating what is to come, Christ makes no effort to evade it – praying "not what I want, but what you want" (Mark 14.36) and remaining "obedient to the point of death – even to death on a cross" (Philippians 2.8).
Rather than revealing an all-powerful, almighty God, the life of Christ – especially in Holy Week – reveals the humble and loving God who "emptied himself, taking the form of a slave" (Philippians 2.7), who demonstrates an explicit willingness to be human with us. Such humility should give us pause when we feel our desire to be the star player or to climb the corporate ladder creeping in.
How often do we let ourselves be driven by selfish ambition, however well disguised, or self-assertion, however subtly exerted, or conceit, however privately cultivated? What would it mean for us to look humbly to the interests of others? May the same mind be in each of us that was in Christ Jesus.
Jump to next article