Dedicated staff member lovingly crafts new cross
A new processional cross has been lovingly crafted by a long-serving staff member and is modelled on the symbol-rich cross of the Sisters of the Society of the Sacred Advent who founded the school over 125 years ago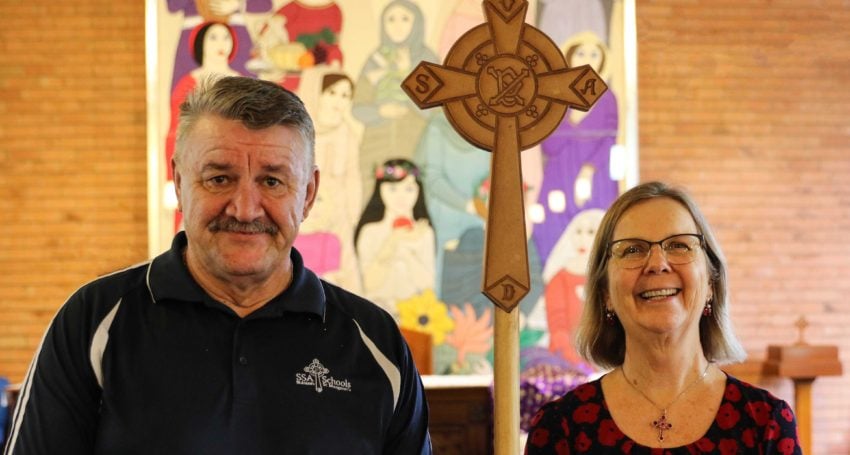 When St Margaret's Anglican Girls School had a need for a second processional cross, they called on a long-serving staff member to craft the symbolic cross.
George Mogilski has worked at St Margaret's for 25 years. A skilled carpenter, Mr Mogilski has built many an item for the school, including musical sets, signage and even the diving blocks at the school's former swimming pool.
Mr Mogilski said that he felt honoured to create the cross for the Sisters, especially given the close relationship he has built with them over the last two and a half decades.
"Having worked at the school for so many years, it was a highlight to be asked to make something of such significance which will be used at assemblies and times of worship for many years to come," Mr Mogilski.
"I am very close with Sisters Eunice, Sandra and Gillian and visit them in their retirement village when I can, so it means a lot to me to have crafted this crucifix modelled on the Sisters' cross."
The new processional cross is modelled on the cross of the Sisters of the Society of the Sacred Advent, who founded St Margaret's 126 years ago.
The school already possesses an exquisite brass cross which is used in the school chapel but, to preserve this piece, Mr Mogilski was asked to create a second cross which could be used for services held in the new Philip Harris gym.
The three-dimensional timber cross is a simplified version of the original design and features the letters 'S O A D' inscribed on the tips of the cross which stand for 'Society of the Advent of the Lord'. The smaller circle carries the Greek letters Chi (X) and Rho (P), the initial letters of Christ, and it is thought the berries at the end of the X possibly represent holly for Advent.
While the design of the Sisters' cross is steeped in more than 125 years of history and symbolism, Mr Mogilski used a combination of modern digital laser technology and traditional carpentry techniques to create the finished product.
St Margaret's Chaplain The Rev'd Susan Crothers-Robertson will bless the cross in Term 2 and is looking forward to seeing it in use.
"The rich symbolism of the cross means a lot to our school. It reminds us that we are a Christian School and that we are Christ centred," The Rev'd Susan said.
"The cross is beautifully crafted and I had tears in my eyes when Mr Mogilski showed me what he had made.
"We are looking forward to blessing the cross, but in the meantime the cross is in the chapel so the community can appreciate what Mr Mogilski has lovingly crafted.
Jump to next article