Sunday Devotion: 4 April 2021, Easter Day
A less chocolatey Easter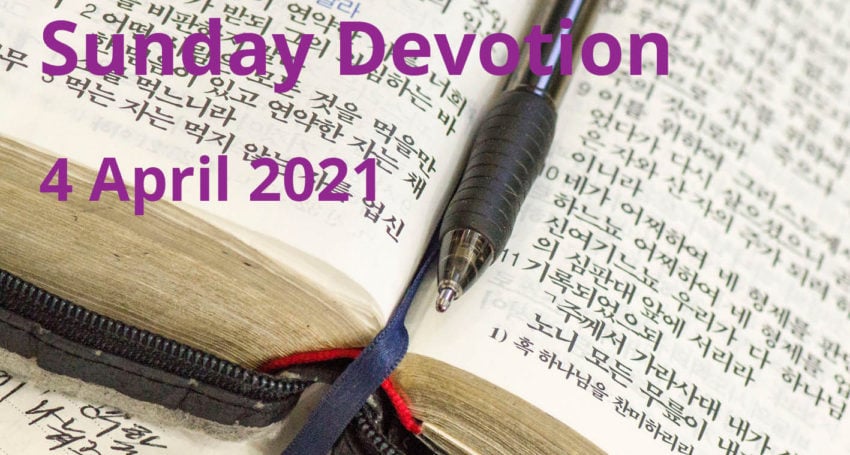 Written by clergy and lay people across our Diocesan community, 'Sunday Devotions' is a column of short reflections based on a Lectionary reading of the day, suitable for small group discussion or personal use.
Main Readings: Acts 10.34-43 or Isaiah 25.6-9; Psalm 118.1-2, 14-24 or 'Hymn to the Risen Christ' (APBA p.6); I Corinthians 15.1-11 or Acts 10.34-43; John 20.1-18 or Mark 16.1-8
Supplementary Readings: Isaiah 25.6-9; Psalm 114 or 'Hymn to the Risen Christ' (APBA p.6); 1 Corinthians 5.6b-8; Luke 24.13-49; Evening Prayer Exodus 12.1-14; Psalm 113; Romans 6.13-14
"So they went out and fled from the tomb, for terror and amazement had seized them; and they said nothing to anyone, for they were afraid." (Mark 16.8)
I loved Easter as a child. All the lovely food, and with none of the social family 'issues' that Christmas usually brings. I say lovely food, but what I mean simply is chocolate. As I got older Easter became more complicated, and we get to see some of that complication in the readings for Easter Day – they are not of unalloyed joy, there are no chocolate bunnies.
Mark's Gospel, with what is widely considered to be the original ending, is an extraordinary account of the resurrection, most likely the earliest Gospel account of it, too. It starts with grief and ends in fear. There is no mention of joy in that reading, even less, Easter joy .
Paul's first letter to the Corinthians predates the Gospels and is most likely the earliest account of the resurrection in the Bible. There, Paul passes on the account he has himself received. This proclamation of the resurrection does not itself mention things that we often think are part of that account – there is no empty tomb or folded grave clothes. Paul is almost terse; Jesus died for our sins, he was buried and now is risen.
There was much to love about Easter as a child, but I now have to be careful with the amount of chocolate I eat. There is even more to love in the complexity and depth of the accounts of the resurrection, as these scriptures show. I can freely dive in deeply here.
Jump to next article