Sunday Devotion: 11 April 2021, Second Sunday of Easter
Fear versus rejoicing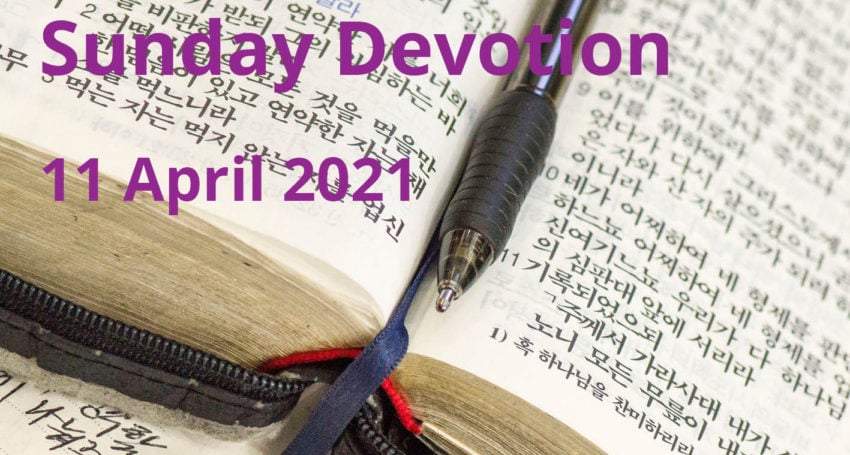 Written by clergy and lay people across our Diocesan community, 'Sunday Devotions' is a column of short reflections based on a Lectionary reading of the day, suitable for small group discussion or personal use.
Main Readings: Acts 4.32-37; Psalm 133; 1 John 1.1-2.2; John 20.19-31
Supplementary Readings: Psalm 114; 1 Corinthians 15.19-26; Ezekiel 37.1-14; Psalm 115; Luke 24.1-12
"When it was evening on that day, the first day of the week, and the doors of the house were locked for fear of the Jews…" (John 20.19)
'Scaredy cat' – as a child I would hate people calling me that…and it seemed that I was scared of a lot of things. Children would mostly chant this when you didn't take a dare or dive into the pool. There were other things I was afraid of also – above all, of others having a bad opinion of me. I was a child that liked to please. Perhaps that's why I love golden retrievers so much.
The Gospel passage describes the fear of the disciples. It is Easter Day – as in, the first Easter Day. Mary Magdalene has seen Jesus in the garden. Do they believe her? Jesus then appears that evening amongst them – and they rejoice when they see Jesus. The way John writes it, "then the disciples rejoiced when they saw the Lord", makes me think they hadn't believed Mary. Thomas, who wasn't there with the other disciples, famously said he needed proof to believe it. And, he gets this proof a week later when Jesus appears again.
It is all about belief, faith. The climatic summary comes from Jesus, "Blessed are those who have not seen and yet have come to believe." He foreshadows the building of his Church on such faith. After his ascension we know the disciples did build his Church – in faith, not fear.
We can reflect on how we, as Christ's Church, hide in fear – and remain hidden. Fear of irrelevance or fear of not making a difference. This is Easter season! How do we enable our rejoicing to overcome such fears?
Jump to next article