Bishop Jeremy Greaves calls on PM to accept NZ offer in open letter
Bishop Jeremy Greaves has joined other senior Anglican clergypersons in the signing of an open letter, calling for the Prime Minister to accept New Zealand's offer to resettle refugees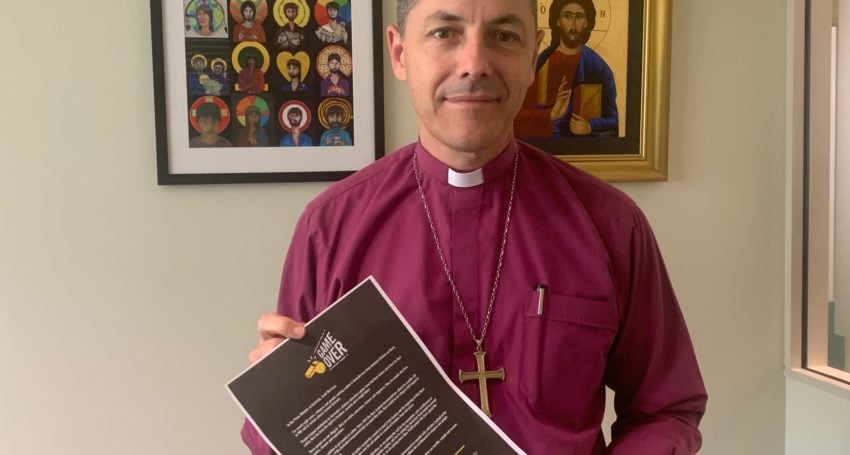 A 'travel bubble' will be available to Australians and New Zealanders from next week, while a group of people have been desperate to get across the ditch since 2013 when then-NZ Prime Minister John Key offered to resettle refugees trapped in the offshore processing systems of successive Federal Governments.
Yesterday a group of faith leaders from around the country published an open letter to Prime Minister Scott Morrison in his local newspaper, The St George and Sutherland Shire Leader, calling on him to accept the NZ resettlement deal and end this dark chapter in our nation's history.
A number of senior Anglican clergypersons have joined other faith leaders in the signing of the letter, including Bishop for the Northern Region The Right Rev'd Jeremy Greaves who said that it is important for people of faith to stand together and advocate for those who have been indefinitely detained.
"At the heart of our Christian faith is a call to 'welcome the stranger' and to care for the 'least of these'," Bishop Greaves said.
"All Christians have a part to play in speaking truth to power and calling out injustices wherever we see them occurring.
"Faith leaders can model this as a way of encouraging people everywhere to join their voices to this sort of campaign."
Bishop Jeremy Greaves said that New Zealand's offer is a compassionate and effective solution.
"The New Zealand Government has, for a number of years, offered to resettle refugees who are detained offshore," he said.
"It seems to me that this is an offer that would enable our own Government to show compassion and allow people whose refugee status has been confirmed to begin rebuilding their lives in peace and safety."
Other senior Anglican clergy who signed the letter include Bishop Greg Anderson of the Diocese of the Northern Territory; Bishop Murray Harvey of the Diocese of Grafton; Bishop Peter Stuart of the Diocese of Newcastle; and, Bishop Matt Brain of the Diocese of Bendigo.
The Right Rev'd Dr Greg Anderson said that access to essential medical care for people medevacced for that very reason is of particular concern to him.
"A sharp focus for Darwin right now is the number of people who have been held in medevac detention near Darwin Airport, for over a year, without receiving medical treatment. This is deeply inhumane," Bishop Anderson said.
The open letter was written in support of Amnesty International Australia's Game Over campaign, which has been led by former Socceroo and current SBS broadcaster Craig Foster.
Amnesty International Australia Refugee Rights Advisor Graham Thom echoes the words of the faith leader letter signatories.
"In the almost eight years since the deal was offered, every single person in offshore detention – and those brought to Australia through Medevac – could have been freed to rebuild their lives," Dr Thom said.
Bishop Jeremy Greaves said that he encourages Anglicans to both intercede and advocate by praying and contacting their elected representatives.
"We can all play our part in advocating for those warehoused offshore and those who are being held in medevac detention," Bishop Greaves said.
"We can do this by praying for those who are detained, praying for the softening of the hearts of our elected representatives and by contacting our Federal Members of Parliament and asking that they show common sense and common decency by supporting New Zealand's offer."
Editor's note 17/04/2021: This news story was updated with the addition of the open letter from faith leaders to Prime Minister Scott Morrison.
Jump to next article