Introducing the newest member of the St Margaret's School community
Toy cavoodle Luna Peggy Fowler is the newest enrolment at St Margaret's Anglican Girls School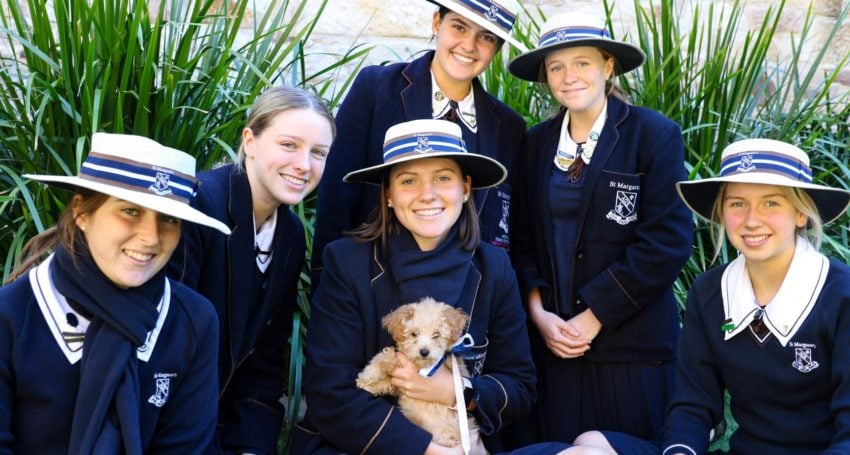 Luna Peggy Fowler is the newest enrolment at St Margaret's Anglican Girls School.
The now 12-week-old toy cavoodle, a cross between a Cavalier King Charles spaniel and a toy poodle, has taken on the very important role as the school's new pet.
Head of Boarding Lesa Fowler said Luna has been a great companion within the school community so far.
"She is a great source of comfort and enjoyment for the students, especially our boarders who are a long way from their own pets," Ms Fowler said.
"For example, I recently had to tell one of the girls her horse had died, but we had Luna with her, which helped provide some comfort to her while coping with the sad news."
Luna has been stealing hearts all over the school community, spreading much joy and happiness in her fuzzy, furry wake.
She has the sweetest temperament and has adjusted to the love, cuddles and presence of so many new ooh-ing and ah-ing faces with ease.
Although Luna is a school dog, she has been adopted by Ms Fowler, who has opted to be her primary carer.
Year 12 boarder Emma Arnott said that Luna helps to strengthen the students' bonds with each other.
"I believe it is important to have a school pet like Luna as it brings a fun and joyful side to the school allowing for all students to come together and bond with her," Emma said.
"As well as this I believe she is a great addition to the boarding house, as she is a little fluffy friend to us all who are missing our own pets."
Of an evening, Luna spends between 6 pm and 8.30 pm in the boarding house with a Year level.
As she grows, the boarding students will also share in some of the responsibilities of caring for Luna, including taking her for walks.
Emma said that Luna bring joy to students and helps boarders to feel at home, especially when they are missing their own pets.
"My favourite thing about Luna so far is the joy she brings me, as well as all the other girls when we are playing with her," she said.
"She is so joyful and loves to run around chasing balls and other toys. It is great to see the smiles she brings to all of our faces.
"I have two dogs at home, a kelpie and a sausage dog, and I miss them very much while being away from home, but having Luna allows for this to be eased, as she is becoming a part of all our lives and is very loved, just like my pets at home."
As well as keeping boarders company, Luna will be visiting classrooms and will be out and about at morning tea and lunchtime.
In fact, Head of Mathematics Vicki Strid has already purchased a bed for her maths lessons so that Luna can join in the fun of learning algebra and logic.
The school community have been involved since the beginning of Luna's journey, including voting on her first and middle names.
Jump to next article