Eight Resource Church Specialists share stories and resources
Our Diocese's eight Resource Church Specialists tell us about their current projects and activities and the highlights of their roles so far, while also sharing resources for parishes and ministries to use and adapt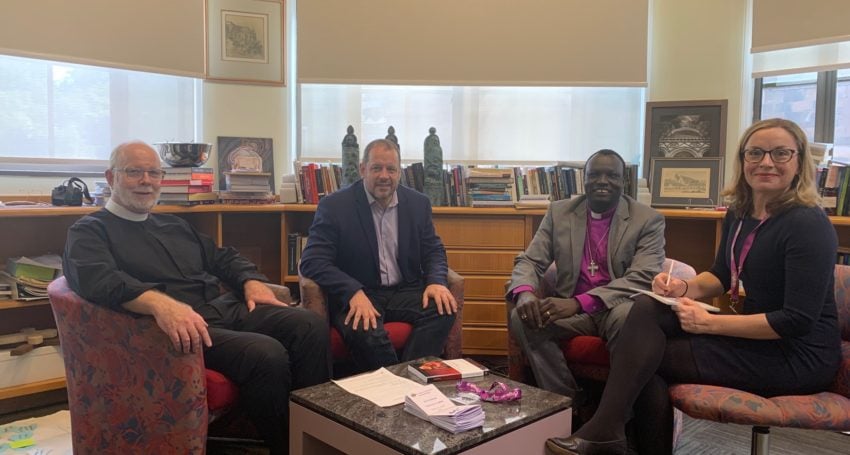 Inspired by a similar project in the Church of England, the Anglican Church Southern Queensland launched the 'Resource Churches' project in 2019 as part of our strategic framework to support parish health and growth. While project plans were inevitably disrupted or necessarily shifted online due to COVID-19 in 2020, our eight Resource Church Specialists have been busy with exciting new and ongoing initiatives this year.
Bishop Daniel Abot – Resource Church Specialist for Ethnic Congregations, Parishes and other Mission Agencies Commission
I am Bishop Daniel Abot, the first Resource Church Specialist for Ethnic Congregations in our Diocese. My office is based at St Bart's, Toowoomba, as I live in the Toowoomba area.
Here is an exciting example of one of the kickstarter 'Hello Evenings' I have run in our Diocese. "A kickstarter what?", you might ask? This is it. We asked families from different groups at St Bart's to bring a plate of their favourite food and come and share their story. What happened? Over seven families from different culturally and linguistically diverse backgrounds came with a wonderful range of food to share. As we gathered around food and shared our stories, any differences melted away.
As my Specialist role is about supporting and building ethnic congregations, I can assist churches with advice about cultural capability, with connecting different ethnic congregations to each other and in the running of parish events. My monthly two-page newsletter can be downloaded from the faithful + effective website.
I welcome church leaders from ACSQ parishes to contact me for advice or assistance via Daniel.Abot@anglicanchurchsq.org.au.
The Rev'd Mary-Anne Rulfs – Community Ministry Specialist and Community Minister, Parish of Robina-Mermaid Beach
I commenced as Associate Priest in the Parish of Robina-Mermaid Beach in January 2021, also taking on the role of a Resource Church Community Ministry Specialist – an evolving role. This role currently focusses on strengthening relationships throughout our parish community and networks of small groups, pastoral ministry, two op shops, an early learning centre, kids' and youth ministry, baptism ministry, a young adult intern team, women's and men's ministry, Trinity Family Support Network and connection with four Gold Coast Anglican schools.
One highlight of my role to date is hosting a lunch for women in our community. Fifty women of all ages with different connections to our community met at a local café, forging new and stronger connections and finding new ways to serve, such as joining an op shop team or encouraging our young interns. Stronger relationships mean our community is better placed to reach out to and welcome others, as well as resource ACSQ churches in our Region.
My experience in Anglican school chaplaincy, academic focus on practical theology and pastoral experience in a 1000-strong church community have equipped me with the skills to advise ACSQ churches with building faith-forming relationships. You may find our digital newsletter a helpful template for connecting effectively with a diverse community.
Regarding forging community relationships, you are welcome to contact me via maryanne@robinaanglican.com.
Dale Lennon – Digital and Young Adults Ministry Specialist and Director of Youth, Young Adults and Music, Parish of Robina-Mermaid Beach
I am the Director of Youth, Young Adults & Music at the Parish of Robina-Mermaid Beach. It is my privilege to be a part of a number of exciting specialist ministry endeavours at Robina, including digital ministry and an internship program within our young adults ministry. I also coordinate our youth and contemporary worship ministries.
An exciting aspect of our digital ministry has included seeing people make a transition from the digital space to joining us in person. For instance, during Easter a number of people that we had never met in person registered and joined us onsite for worship. The flexibility of online worship for many is a wonderful thing, but it is great that a gathered face-to-face community is becoming integrated with that flexibility and meeting these people in person is a huge highlight of the work I have been doing.
Our digital ministry includes multicasting live services to a number of platforms and intentional integration and connection with those online through chat hosts and designed moments within services and through social media. Our six interns are involved in many aspects of church ministry, including kids, youth, creative and digital ministries. We have seen this program grow through our young adults ministry and it is wonderful to be a part of.
I would welcome being a resource to ACSQ churches beginning the journey of Young Adults ministry or internships. Similarly, digital ministry can be daunting and I would encourage those interested to consider free resources regarding online church delivery and software for managing online services. I have experience using these resources and could offer advice on initial setup and ideas for development.
ACSQ clergy and lay leaders are welcome to contact me via email dale@robinaanglican.com.
Bowen Miller – Digital and Community Engagement Specialist and Family Support Minister, Parish of Robina-Mermaid Beach
My role at the Parish of Robina-Mermaid Beach is Family Support Minister, and this involves running our Government-funded early intervention service (for families with kids under the age of eight years). My specialist role is related to offering churches advice about administering tech systems, video editing and community engagement though early intervention service.
As I am a relatively new project specialist, the focus on my Resource Church position at present is building up my home parish's capabilities and networks. A highlight of my role so far is working with a family who were stuck in Australia because of COVID-19 and were unable to receive any Government assistance but we were able to deliver them a whole newborn setup, and connect them to other services they needed. This is done in partnership with the social worker at the Gold Coast University Hospital and Baby Give Back, an organisation that collects all the items needed. We then deliver them and offer additional support and keep in touch if needed. This was, and is, all done at no cost.
I can assist clergy and advocates with a range of things. If you are running a community service, take a look at our Weekly Dads Workshop resources. I can also offer advice regarding tech systems, such as getting your servers/data online with Office 365; website creation and administration; early intervention community services; and, video editing and content creation at low or no budget.
ACSQ clergy and lay leaders are welcome to contact me via bowen@robinaanglican.com.
Michelle McDonald – Communications and Community Engagement Specialist, Parishes and other Mission Agencies Commission
In addition to my anglican focus Editor role, I work as a Resource Church Communications and Community Engagement Specialist within the Parishes and other Mission Agencies Commission.
A highlight of this role has been working with Resource Church leader The Very Rev'd Dr Peter Catt and the Justice Unit's Peter Branjerdporn on a 'Climate and creation care communications' framework. Work on this project commenced in August and after much consultation, the framework was recently published on the Cathedral website. The framework's contents are transferable to other advocacy spaces, and offer alternative messaging principles, sample paragraphs, suggested campaign pillars, and additional tips. In April, we co-hosted an online workshop with the National Council of Churches in Australia for Christians around the country based on the project outcomes. We are holding a similar workshop for people in our Diocesan community on Friday 18 June. These events will be followed by a workshop centred around the use of narrative frameworks in justice advocacy. I love the collaboration involved in workshops and am proud of the nationally ground-breaking resource we have developed together as part of the Resource Churches project.
I can assist clergy and advocates with the framing of their 'Climate and creation care communications' and providing media release and media alert templates, as well as by extending invitations to workshops, including the Friday 18 June online workshop.
ACSQ clergy and advocates are welcome to contact me via focus@anglicanchurchsq.org.au.
Bettrys Lowe – Children's Ministry Specialist and Children's and Families Minister, St Bart's, Toowoomba 
In addition to my role as Children's and Families Minister at St Bart's, Toowoomba, I serve as a Resource Church Specialist in children's ministry.
A highlight of this role has been sharing a number of children's ministry resources, developed by our St Bart's Kids Team, to other parishes and individuals. In the past year, quite a number of churches have utilised our Sunday Sermon Series materials, including the children's ministry package. This package includes a Kids' Talk (script and video content provided), e-book and print Scripture that is based on the same passage as the sermon), small group questions, games, worship links, and custom designed activities for different age groups. Many parishes who have experienced constraints of time and/or capability have appreciated a free curriculum that is Biblically-based, caters for 0-12 years, and allows the whole family to study and grow in a developmentally appropriate way. I have loved the fact that not only people from our own Diocese, but churches around the world, have accessed these materials online and used them in their own contexts.
I can assist parishes in the form of sharing in-house produced curriculum resources for children's ministry (including family discipleship resources), as well as providing advice for structuring an intergenerational team-based children's ministry.
For more information or help with accessing our resources, please contact me via bettrys@stbarts.com.au.
Amy Norman – Faith Formation Specialist and Lay Minister – Discipleship, St Bart's, Toowoomba
As part of my role at St Bart's, I also serve as a Resource Church Specialist in faith formation. Strategically, my role at St Bart's focuses on enabling our mission to make and mature disciples of Jesus through St Bart's Kids, Pathways (e.g. discipleship and newcomers) and our Centre for Work+Faith.
A highlight in this role is helping our culture as a church to be intentional in growing whole-of-life and life-long disciples. This involves a multifaceted approach seeking to nurture people from enquiring, to beginning, to growing. In order to assist with people enquiring about Jesus, we have developed a four-week 'Introducing Jesus' course and run Alpha each term. With regard to beginning, we use another locally-developed course called 'Following Jesus' focusing on prayer, the Bible, belonging and proclamation. Finally, the focus of the growing stage is through Small Groups. All of our small groups use the same material that is connected to our current teaching series, St Bart's Kids on Sundays, and our Sunday CHARGE Youth Discussion. In recent years it has also been a great joy to encourage and equip people for their frontline of work through our Centre for Work-Faith.
I can assist churches in any of these areas. I recently contributed to an anglican focus feature that included links to a number of resources. Resources are also available on the St Bart's website.
Please feel free to contact me at amy@stbarts.com.au.
The Rev'd Daniel Hobbs – Resource Church Specialist for Adapting Ministry in Complex Times, St John's Cathedral
With a background in public policy, strategic communications, governance, mediation and community engagement, I am excited to coordinate the Adapting Ministry in Complex Times initiative. While I remain parish priest of St Paul's, Manly on a part-time basis, with St Paul's a participating parish in this initiative, I am also coordinating this co-learning community of fellow Anglicans from across our Diocese alongside Cathedral Dean The Very Rev'd Dr Peter Catt.
I am particularly excited by the prospect of both lay and ordained parish leaders working and growing together. Driving home from a recent workshop, three St Paul's lay leaders and I shared a great discussion. The workshop had, in a way, given permission for us to share insights we may not have felt possible in the past. We at St Paul's are specifically seeking to navigate a challenging time with a small elderly congregation and how we might respond to this ministry context.
I was blessed to participate in a three-month training program on Complex Facilitation with our partners at Complexibility, and hope to bring a unique approach to facilitation, communication, conflict and community development to this emerging co-learning community.
Our Diocese has licensed great resources in the complexity space – please email Resource Church leader The Very Rev'd Dr Peter Catt via pcatt@stjohnscathedral.com.au if you would like access to these resources. If I can be of any assistance to you and your community, please feel free to reach out via dhobbs@stjohnscathedral.com.au.
Jump to next article