East Jerusalem Initiative: accompanying families facing eviction and displacement
The World Council of Churches (WCC) Ecumenical Accompaniment Programme in Palestine and Israel (EAPPI) is beginning an East Jerusalem Initiative, through which the WCC-EAPPI is accompanying—even without a physical presence—families facing eviction and displacement, as well as people facing other violations of their rights. The WCC director of the Commission for the Churches on International Affairs Peter Prove explains the goals and history behind the East Jerusalem Initiative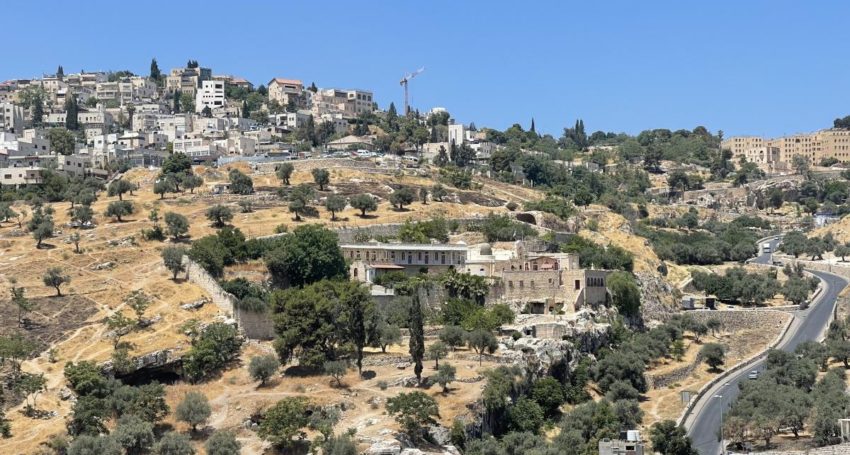 The World Council of Churches (WCC) Ecumenical Accompaniment Programme in Palestine and Israel (EAPPI) is beginning an East Jerusalem Initiative, through which the WCC-EAPPI is accompanying—even without a physical presence—families facing eviction and displacement, as well as people facing other violations of their rights. Below, WCC director of the Commission for the Churches on International Affairs Peter Prove explains the goals and history behind the East Jerusalem Initiative.
How is the WCC-EAPPI supporting the people in East Jerusalem?
Prove: WCC-EAPPI has been accompanying the communities of East Jerusalem for over a decade. Though currently unable to be physically present with members of the communities threatened with forced eviction and displacement – in Sheikh Jarrah, Silwan and elsewhere in East Jerusalem – WCC-EAPPI is looking to providing accompaniment in different ways, especially through advocacy initiatives such as the East Jerusalem Initiative that we are launching today.
Does WCC-EAPPI have a history of supporting communities in East Jerusalem?
Prove: For many years, WCC-EAPPI has been present with people in Sheikh Jarrah and other communities, meeting with families threatened with eviction and displacement, observing their nonviolent protest actions, and attending court hearings at their request and for their support. And as soon as circumstances permit, we will be back with them again in person.
In the meantime, when further court hearings and evictions take place, how can WCC-EAPPI accompany the affected people?
Prove: Firstly, through awareness-raising. In order to fully understand the injustice of this situation, one must know the context and history that brings the affected Palestinian families and communities into jeopardy of displacement for what for many is at least the second time.
It's also important to make people aware of the inherently discriminatory nature of the relevant Israeli laws. After Israel annexed East Jerusalem in 1967, it passed a law allowing Jewish claimants to seek recovery of properties in East Jerusalem from Palestinian families. However, Palestinians are legally precluded from recovering properties from which they were displaced in West Jerusalem and elsewhere in Israel. Unfortunately, these discriminatory laws are being used by settler organizations that have the explicit goal of driving out Palestinians and replacing them with settlers.
Secondly, through advocacy for justice. We are inviting all WCC member churches and all people of conscience and good will to join with us in appealing to the Government of Israel to halt the evictions in Sheikh Jarrah and other similarly affected communities in East Jerusalem immediately, and to ensure that Israel's obligations under international law – prohibiting it from changing laws and customs in occupied territory, from transferring populations in to and out of such territory, from destroying private property and forcible displacement, and from discriminating on national, racial or ethnic grounds – are fully respected and observed.
You mentioned the importance of knowing the context and history of the situation. Can you explain in brief? 
Prove: The families and communities now threatened with displacement already lost their homes at least once. Many people were displaced during the Arab-Israeli war of 1948. Jewish families who fled from Sheikh Jarrah at that time received alternative property for their housing – homes formerly owned by Palestinians – from the government of the newly-established State of Israel. As for the displaced Palestinians, Jordan and the UN provided for their relocation. Among these, 28 Palestinian refugee families were resettled in Sheikh Jarrah, East Jerusalem, in 1956. And now these people and their descendants face displacement again. But while Jewish claimants are legally enabled under Israel's laws – even if they had no historical connection to the properties concerned – Palestinians are excluded from pursuing any similar claims to their former properties in Israel.
Israel has already expropriated 35% of East Jerusalem for Israeli settlements, while the 330,000 Palestinian residents of East Jerusalem face a lack of infrastructure and a severe housing shortage due to the constraints of Israeli planning and zoning policies and practices. Only 13% of East Jerusalem is covered by an approved planning scheme for Palestinians, a precondition for issuing building permits, and most of these areas are already built up. Consequently, many Palestinian homes in East Jerusalem lack an Israeli-issued building permit, potentially placing over 100,000 residents at risk of displacement.
Palestinian people have a right to be treated equally with others. And that is what we are calling for.
What can we as concerned members of the international community – churches, civil society organizations, and individuals – do to support the affected communities?
Prove: Everyone can join in raising awareness about the situation and the injustice it represents. Whether on social media, or in your community, organization, church or family, talk about it and spread the word.
Visit the WCC-EAPPI website and social media channels for information and for ideas for advocacy.
In particular, contact your elected local and national representatives, ask them about their response to this injustice, and try to get them to take action to address it.
And those who pray, please pray for the families living under this threat, and for the responsible authorities to be moved to recognize their equal human dignity and rights, and to ensure equal justice for all.
WCC's East Jerusalem Initiative: photos and social media cards
WCC's Ecumenical Accompaniment Programme in Palestine and Israel (EAPPI)
WCC's work on peace-building, conflict transformation & reconciliation
First published on the World Council of Churches website on 7 July 2021.
Jump to next article