The collaboration of Peter and Paul
"They were very different characters, and that may actually be the major piece of wisdom we take away from this reflection. As we collaborate, we each have to be our own selves, rather than seeking to fit in with how other people expect us to think, act or worship…Their life experiences were about as different as two Jewish men could be during the time of the Roman Empire," says The Very Rev'd Dr Greg Jenks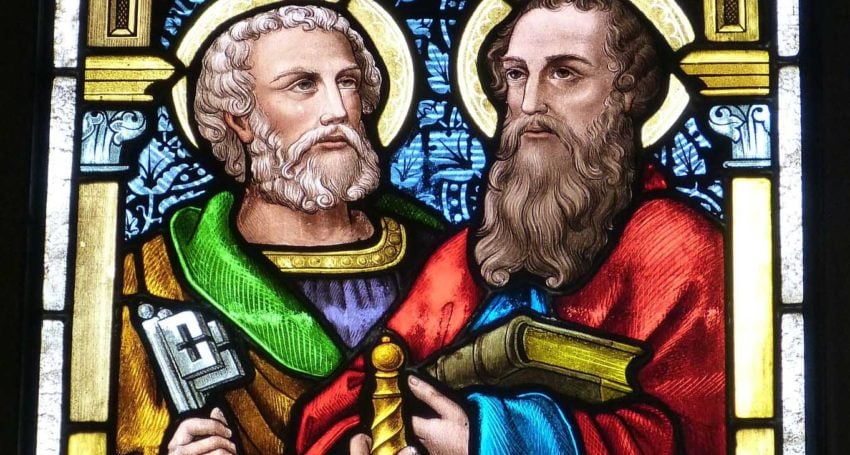 Around the year 55 CE Paul wrote the following words near the start of his letter to the rather 'high maintenance' Christian community in the port city of Corinth:
Now I appeal to you, brothers and sisters, by the name of our Lord Jesus Christ, that all of you be in agreement and that there be no divisions among you, but that you be united in the same mind and the same purpose. For it has been reported to me by Chloe's people that there are quarrels among you, my brothers and sisters. What I mean is that each of you says, "I belong to Paul," or "I belong to Apollos," or "I belong to Cephas," or "I belong to Christ." Has Christ been divided? Was Paul crucified for you? Or were you baptized in the name of Paul? (1 Corinthians 1.10-13 NRSV)
Back then Peter and Paul were leaders of different factions in the early Church and at least once they went head to head in a very public argument, as Paul himself describes:
But when Cephas came to Antioch, I opposed him to his face, because he stood self-condemned; for until certain people came from James, he used to eat with the Gentiles. But after they came, he drew back and kept himself separate for fear of the circumcision faction. And the other Jews joined him in this hypocrisy, so that even Barnabas was led astray by their hypocrisy. But when I saw that they were not acting consistently with the truth of the gospel, I said to Cephas before them all, "If you, though a Jew, live like a Gentile and not like a Jew, how can you compel the Gentiles to live like Jews?" (Galatians 2.11-14 NRSV)
According to tradition, they both ended up in Rome and both died there as martyrs. For decades after their deaths the early Christian community was divided over their respective legacies, with Paul being 'on the nose' in many circles, although his side eventually carried the day as we get to around the middle of the second century.
Our task is not to trace their personal stories or reconcile the differences between them, but rather to seek spiritual wisdom about the power of authentic collaboration in our own lives today.
They were very different characters, and that may actually be the major piece of wisdom we take away from this reflection. As we collaborate, we each have to be our own selves, rather than seeking to fit in with how other people expect us to think, act or worship.
Their life experiences were about as different as two Jewish men could be during the time of the Roman Empire.
Peter
Peter was a Galilean Jew from the village of Bethsaida, but may have already relocated to Capernaum when he encountered Jesus.
Like many others in the area, he was a fisher. It was a major economic activity in the north-west corner of the Sea of Galilee at the time. And, Jesus seems to have targeted the fishing workers.
In short, Peter was uneducated and of low social status.
Yet, Jesus identified him as a leader, and he is always named first in the list of the apostles.
We tend to call him 'Peter', but that was a nickname given to him by Jesus. His original name was Simeon. His nickname means 'rocky' and it seems to have stuck, as even Paul refers to himself by an Aramaic form of that name: 'Cephas'.
Peter, of course, is among the first witnesses of the resurrection; one of those to whom Jesus first appears in the Easter tradition.
He had never been to school, but he knew more about Jesus than we shall ever understand.
Peter was there. He was the leader of the pack in Jesus' eyes.
Paul
Paul was a very different kind of person.
He was not a Galilean, but a Jew from the diaspora with a highly developed religious identity:
If anyone else has reason to be confident in the flesh, I have more: circumcised on the eighth day, a member of the people of Israel, of the tribe of Benjamin, a Hebrew born of Hebrews; as to the law, a Pharisee; as to zeal, a persecutor of the church; as to righteousness under the law, blameless. (Philippians 3.4-6 NRSV)
Paul had a first-class Jewish pedigree and may even have enjoyed Roman citizenship.
He was also an outsider, and seems never to have seen, heard or met Jesus.
He became an insider—and in many ways the greatest Christian leader of all time—because of a religious experience in which he believed that he encountered the risen Jesus. This turned his life around.
Paul considered himself just as much an apostle as Peter, James and John.
The faith we have is greatly indebted to Paul and bears hardly a trace of Peter.
Peter and Paul
Peter's great asset was that he knew Jesus from before Easter. He could say things like, "When Jesus and I discussed this…" or "That time when Jesus and I went to…"
Paul, on the other hand, appealed to Scripture and to his own religious experience of Jesus as a spiritual presence after Easter.
Peter was more likely to stay within the ancient Jewish traditions, while Paul was prepared to throw away the traditions even though he was deeply trained in them as a Pharisee.
Peter tells us what Jesus was like, where Paul tells us what difference Jesus made.
We need both these voices, and we especially need the voice of Peter to keep Paul a little more grounded in history.
One of the fault lines in contemporary Christianity is between those who prefer to shape their lives around Jesus in the Gospels and those who say that it is the voice of Paul which we most need to hear.
Perhaps what we need most is to stay engaged with both these conversations.
Collaboration trumps competition.
We need to be exploring the meaning of God in Christ, actively reconciling the world (kosmos) to himself (2 Corinthians 5.19). Without that edge, our faith becomes a historical society devoted to an interesting person who lived 2,000 years ago.
But, as we go deep into the mystery of what Jesus means, we must never lose sight of the real human being who proclaimed the presence of God's rule in everyday life, and did so in ways that made sense to fishers, homemakers, farmers and people who begged on the streets.
We need a bit of Peter and a bit of Paul in each of us.
Collaboration opens new possibilities.
Written in April 2021 and first published in the North Coast Anglican in July 2021.
Jump to next article