Saint John Vianney: the Curé d'Ars
"The world knows John Vianney as the 'Curé d'Ars'. He lived his entire life in a small corner of France and he never saw the sea or visited Paris. But his life was exemplary, and thousands of people visited Ars to see the holy man, to make confession of sin and to seek his counsel," says The Ven. Keith Dean-Jones OGS, as St John Vianney is marked in our Lectionary on 4 August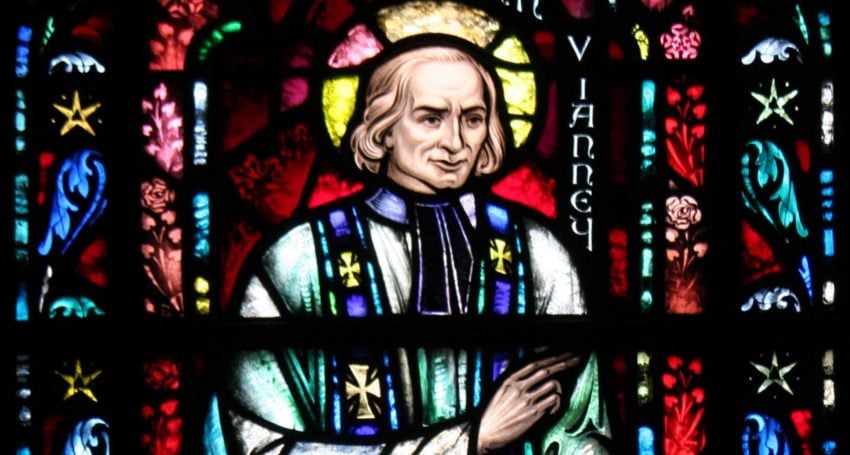 Many French Christians are strongly attracted to holy men and women of humble birth. Two well-known French saints, Joan of Arc (1412-1431) and Vincent de Paul (1581-1660), were born into peasant families. The Italian saint Giovanni Bernardone (1181-1226), given the nickname 'Francesco' by his Francophile father Pietro, has always been popular with the French. St Francis of Assisi came from a wealthy family but after his conversion, he embraced the life of poverty.
The 19th century priest John-Baptiste-Marie Vianney (1786-1859) was born of poor parents, and his life of penitence, prayer and the practice of physical deprivation has continued to remind Christians that the Church is called to serve people living on the margins of society. Affectionately known as the Curé d'Ars (or the parish priest of Ars-sur-Formans), Abbé Vianney became famous throughout the Christian world, and his example has inspired people to recognise the presence of the holy man of Galilee present in the lives of people living in poverty. In the Roman Catholic Church, the Curé d'Ars is the patron saint of parish priests, and this great honour affirms that all clergy are challenged to re-discover the meaning of their vocation in humility and service.
St John Vianney was born at Dardilly, near Lyon, France. From childhood he sensed a vocation to the priesthood, but his inability to learn Latin delayed both his education and ordination. However, his piety and humility made a great impression on bishops and theological teachers, and in August 1815 the Bishop of Grenoble (acting on behalf of the Archbishop of Lyon) ordained him as priest.
He walked 94 kilometres from Lyon to Grenoble for his ordination and then another116 kilometres to the Parish of Ecully, the place of his curacy. Ecully was an important time in his spiritual and pastoral formation, and the parish priest, Abbé Balley, received him as a friend. Abbé Balley recognised his extraordinary qualities and encouraged Vianney in the practices of prayer, teaching, preaching and pastoral care. After three years, he was appointed as the parish priest of the village of Ars, a remote village 29 kilometres to the north of Ecully where he remained until his death.
The world knows John Vianney as the 'Curé d'Ars'. He lived his entire life in a small corner of France and he never saw the sea or visited Paris. But his life was exemplary, and thousands of people visited Ars to see the holy man, to make confession of sin and to seek his counsel. It is estimated that in 1855 some 20,000 people visited Ars, and Abbé Vianney was required to spend 16 to 18 hours a day in the confessional. He was canonised in 1925 and appointed the patron saint of parish priests in 1929.
The Curé d'Ars was born into a world of change. Three years after his birth the French Revolution commenced with the storming of the Bastille. When John Vianney was 13 years of age, General Napoléon Bonaparte seized power with the intention of bringing stability and 'glory' to the French State. John Vianney had been conscripted into the army, but circumstances prevented him from joining his regiment and he was considered a deserter.
The years following the restoration of the Bourbon monarchy were a time of political and social reaction, and the Church in France was conservative. But it was also a time when many sought renewal in faith, and Abbé Vianney was very much part of a movement that drew French Roman Catholics into a new enthusiasm for prayer, penitence, mission and social justice. Twentieth century French Christian leaders Charles de Foucauld, priest and hermit assassinated in the Algerian Sahara in 1916, and Paul Couturier, priest, ecumenist and founder of the Week of Prayer for Christian Unity, were both inspired by Abbé Vianney.
Despite his difficulty with Latin, Abbé Vianney was not unintelligent. He was wise and hard-working, and living on a diet of little more than potatoes, as he devoted himself to the care of his people. Abbé Vianney was inspired by the life of Christ, and his daily routine was marked with the three great themes of the Gospels: works of compassion, words of teaching and the practice of intense prayer. Many travelled to Ars to see him. For some, it was a matter of curiosity and for others it was to seek his counsel. For most it was to be near the holy man who would draw them closer to Jesus Christ.
It seems that Abbé Vianney shunned popularity. He was devoted to the almost forgotten cult of Saint Philomena. In 1802, bones were discovered in the Catacomb of St Priscilla, Rome. Three tiles sealed the tomb and the letters engraved on the tiles, when rearranged, formed the phrase 'PAX TECUM FILUMENA'. It was supposed that they were the relics of a second century virgin and martyr 'Saint Philomena'. Abbé Vianney was acutely aware that many visitors directed their devotion to him, and thus Saint Philomena provided an 'escape' from the cult of personality directed toward him. He saw himself as a simple priest who cared for his people.
Abbé Vianney was a traditional Roman Catholic, and his daily life was formed by Mass, the Divine Office, prayer and meditation. But he not only worshipped Jesus in the Blessed Sacrament. As a Franciscan tertiary, he had a strong sense of the presence of the risen Lord in those living in poverty and on society's margins, and his great respect for people was an affirmation of the mystery of God present in creation.
Jump to next article