Classics in the Cathedral
St Margaret's Anglican Girls School recently hosted its annual Classics in the Cathedral – an opportunity for the wider school community to come together in an intimate atmosphere to experience a vibrant and exciting evening of music performances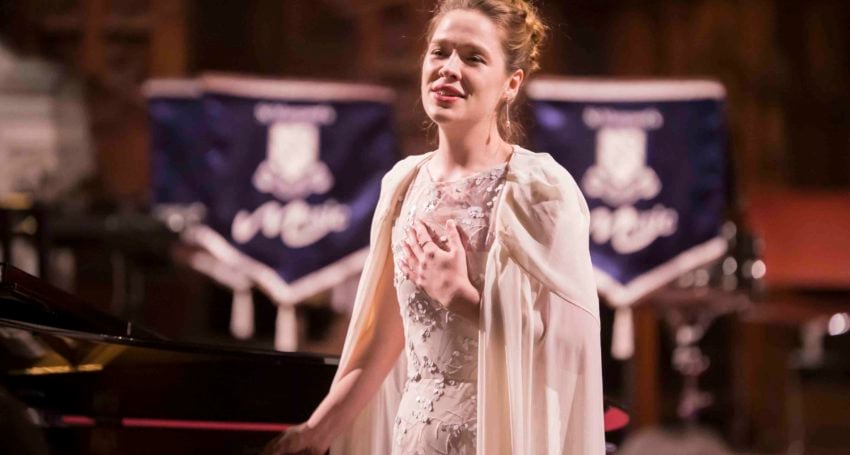 St Margaret's Anglican Girls School recently hosted its annual Classics in the Cathedral – an opportunity for the wider school community to come together in an intimate atmosphere to experience a vibrant and exciting evening of music performances.
From Mozart to Chopin, the audience was treated to orchestral, ensemble and vocal performances set beneath the lofty ceilings and towering columns of St John's Cathedral in Brisbane.
St Margaret's Head of Performance Brad King said Classics in the Cathedral was an opportunity to broaden students' performance experiences.
"The event gives students the opportunity to learn and perform classical repertoire, including classical music by contemporary composers, and perform within the spectacular setting of St John's Cathedral," he said.
"One of the joys of performing in St John's Cathedral is having the opportunity to explore the unique properties of the acoustics within the space. St John's has the distinction of having one of the longest reverb times for a cathedral in the southern hemisphere with delays in sound of approximately seven seconds. The acoustic thus can be both exciting and challenging for musicians. The soundscape created is certainly something that is unique and special for our students to experience."
For St Margaret's Year 12 student and Music Captain Akari Komoto it was her sixth and final performance in the Cathedral.
"The highlight of the evening for me was performing a solo piece in such an amazing venue."
The pianist and percussionist continued: "I think that having a background in classical music, especially from a younger age, allows students to understand music from its root base – an understanding that becomes incredibly helpful when exploring other genres of music. Additionally, performing in front of an audience helps develop confidence and individual performance style."
All in attendance were treated to many fantastic performances, ranging from the triumphant 'To Dance Among the Stars', to the moody 'Days of Beauty', a dazzling strings rendition of 'Pictures at an Exhibition' by Mussorgsky and a performance of Mozart's 'Divertimento in F Major'. Music Extension students Akari Komoto, Ashleigh Witenden and Meleia Richardson gave highly engaging performances as part of the program. The evening's finale brought all the student performers together for a combined ensemble performance of 'Tintinnabulum' by Welsh composer Karl Jenkins. This provided an opportunity for the students to participate in a large-scale mass performance and was an exciting conclusion to the event for musicians and audience members.
The evening's special guest performer – St Margaret's Notable Old Girl and mezzo soprano Xenia Puskarz-Thomas – gave a magical performance of 'Morgen!' by Richard Strauss, accompanied by Jonny Ng on piano with music extension student Ashleigh Witenden on violin. Xenia also performed the classic operatic aria 'O mio babbino caro' from Gianna Schicchi. A dramatic, lyrical piece, it allowed Xenia to demonstrate her stunning vocal capabilities.
Xenia is pursuing her dream to become a professional opera singer, a passion first ignited while at St Margaret's where she was Arts Captain in 2013. Having completed a Bachelor of Music with first class honours, Xenia is now studying remotely with mentors at the Metropolitan Opera, Juilliard School and Curtis Institute of Music. Xenia is also a Young Artist with Opera Queensland.
The pursuit of artistic endeavours is encouraged as part of the St Margaret's experience. Creativity, teamwork and critical thinking are just some of the essential life skills students develop when they participate in the school's music program. Skills that, uniquely, are documented as part of St Margaret's Plus, a program developed to recognise the development of students' skills outside the classroom through participation in extracurricular and philanthropic activities.
Classics in the Cathedral is one of many highlights on the school's calendar serving as a wonderful opportunity for students to share their musical endeavours with family and friends and embodies the school's commitment to developing the whole student.
Jump to next article