Toowoomba aged care nurse overcomes obstacles to complete her degree while on dialysis
Sheryl Kupfer is a Clinical Educator and Registered Nurse at our Anglicare Southern Queensland Symes Thorpe Residential Aged Care home in Toowoomba. She has been in her role for the past six years. Sheryl has inspired many of her colleagues with her determination and positive attitude as she completed her nursing degree while on dialysis for a kidney transplant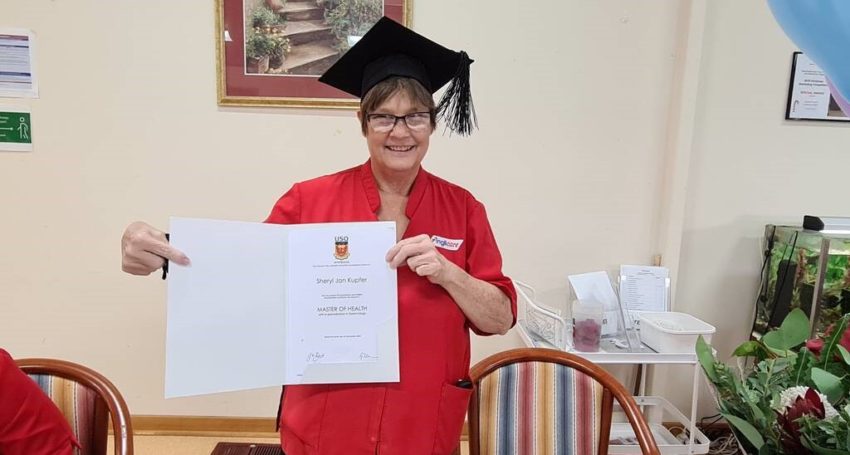 Sheryl Kupfer is a Clinical Educator and Registered Nurse at our Anglicare Southern Queensland Symes Thorpe Residential Aged Care home in Toowoomba. She has been in her role for the past six years.
Recently she completed her Masters in Health at the University of Southern Queensland.
"I never really considered a career in aged care, but I absolutely love it," she said.
"I was inspired to do my Masters in aged care because I wanted to learn more about what we can do for our residents, and it has given me a better insight into aged care."
Sheryl has inspired many of her colleagues with her determination and positive attitude as she completed her nursing degree while on dialysis for a kidney transplant.
"Age is no barrier to studying," she said.
"I was in my late 40s when I studied nursing and now that I have completed my Masters in my late 50s, it goes to show it is never too late to study."
From doing cleaning to working in the mines and then working at a newsagent, Sheryl has tried her hand at various jobs before finding her passion in aged care.
Sheryl said she found it quite a challenge finishing her degree while on dialysis as it often made her fatigued, having spent 18 hours a week hooked up to a machine.
"I was on dialysis for four years and three months until I had a transplant, and it was the nurses at the dialysis unit who helped me if I had any trouble with my study," she said.
"I was hooked up to a machine for five hours a day, three times a week and then one day for three hours a week.
"It was a challenging period, but I just considered that it was my treatment that I had to have until I had my transplant."
Sheryl said she enjoys coming to work at Symes Thorpe because it's all about 'looking after our residents and to make it their home'.
Outside of work, Sheryl loves sewing, quilting, gardening, and spending time with her family and looking after her five grandchildren.
With her Masters now complete, Sheryl says she might consider one day doing her PhD.
Jump to next article