A world record anthem-singing attempt and a former Defence Force chief's lecture to headline Cathedral International Day of Peace commemorations
A marathon-worthy world record attempt and a lecture by retired admiral Chris Barrie will headline an impressive speaker and award line-up for International Day of Peace commemorations at St John's Cathedral on Tuesday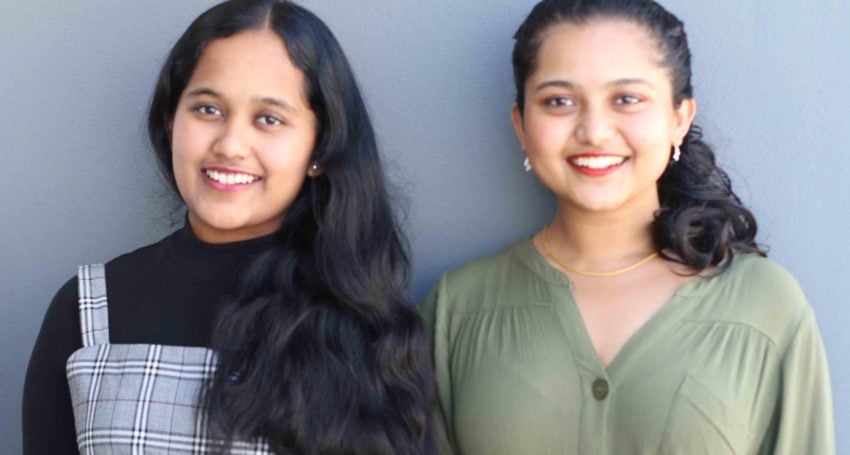 A marathon-worthy world record attempt and a lecture by retired admiral Chris Barrie will headline an impressive speaker and award line-up for International Day of Peace commemorations at St John's Cathedral on Tuesday.
Two Brisbane sisters Augnes, 18, and Teresa, 21, Joy plan to set an official world record by singing the world's 195 national and UN permanent member state anthems in 100 languages.
The two sisters, both from Calamvale, said that seeking to raise awareness of children's and women's empowerment and climate care has motivated them to dedicate the last eight years to setting the historic world record.
"We wake up at 5 o'clock every morning and spend the first two hours of our day studying and singing the anthems before going to school and university," the sisters said.
"We can now sing every anthem a capella style on cue in 100 languages.
"As well as learning the anthems, we spent seven hectic years researching the history and meaning of each national anthem – Japan has the shortest anthem and Greece has the longest."
Commencing at 9.30am on Tuesday 21 September, the sisters said that the world record attempt is expected to take six hours, with the sisters permitted a 10-minute break every two hours.
"Judges from various world record teams, including Universal Records, will be present," they said.
"We are on a mission to sing the anthem of every nation of the world to promote world peace, children's safety, women's empowerment, a common humanity and care for our common home and the climate."
The young sisters are supported by the United Nations Association of Australia Queensland (UNAAQ) Division, Just Peace and Earth Charter Australia.
Chair of the UNAAQ Earth Charter Committee Clem Campbell OAM said that he is proud to assist the sisters with their project, which they call "Salute the Nations".
"The two sisters, with their father, attended a UNAAQ meeting at which I spoke about the Earth Charter and global citizenship," Mr Campbell said.
"They spoke to me about their project, 'Salute the Nations', and asked if I would coordinate the project for them.
"These two sisters, young global citizens of Brisbane, are promoting world peace through respect for all nations and for greater understanding of the impacts of climate change for future generations.
"This is an historic event, as no one has sung all the anthems of the world continuously in the one day – Augnes and Teresa are a great example for all young people."
St John's Cathedral will also commemorate the International Day of Peace with their annual Brisbane Peace Lecture, in partnership with local community organisation Just Peace.
The topic of this year's lecture will be the day's official United Nations theme, "Recovering better for an equitable and sustainable world".
The tenth Brisbane Peace Lecture will be given by former Defence Force chief Chris Barrie AC, who is currently honorary professor at the Strategic and Defence Studies Centre at the Australian National University.
Professor Barrie said that community collaboration and effective leaders are needed if we are to successfully recover from COVID-19 and damage to the climate.
"The last two years in Australia have taught us that working collaboratively with each other will help us to deal with the uncertainties of a mutating SARS-CoV-2 virus in pandemic proportions, on top of the dislocations made in the black summer of bushfires," Professor Barrie said.
"We must look out for each other and be ready to help when asked, while building greater resilience in our communities.
"The lessons we are learning from COVID-19 the hard way will apply as we must come together to deal with the consequences of global warming.
"In my global travels I have often wondered how it is that in nearly every place around the world I have found Australians doing good works to help less well-off people.
"I think we saw something of this collective creativity during the black summer of bushfires when communities all over Australia re-learned the value of face-to-face contacts and the helping hand for distressed people in their time of need.
"There are significant challenges that lie ahead to build a better world – we will need strong, capable leaders to show us the way."
As Canberra is currently in COVID-19 lockdown, the retired admiral will pre-record his lecture rather than present in person.
Before the lecture, the annual Local Agents of Peace Awards will be presented to two Queenslanders by the University of Queensland's Rotary Peace Centre, in recognition of their work towards peace or social justice.
Founding Director of the Rotary Peace Centre Marianne Hanson said that she looks forward to announcing this year's deserving recipients, whom she said will join a cohort of well-known and inspiring former recipients.
"One of the inaugural award recipients was a Brisbane man, Ritchie Yorke, who was the peace envoy for John Lennon in the late 1960s and early 1970s," Professor Hanson said.
"In this role, he travelled around the world advocating for the end of the Vietnam War, and upon returning to Brisbane he worked to promote peace and non-violence through music and the arts.
"A more recent recipient is Wendy Flannery, from the Mercy Sisters, who is active in promoting social justice, a sustainable planet and the abolition of nuclear weapons.
"At the Rotary Peace Centre, we think that everyone has a role to play in building a more peaceful and just world.
"There are thousands of local individuals who go about working for peace and justice every day and we want to encourage and celebrate these dedicated people, who are motivated by compassion, moral duty and a common humanity."
The awards are sponsored by the University of Queensland's School of Political Science and the recipients will be presented with a plaque and flowers.
International Day of Peace commemorations will be held at St John's Anglican Cathedral on Tuesday 21 September. Augnes and Teresa Joy's "Salute the Nations" world record attempt will commence at 9.30am and close at approximately 4pm. The announcement of the Local Agents of Peace Awards and Professor Chris Barrie's Brisbane Peace Lecture will commence at 7pm: register online to attend. The lecture will be viewable on the St John's Cathedral Brisbane YouTube channel.
Jump to next article