New Cathedral Online Shop showcases unique gifts, books and parish supplies
An online store was recently launched by the Cathedral Shop, showcasing products made by local artisans, a range of fair trade gifts, parish supplies and books, with monies pooled to support Cathedral outreach and mission activities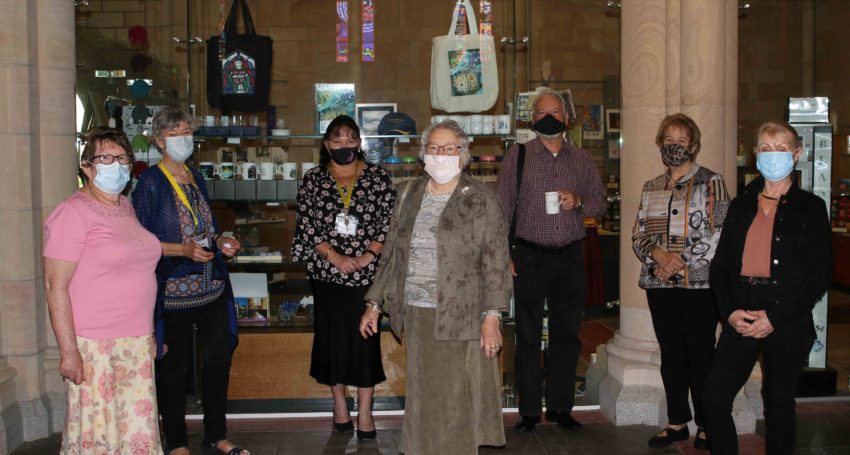 An online store was recently launched by the Cathedral Shop, showcasing products made by local artisans, a range of fair trade gifts, parish supplies and books, with monies pooled to support Cathedral outreach and mission activities.
The Cathedral's Shopify platform was launched at a morning tea event, where the commitment of Cathedral Shop volunteers was simultaneously honoured.
Cathedral Shop manager Ann-Marie Reynolds said that the online shop was developed so that parishes could more easily order supplies and so national and international customers could purchase items.
"We had been exploring options for those who are not able to visit the Cathedral – regular communicants, casual visitors and tourists, as well as looking for a more efficient process for parishes across the Diocese to be able to order their liturgical items and publications," Ms Reynolds said.
"We were also very aware of just how many people were familiar with the online shopping concept, so we responded to that opportunity as well.
"I am extremely excited about the launch of the online store, as it will enable the Cathedral Shop to showcase what it has to offer to a greater audience, both nationally and internationally."
All items in the physical Cathedral Shop are now able to be purchased online, including the popular locally-made Anglican prayer beads, olive wood holding crosses and pendants from Bethlehem, artwork, jewellery, Bibles, prayer books, greeting cards and a range of St John's Cathedral products, which provide a memento of the beautiful heritage building.
Parishes may also purchase their supplies via the online store, such as Bibles, altar bread (including gluten-free hosts), candles and prayer books.
Cathedral Shop volunteers, some of whom have been volunteering for a decade, gathered at the recent morning tea, where The Very Rev'd Dr Peter Catt acknowledged their dedicated service.
In his address, the Cathedral Dean noted that volunteers will have a key part to play in processing online shop orders.
Ms Reynolds said that it was especially important to recognise volunteers who have remained stalwart during the challenging COVID-19 period.
"I feel it was important to thank our volunteers with a morning tea to acknowledge their ongoing dedication and time given to St John's Cathedral, particularly as the shop has been impacted with fewer international and interstate visitors," she said.
Cathedral Shop volunteer Mygyn Plater, who has served in the shop for nearly 10 years, said that meeting and chatting with tourists and local parishioners have been the highlights of her role so far.
"I have really enjoyed meeting the international visitors, who generally are awed by our Cathedral, and I love to hear their stories about their own places of worship in other parts of the world," Ms Plater said.
"I met a congregation member from St Luke's, Toowoomba who invited me to visit their church. I have been there quite a few times now and the parishioners make me feel so welcome – it is a wonderful experience."
Cathedral Warden Helen Wootton said that donations to the Cathedral's charitable activities may also be made via the new online shop.
"Each month the Cathedral congregation gives a helping hand to a good cause, in Brisbane or in Australia or overseas," Ms Wootton said.
"This program aims to widen the scope of our concerns, prayers and giving by becoming involved with projects to relieve human need.
"Donations can be made through the online store, including via QR codes."
Ann-Marie will manage the online store daily to ensure that orders are promptly filled, with orders securely payable via credit card or PayPal.
Purchases may be collected from the St John's Cathedral Shop or mailed via Australia Post, with both standard and express postage options available.
Editor's note: With Christmas fast approaching, now is a great time to check out what the Cathedral Online Shop has to offer.
Jump to next article