Young Brisbane sisters set multiple records singing 193 national anthems in over 100 languages to mark the UN International Day of Peace
"Two young Brisbane sisters were the first to sing all 193 national anthems in one day on Tuesday, having learnt the anthems on cue in over 100 languages to promote international peace and climate action," says St John's College within the University of Queensland journalism student, Fenlan Miller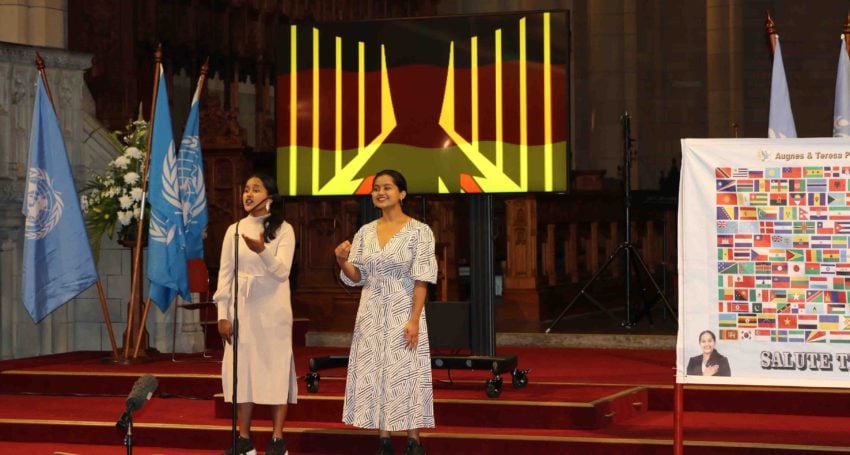 Two young Brisbane sisters were the first to sing all 193 national anthems in one day on Tuesday, having learnt the anthems on cue in over 100 languages to promote international peace and climate action.
Since 2012 the Joy sisters, Augnes, 18, and Teresa, 21, have memorised and researched the world's anthems and can now sing all 193 acapella, by heart.
The sisters' "Salute the Nations" recital, one of several UN International Day of Peace events hosted at St John's Anglican Cathedral on Tuesday, sought to promote world peace and advocate for climate action.
Augnes and Teresa wake up at 5 o'clock and spend the first two hours of their day studying and singing the anthems before Augnes goes to school and Teresa attends university.
Before commencing their world record triumph in the morning, the sisters told the media that their anthem endeavour is about fostering a common humanity and peace.
"We hope that our project demonstrates that the humanity of the world has not been lost and that we are doing our best to restore world peace," Teresa and Augnes said.
"When we, as individuals, sing these national anthems…a unique atmosphere of oneness is created that, in turn, creates a common platform conducive to world peace and a heightened sense of humanity."
The sisters' feat was observed by five official judges representing three world record organisations, which stipulated that the sisters had to sing continuously, with only three 10-minute breaks permitted throughout their recital.
The sisters completed their marathon-worthy performance 45 minutes faster than expected, starting at 9.30am with Afghanistan's national anthem and finishing at 3.15pm with Zimbabwe's.
Former Queensland senator and president of the United Nations Association of Australia (UNAA) Queensland Division Claire Moore said that she was honoured to be a judge and impressed by the sisters' tenacity.
"I am in awe of their dedication and commitment…to ensuring that there is international peace and climate change awareness," Ms Moore said.
Ngugi Elder Uncle Bob Anderson OAM gave a heart-warming Acknowledgement of Country before the sisters' anthem recital, speaking from the perspective of a "father, grandfather and great-grandfather".
"The matter of peace is important for me – to involve myself continuously in that process, and it is my responsibility and joy to ensure a peaceful land," Uncle Bob said.
At the end of their seminal singing feat, the sisters were presented with certificates from The Australian Book of Records, the Universal Record Book and the Universal Records Forum.
"Salute the Nations" project coordinator and past president of the UNAA Queensland Division Clem Campbell OAM said that the sisters are future leaders who are already inspiring change for the better.
"Young global citizens like Augnes and Teresa give hope to us all," Mr Campbell said.
Augnes and Teresa said that they have been invited by Qatar's government and Rotary Clubs in the United Arab Emirates and the United States of America to sing the world's 193 national anthems on cue.
The Cathedral's Peace Day proceedings also comprised an evening program, including the tenth annual Brisbane Peace Lecture, which was given by former Defence Force chief Chris Barrie AC.
In a pre-recorded lecture, the retired admiral, who is currently honorary professor at the Australian National University's Strategic and Defence Studies Centre, addressed the 2021 UN International Day of Peace theme, "Recovering better for an equitable and sustainable world".
Professor Barrie particularly focused on how we can collectively navigate "the two critical existential threats to life on planet earth", nuclear war and damage to the climate.
"We cannot solve problems with the current pandemic in each nation or state alone…That is why we must pull together," Professor Barrie said.
"Similarly in solving problems posed by the two existential threats, the involvement of human beings on the planet is essential since the consequences of those threats will involve everybody.
"For good collaboration to occur we need trust, openness, confidence building and the ability to resolve differences through inspired negotiation, rather than damaging adversarial relationships."
In the spirit of the day's proceedings, Professor Barrie also emphasised the vital role of young people.
"I believe now we have reached the point actively to pass on to a new generation of leaders the responsibilities and accountabilities for the management of their future," he said.
Prior to Professor Barrie's lecture, the University of Queensland's Rotary Peace Centre presented the two annual Local Agents of Peace Awards.
This year's recipients are long-term social justice activist and member of the Peace Pilgrims Margaret Pestorius and president of the Independent and Peaceful Australia Network (IPAN) and co-founder of Just Peace Annette Brownlie.
While introducing the awards, founding Director of the Rotary Peace Centre Marianne Hanson spoke about the importance of recognising the often unacknowledged work local people undertake in their communities.
"This year has seen many tragedies and sometimes it seems that peace is hard to find – we recall the plight of the people in Afghanistan facing a brutal regime, the children suffering amidst the military coup in Myanmar, all those being killed by weapons in Yemen," Professor Hanson said.
"It's important to celebrate and thank those who, in their everyday activities, uphold the ideals behind the International Day of Peace, usually without any recognition or fanfare.
Editor's note: The Cathedral's International Day of Peace events can be viewed on the St John's Cathedral Brisbane YouTube channel: Annual UN International Day of Peace "Brisbane Peace Lecture" (and Local Agents of Peace Awards) and Augnes and Teresa's world-record-setting "Salute the Nations" recital.
Jump to next article