Sunday Devotion: 10 October 2021, Twentieth Sunday after Pentecost
Living out our faith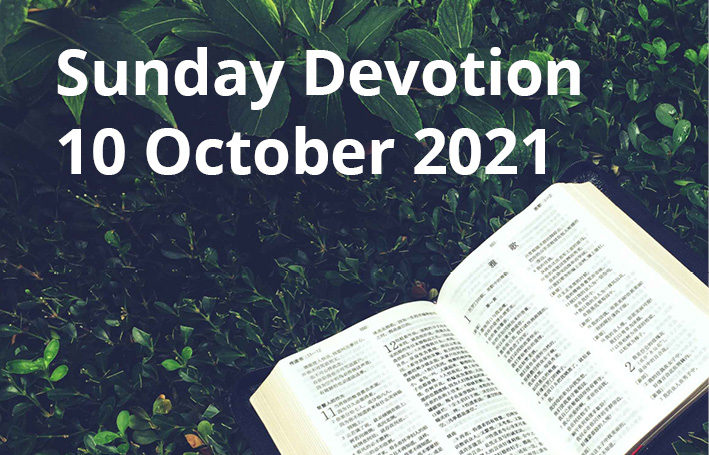 Written by clergy and lay people across our Diocesan community, 'Sunday Devotions' is a column of short reflections based on a Lectionary reading of the day, suitable for small group discussion or personal use.
Main Readings: Job 23.1-9, 16-17; Psalm 22.1-15; Hebrews 4.12-16; Mark 10.17-31 [Amos 5.6-7,10-15; Psalm 90.12-17]
Supplementary Readings: Psalm 101; Mark 12.13-17; Job 28.12-28; Psalm 90.12-17; Hebrews 4.1-11
Jesus, looking at him, loved him and said, "You lack one thing; go, sell what you own, and give the money to the poor, and you will have treasure in heaven; then come, follow me" (Mark 10.21).
I grew up in a big family with not enough food to eat. My dad had a poor stipend. We ate from our garden and from the sea. We did not have a car or bike, so we walked to and from school and church. We did not celebrate birthdays. Mum sewed a new dress for me for Christmas. We lived in a vicarage with two rooms, where the children slept on the floor. The family was very close together for we lived out our faith.
The rich man in this Gospel story knows the commandments and what is required, and yet he asks Jesus for advice. Sadly, the rich man could not follow Jesus' advice and left, feeling shocked.
God loves us no matter where we are on our journey of faith. He calls us to live out our faith in loving and bringing hope to others. This love connects us into relationships that lead us to action. The Holy Spirit is always with us to help us to go beyond ourselves to assist others in the wider community and in the world.
Faith without action is dead.
Jump to next article