Straw & Order: how to create your own nativity short film
"The script we developed for our nativity film has fun songs, a novel and engaging plot and some cracking one-liners…The songs are upbeat, fun and catchy. They are intentionally simple enough for children as young as three years old, with adults up to 70 also participating, so it's very intergenerational," say Shona, Toby and Eleanor Bailey about their Straw & Order nativity short film, while inviting churches, schools and ministries to use their four-part movie as a resource in the lead up to Christmas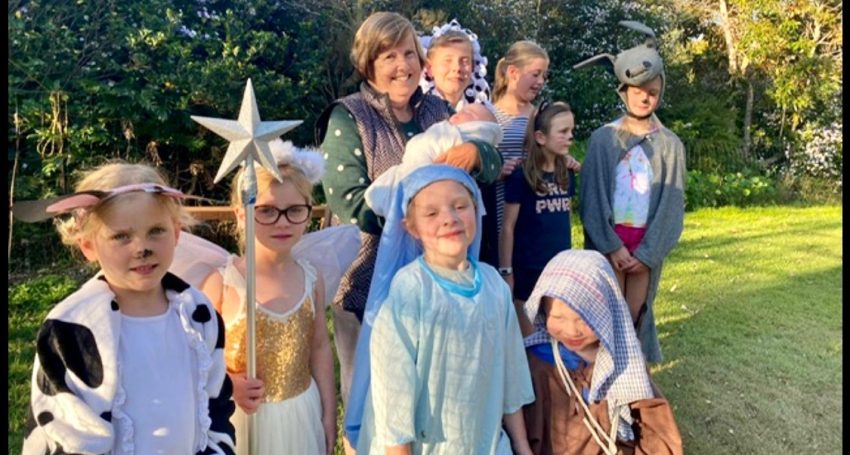 The Parish of Kenmore-Brookfield community has a long tradition of putting on nativity plays for our local kindergartens and schools. Historically, local community members come and watch as they gather in the church or when the church takes the play to them. However, the onset of COVID-19 restricted these activities.
As a primary teacher who taught her first years in Church of England schools in the UK, Shona was familiar with Out of the Ark Music. She signed up the parish to access a catalogue of fun, upbeat and simple Christian songs and musicals. Parishioners could download the songs and sing them whenever, wherever – in the shower, in the car or (Shona's favourite) whilst making dinner.
Church members, including Shona's very creative and noisy four children, came together in November last year to record Hosanna Rock. The sanctuary area was the stage. It was recorded in the church with a camera on a tripod. It was fun and brought people together at the end of a year when we were largely physically apart.
With the uncertainty of 2021's intermittent lockdowns and with enthusiasm to do it again, we started thinking about the next project. It was unanimously agreed that the filming should be carried out once the hot months had passed – especially in an unairconditioned church. We agreed to take our time, recording over a longer period in a variety of locations. We were keen to make a 'real' movie. Now, real movies usually need expert planning, big budgets and people who know what they are doing. However, given we had none of these, we drew on enthusiasm, creativity and a sense of humour.
In this era of YouTube, TikTok and other video-focused social media platforms, there are many people making short films. Buoyed by the belief that if they can do it, so can we, Shona set about finding a simple-to-use app that would enable the creation and editing of the film. CapCut was her chosen application – a free app with a wealth of features.
The script we developed for our nativity film has fun songs, a novel and engaging plot and some cracking one-liners. It also left plenty of room for a spot of improvisation. Our version was based loosely on Out of the Ark Music's Straw & Order production.
The songs are upbeat, fun and catchy. They are intentionally simple enough for children as young as three years old, with adults up to 70 also participating, so it's very intergenerational.
Due to the success of Hosanna Rock, some of the children's school friends were keen to join in once more. Our Straw & Order production attracted involvement from people new to the church and long-term friends of the church. One of Eleanor's friends was the Star of Bethlehem and she really enjoyed her singing solo. Another one of the girls participated as a part of her Junior Rotary Community Award. It was especially lovely to bring people and children together from the wider community.
Toby played the part of judge Grumps who, as the name suggests, is the tired and grumpy judge presiding over the case of The Cows v. The Donkeys. Toby enjoyed the role immensely, especially banging the gavel and the authoritative feeling this gave him. Filming Straw & Order was a lot of fun for him, including seeing The Rev'd Jan and The Rev'd Jonathan in a different light. They were so funny, joining in brilliantly and willingly doing whatever we asked.
The movie was recorded on Shona's iPhone and the videos were uploaded to YouTube in four parts. Shona did the editing in parts on the hop, waiting for kids in the car at school pick-up or during work breaktimes. CapCut can only manage 15 minutes of film at once, which is one of the reasons the film appears in four parts, each part between seven and 12 minutes in length.
Filming started in May and was completed in October – before the weather got too hot and humid. We recorded it over many little sessions at different places in our local area, including at church; in our garden shed which, with the addition of a couple of bales of hay, became the stable; at Mt Coot-tha; and, at Brisbane City Hall.
Shona loves children and dogs, which is helpful given both feature prominently in the film. The Rev'd Jan Crombie has two lovely dogs, one of which is a Border Collie. Daisy and our Border Collie Teddy were the natural choice as shepherding extras. The children loved having the dogs around. Mali and Polly also make valuable contributions (we must mention them, as Shona is assured by their owners that, whilst they are not known for being as clever as Border Collies, that they can in fact read, although Shona has her suspicions).
We embraced the opportunity to film on a variety of occasions, the spring fete being a particular favourite. Four children dressed as Roman soldiers were commissioned with the task of policing the fete's attendees. Legitimately being allowed to 'boss' grown-ups around was a real highlight for them. We also used Zoom, with the wise kings appearing in a 'How wise do you think you are quiz?' We had planned to do the quiz show in person, but due to an unexpected lockdown we pivoted, and the result was even better with the addition of the Zoom medium.
We welcome churches, schools and ministries to use the movie as a resource in the lead up to Christmas, so spread the word, spread the joy and spread the love. Straw & Order has been made for you. Its purpose is to share the Christmas news, so we hope you enjoy our small present to you all. Eleanor is particularly excited about other faith communities enjoying our four-part movie as a resource in the lead up to Christmas, hoping that it will leave you feeling warm and fuzzy inside.
The videos of the four-part movie videos are accessible via our church's YouTube channel.
Top five tips in creating your own nativity story movie
Be flexible working with children and animals and have a sense of humour.
Welcome participation from a wide range of people, being flexible here (for example, some people didn't want to be in footage, but were happy to contribute their voices).
Film on a smart phone.
Use an app like CapCut, which is easy to use and even enables voice over.
Use simple costumes and props – we made the judges' wigs out of paper, one of the innkeeper's houses out of a large flat-screen TV box and Roman soldiers helmets by sticking 'plumes' onto bicycle helmets.
Jump to next article