Sister Wendy Beckett: hermit, nun, art historian and unlikely TV star
"As someone who has both studied and worked in the creative fields, I have always been interested in anything relating to the arts, especially if it combines spirituality with art. When I heard about Sister Wendy Beckett, long after her first BBC show Sister Wendy's Odyssey started airing on TV, I was curious as to how a Roman Catholic 'consecrated virgin'…who lived as a hermit could possibly be such a broadcasting success," says Fleur Creed from Holy Hermits Online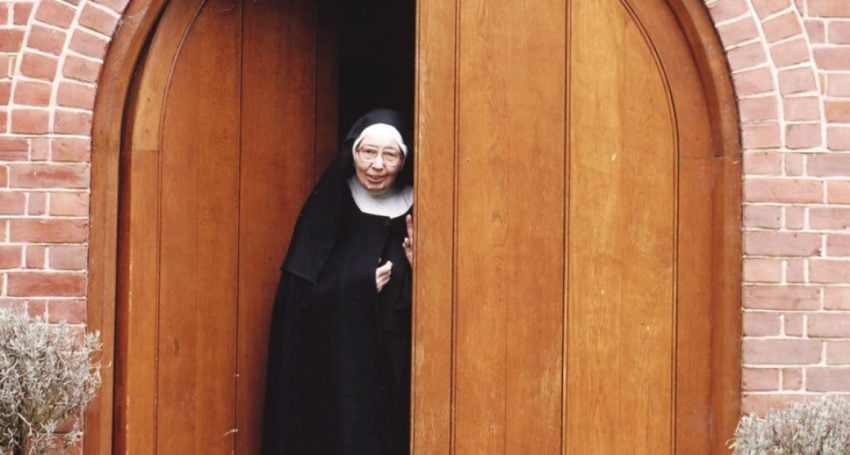 As someone who has both studied and worked in the creative fields, I have always been interested in anything relating to the arts, especially if it combines spirituality with art. When I heard about Sister Wendy Beckett, long after her first BBC show Sister Wendy's Odyssey started airing on TV, I was curious as to how a Roman Catholic 'consecrated virgin' (she is often referred to as a 'nun' for brevity's sake) who lived as a hermit could possibly be such a broadcasting success. So I thought I should check out some of her BBC TV programmes.
I became fascinated by the unassuming woman dressed in full black habit, huge round glasses and displaying rather protruding front teeth, who gracefully glided around the world's museums and galleries discussing objects of art. She was so knowledgeable and so passionate about the artworks, and about conveying this knowledge to others. Sister Wendy was present to every detail of the pieces, noticing not only what was obvious, but also the emotions and possible intentions behind what was depicted.
She also recognised humanity in all its fullness, making earthy comments about topics that you would have thought would make a nun blush! Sister Wendy was often described as the world's most beloved – if not most unlikely – art critic. On occasion, she could be quite humorous in her comments about religious figures, such as in the case of Thomas á Becket. "After all," she said, "This is my cousin Tom. Cold-hearted like all us Becketts, and bossy, and a bit of a show-off, but he tried so hard to love God. And he did. So, I'm one of the lucky ones to have, if in imagination only, a saint in the family."
Sister Wendy Beckett was born in Johannesburg, South Africa on 25 February 1930, and was raised in Edinburgh, Scotland, where her father was studying medicine. Wendy had always expressed a desire to serve God, so in 1946 she joined the Sisters of Notre Dame de Namur, a Roman Catholic order of nuns devoted to education. She completed her novitiate in England, graduating from Oxford University with first class honours in literature in 1954, then taking on a teaching diploma in Liverpool.
After teaching at a girls' school for several years and lecturing in a South African university, serious illness forced Sister Wendy to return to England where she was granted Papal permission to become a 'consecrated virgin' and hermit, living in a small unheated caravan on the grounds of a Carmelite monastery in Norfolk. Here she devoted her life to solitude and prayer, supporting herself by translating Medieval manuscripts.
In 1980, Sister Wendy became interested in art, studying through books, catalogues and postcards. She published her first book on art in 1988. Her solitary life was interrupted when the BBC commissioned her to make an art documentary in 1991, at which time she had never watched a TV programme, nor seen the art she wrote about first-hand! The rest, as they say, is history. She appeared in regular programmes for the BBC until 2001, then only making occasional appearances as her health deteriorated. She continued to write books on religion and religious art until she died on 28 December 2018. All her earnings were donated to the Carmelites.
Sister Wendy can teach us much more than just an appreciation for art. She believed that "Looking at art is one way of listening to God" (1995, A Child's Book of Prayer in Art) and that "All art that really draws us to look deeply is spiritual" (1993, The Mystical Now: Art and the Sacred).
She loved God and art, and wanted to help others know them, too:
"Art that is not specifically religious expresses this truth: if we do not see the Lord everywhere, however unconsciously, we shall find it hard to recognize Him when we look into His face at prayer time." (1994, The Gaze of Love: Meditations on Art and Spiritual Transformation)
"Great art offers more than pleasure," Sister Wendy wrote. "It offers the pain of spiritual growth, drawing us into areas of ourselves that we may not wish to encounter. It will not leave us in our mental or moral laziness." (1999, Sister Wendy's 1000 Masterpieces)
"If you don't know about God, art is the only thing that can set you free," she explained. "It challenges the human spirit to accept a deeper reality."
The amount of time Sister Wendy spent in solitary prayer is difficult for most of us to emulate, but we all need to make time to be alone with God if we want to know Him. We could all be more like Sister Wendy in being present to what is going on around us, and in not just accepting things at face value, instead looking more deeply. She did not avoid the messiness of humankind, noticing, and commenting on the realities of circumstances.
On prayer, Sister Wendy once said in an interview:
"Prayer is a direction…Prayer is complete freedom. When you are looking at God, whether you want to sing and dance, meditate, or read Him poetry, fine — so long as you are honest, because prayer is the essential test of our integrity."
Sister Wendy Beckett is one of my favourite hermits, and we are blessed to be able to see her in action on the various BBC programmes that she appeared in, some of which are available on YouTube. If you are interested in art, you can be assured of an interesting and uplifting time by watching the programmes of this unlikely TV star. Regarding the paradox of her broadcasting success and celebrity status, Sister Wendy once admitted in an interview that:
"It's the kind of thing that only God would do."
You can read more about Sister Wendy Beckett and other hermits on the Holy Hermits Online website. Holy Hermits Online is an ecumenical Zoom-only, participatory worshipping community, where all are welcome.
Holy Hermits Online will be celebrating a number of services over the Christmas period. Please pre-register your attendance online to receive Zoom links. You are very welcome to join us at the following services:
The Quiet Christmas – A Blue Christmas Service (for those who may find this a difficult time of year): Friday 17 December 2021, 7 pm to 8 pm (Brisbane time).
Festival of 9 Lessons and Carols – Friday 24 December 2021, 6.30 pm to 7.30pm.
Christmas Morning (Spiritual Communion Agape feast) – Saturday 25 December 2021, 9 am to 10 am.
Contemplative Christmas Evening – Saturday 25 December 2021, 5 pm to 6 pm.
Jump to next article