NRL great Scott Prince inspires young people to follow their dreams
Scott Prince is one of the National Rugby League greats, so it's safe to say he knows a thing or two about following your dreams. As part of Anglicare Southern Queensland's ongoing partnership with the NRL, Scott took an Anglicare client on a tour of Suncorp Stadium and the two had a chat about their life experiences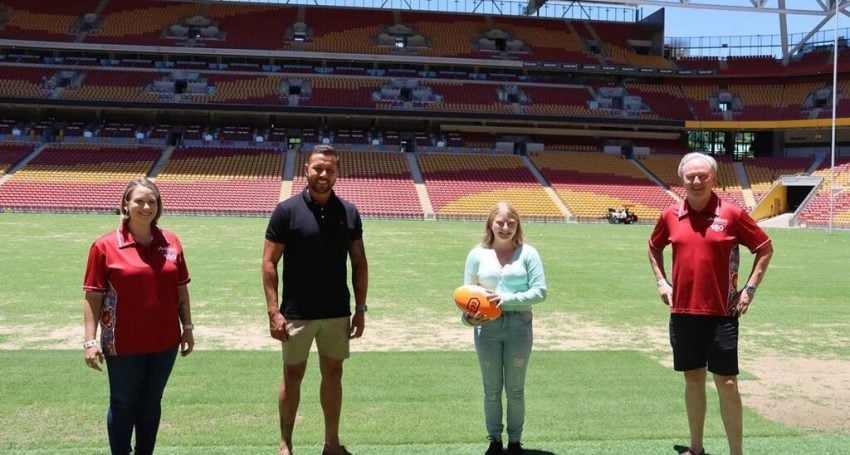 Scott Prince is one of the National Rugby League greats, so it's safe to say he knows a thing or two about following your dreams. As part of Anglicare Southern Queensland's ongoing partnership with the NRL, Scott took Anglicare client Star on a tour of Suncorp Stadium and the two had a chat about their life experiences.
Scott believes the best way for young people to fulfil their potential is to set goals.
Star dreams of being a diesel mechanic, but her goal right now is to be the first person in her family to graduate from high school. She is also considering going to university as her next step.
"That's important to me because I want to show my mum and my family that I can do it," Star said.
Growing up in Mt Isa, Scott Prince used to dream about being a Maroon – but it took a lot of hard work to get there. When it comes to achieving dreams, Scott has plenty of experience.
"Don't be afraid to ask for help," Scott said.
"Having a goal is key to finding the motivation to get up and keep working, even on the days when maybe you don't feel like it.
"It's really important to know that some mornings when you get up, you don't want to go to school, you don't want to go to work, you don't want to go to training, or whatever it may be. And if you've got that goal, that is your why.
"That's why you got to go to work, that's why you have to go to school, so in those times when you just don't feel yourself, or you're a little bit down, but what you're thinking then, you know, is going to help you achieve your goal and I think it gives you that vision of why you get up each and every day.
"The most important thing is to empower young people and get them to believe in themselves to reach their full potential. It doesn't mean that they have to be a sports star, just whatever dream they want to achieve and want to do in life, just be good at it."
It's an attitude that led to a stellar career, including captaining the Wests Tigers to the 2005 premiership. Post-NRL, Scott spends his time empowering young people like Star.
After debuting for the North Queensland Cowboys in 1998, Scott continued to play for them until moving south to sign with the Brisbane Broncos where he played for a further two years.
After playing with the Broncos, he headed over the border to NSW to sign a contract with the West Tigers where he played five-eighth for two years. He then played with the Gold Coast Titans from 2007 until 2012. In total, Scott played 300 NRL games during his career.
Scott also played four games for the Indigenous All-stars, five games for the QLD State of Origin team and four games for Australia.
Sasha Tranter worked with young people like Star as part of Anglicare's Reconnect program that supports young people who are experiencing, or who are at risk of, homelessness. The Reconnect program provides stability and a safe space for young people to rebuild their lives as they go through a time of uncertainty.
"Working with our clients, it's only when you see them in a point of crisis that I'm reminded of those basic needs such as food and shelter and material needs are so important for them to have stability," Sasha said.
"When a young person is faced with instability around housing, all the other factors in their life crumble really quickly, so being able to provide a consistent space where they feel safe allows them time to rebuild and to be able to attack the challenges that they're facing head on."
Greg Tait is a youth worker who supports young people through the INSYNC Youth Homelessness program. He has been there for the past three years.
Greg finds the young people he works with incredibly inspiring as they work towards achieving goals that they previously may not have had the opportunity to pursue. Greg feels that seeing young people find success with relationships, housing and education makes his job incredibly rewarding.
"I stay inspired by the hope that I see in young people and to see them as individuals and see them as they come to us, the problems that they have been through that there is a hope, there is a better life for them and there's better choices they can make," Greg said.
"I love it when they come back. It's very rewarding for me when they come back and show they've got a job and the smile is as big on their face as ever. It's great to see that someone has accepted them, or they've done something successfully, or they've found a house or have restored a relationship somewhere."
Jump to next article