Two good friends, one long story
"Her shift, she says, came from encountering people of different backgrounds at university around the same time she gave her life to Jesus. For her, getting to know people of diverse religious, cultural and linguistic backgrounds and hearing the stories of former refugees, while being immersed in Jesus' 'Love your neighbour' teachings, opened both her mind and her heart," says the Justice Unit's Peter Branjerdporn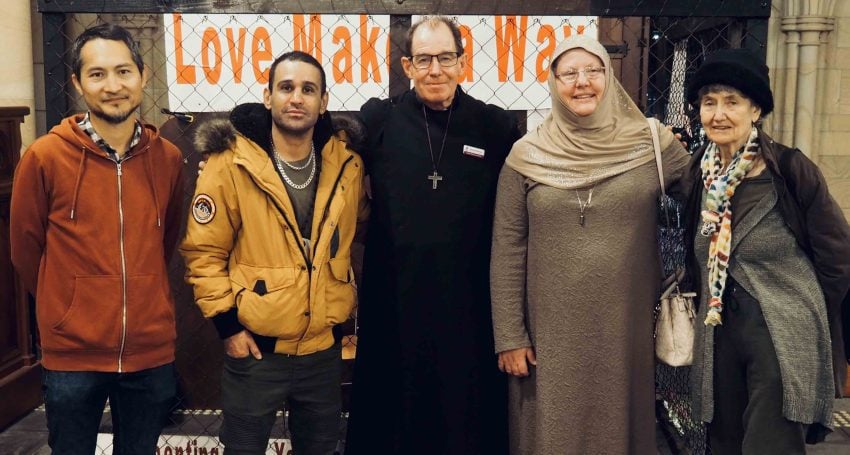 I have a good friend who was raised in a "white" middle-class family that openly expresses what she describes as "racist" sentiments.
Her father has written Letters to The Editor, which have been published in a national broadsheet, calling for a ban on "Muslim immigration". And, she recalls a conversation in early 2018 during a gathering when a family member in her early 30s said, "If it keeps us safe to keep the refugee kids on Nauru, they should stay there."
My friend shakes her head at her family's racist comments, especially because her family members do not know any Muslims or refugees.
It is hard for me to believe it knowing her now, but she says she once used to say and think similar "racist" sentiments herself because of how she was "formed" growing up.
She told me about a time on a Brisbane bus many years ago, when she heard some international students from China speaking in their own language and her immediate thought was, "You should be speaking English here."
She says that when she used to see a Muslim woman wearing a hijab walking down a local street or in a shopping mall with her husband, she wrongly assumed that she was oppressed by him.
Her shift, she says, came from encountering people of different backgrounds at university around the same time she gave her life to Jesus. For her, getting to know people of diverse religious, cultural and linguistic backgrounds and hearing the stories of former refugees, while being immersed in Jesus' "Love your neighbour" teachings, opened both her mind and her heart.
Many years later, this friend helped me advocate for the release of another good friend of mine, Amin.
Amin is a genius who fled Iran more than a decade ago because he is a persecuted ethnic minority that accuses the Iranian authorities of oppression. He was incarcerated in an offshore camp on Manus in Papua New Guinea for many years.
While incarcerated, his claim for safety was processed and he was given refugee status.
After being effectively "warehoused" in Pap­­ua New Guinea for seven years, Amin's mental and physical health became so bad that he was "medevacked" to Brisbane for treatment. While awaiting medical attention, he was detained in the so-called Brisbane Immigration Transit Accommodation (BITA) centre and then the Kangaroo Point Central Hotel APOD (Alternative Place of Detention) for more than three years before he was released into our local community in April this year.
While detained in Brisbane in BITA and the APOD, Amin lost a total of 24 kilos. In all, successive Australian Governments denied his freedom for nearly 10 years. He is only 32 years old.
With the help of friends, he is slowly getting his health back, although his ability to rebuild his life is severely impacted by the ongoing limbo of recurring Bridging Visas. He needs a compassionate and permanent solution.
While these two friends are yet to meet, I look forward to introducing them to each other soon.
Here are three things you can do to support people like Amin:
Find out more about people like Amin by following the Brisbane Refugee and Asylum Seeker Support (BRASS) Network Facebook page and/or emailing contact@doingjustice.org.au to receive the BRASS Network newsletter.
Get to know people who have been released from BITA and the APOD who are now living in our community. Please contact contact@doingjustice.org.au for more information.
Contact the Minister for Immigration the Hon. Andrew Giles calling for a compassionate and permanent solution for people like Amin so they can build their lives in certainty and freedom.
Editor's note: The theme for this year's International Day Of Peace is "End Racism. Build Peace". Professor Megan Davis will deliver this year's lecture in St John's Cathedral on Wednesday 21 September 2022. Register online via EventBrite.
Jump to next article