When "Reenie met the Queenie": two women with extraordinary lives
A patron to over 500 charities in Britain and having fundraised over £1.4 billion, Queen Elizabeth II is well-known for her philanthropic work. During her life, she also celebrated those who shared her passion, taking the time to meet and personally thank people doing incredible things for their communities. One of these people is Anglicare St Martin's Residential Aged Care resident Catherine, affectionately known as "Reenie"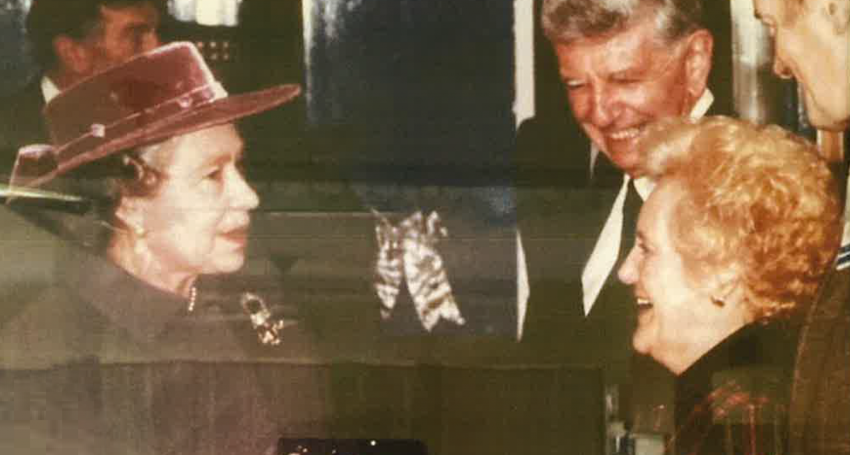 Last week the world learned of the passing of Queen Elizabeth II. In the United Kingdom and around the world, people have been paying tributes to her and her extraordinary life, from mourners gathering outside Buckingham Palace to sing 'God Save the Queen', to online condolence portals here in Australia.
A patron to over 500 charities in Britain and having fundraised over £1.4 billion, Queen Elizabeth II is well-known for her philanthropic work. During her life, she also celebrated those who shared her passion, taking the time to meet and personally thank people doing incredible things for their communities. One of these people is Anglicare St Martin's Residential Aged Care resident Catherine, affectionately known as "Reenie".
Born in 1937 as Catherine Lamont Campbell Anderson of the Campbell clan in Scotland, she was invited to meet the Queen in her early 50s as a result of her fundraising work.
At 50, Catherine began running marathons, raising thousands of pounds to support local charities. She ran marathons all over the world, including in England, Spain, Portugal, the United States and Scotland. 
Her favourite charity was St Luke's Hospice, an organisation providing support to people approaching the end of their lives, and their families. To recognise the impact Catherine had, St Luke's named one of the wards after her. She also raised a lot of money for her church, Our Lady and St Thomas of Canterbury, Harrow-on-the-Hill.
Catherine's daughter, Lorraine, who ran the New York Marathon with her, says her mother was a local celebrity in their area.
"Everyone knew who she was and what she did," Lorraine said.  
"She only started running at 50, and that's the most amazing thing. She just took it up. That was one thing with mum. She was very determined when she wanted to do something. She'd do it until she couldn't do it any better or anymore. She's a very, very determined lady. She has always been driven by helping people. She's a very giving lady."  
Catherine not only raised thousands of pounds for those in need through running, she was also a very talented swimmer, representing Glasgow in a number of tournaments. She also made use of this sport to make a difference. From her late 30s and into her 60s, she taught disabled children to swim in London. 
A much-loved member of her community, Catherine was acknowledged in small ways by those around her, receiving little gifts of chocolates, perfumes, flowers and more. An advocate for minorities, she was also often invited to cultural centres, mosques, churches, community dinners, and various cultural celebrations.   
"Mom loved looking after everyone", says Lorraine.
"It didn't matter what their background was. She'd just do anything for anybody." 
Catherine also contributed in a big away to her long-time employer, The First National Bank in Harrow, Middlesex, where she worked for 22 years. She was a dedicated employee and was often featured in their newsletters, both for her day-to-day work and her fundraising activities. 
Beyond her philanthropic activities and her working career, Catherine loved her family very much and was also quite the social butterfly. Her running groups were a big part of her network and they often went out together. To treat herself, she used to love going to London on shopping trips. 
"Mum was always immaculately dressed," Lorraine said.  
"She'd have a stunning outfit with matching shoes and a matching handbag. Her hair and nails were always done, never one hair out of place. She also loved wearing kilts – it was a way for her to celebrate her Scottish heritage." 
"I just have so much respect for her and who she is as a person. She has a fantastic sense of humour and was always singing. She was always a happy and bubbly person, always laughing." 
When Catherine was invited to meet the Queen in London, she was beside herself. The pair spoke for a few minutes, with the Queen thanking Catherine for all the work she'd done for local charities and the impact she'd had in her communities.  
"At the time, Mum told me that the Queen was simply the most amazing and gracious lady. She was delighted to meet my mother and I think both ladies had a lot of respect for each other."  
The meeting was a profound event in Catherine's life and inspired her to continue her work with those in need. As she did so, people used to affectionately say, "Reenie met the Queenie."  
"When I found out that the Queen had died, I thought of mum straight away," Lorraine said.
"Given that Mum now has dementia, she is completely unaware. But if she knew, she would definitely shed tears." 
"She has given so much in her life and I am just so proud of everything she has achieved. She has helped so many and been rewarded again and again for her compassion. Meeting the Queen was just the icing on the cake, really." 
Queen Elizabeth II will be mourned by millions of people around the world, but her life and philanthropic activities will be celebrated, too. Catherine was one of the people who was able to meet her in person and be inspired by her work in this field. Considering the extraordinary things Catherine achieved throughout her 85 years, we're certain the Queen was inspired, too. 
First published on the Anglicare Southern Queensland website on 12 September 2022. 
Jump to next article