Holy Hermits Online makes gift-giving a piece of cake this Christmas
Recently the Holy Hermits Online community banded together to craft a beautiful daily Christmastide devotional for other Anglican Church Southern Queensland community members and their loved ones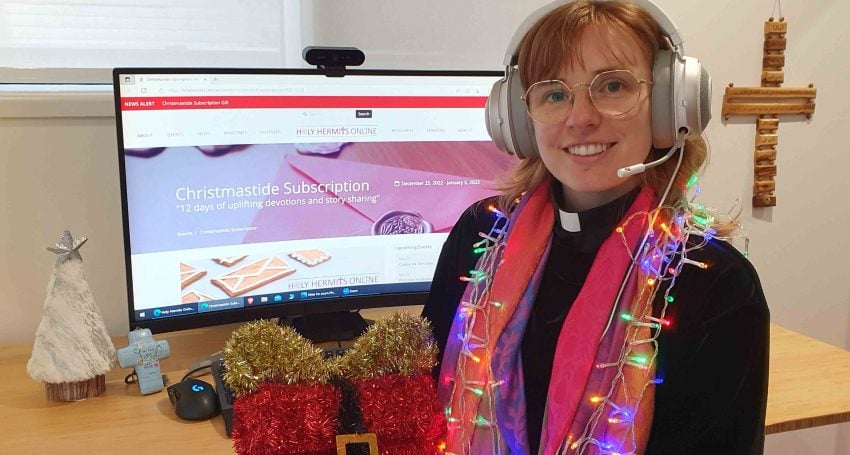 Christmastide is an important season for Holy Hermits Online community members, whether it is a joyful period or a challenging time.
One of the blessings that we celebrate at Holy Hermits Online is that our virtual space enables us to collaborate easily and work together in mission and ministry.
Some of the diverse initiatives we have collaborated on this year include the 70's Faith-Music Party, monthly contemplative prayer services, online retreats and spiritual direction, a new Holy Hermits Online App, as well as weekly Sunday worship services.
Holy Hermits Online members contribute a range of wonderful skills and talents to our initiatives, including reading, prayer writing, broadcasting and tech support, music curating, service preparation, proofreading, researching historic holy hermits for brief feature pieces, committing to regular prayer for those in need, and ministry task group leadership (for example in our Companion Animal Ministry project on creating pet memorial gatherings and other resources).
Recently the Holy Hermits Online community banded together to craft a beautiful Christmastide Subscription for other Anglican Church Southern Queensland community members and their loved ones.
Subscribers will receive 12 days of original uplifting devotions and stories from 25 December to 5 January.
anglican focus readers are invited to purchase the subscription for themselves or their loved ones online for $10 by Monday 12 December. All proceeds will go to funding Holy Hermits Online ministries.
Editor's note: Thank you so much to Holy Hermits Online members Bob and Desley Randle for surprising the Editor, Michelle, with a Holy Hermits Online Christmastide Subscription. She was absolutely thrilled to receive the email – it really is the perfect gift.
Jump to next article