Cross-commish connections as school, Anglicare services and parish gather in Roma
The Cannon Hill Anglican College community is still buzzing from their outback tour late last year, especially their visit to Anglicare Southern Queensland's Children and Families team in Roma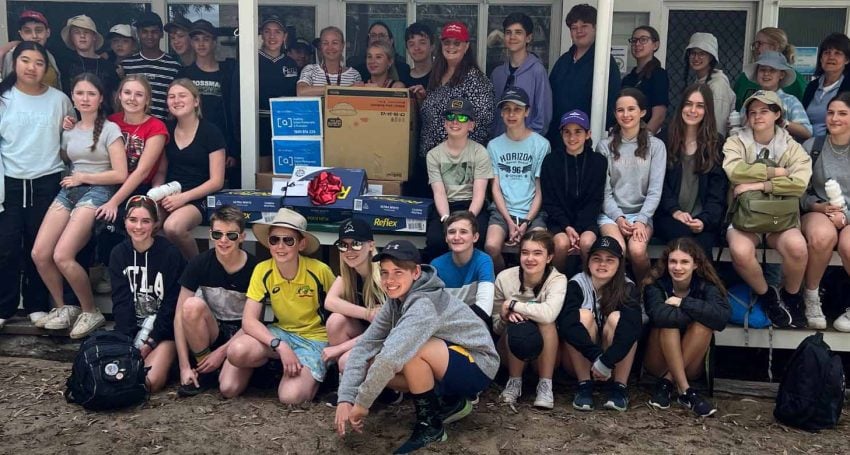 The Cannon Hill Anglican College community is still buzzing from their outback tour late last year, especially their visit to Anglicare Southern Queensland's Children and Families team in Roma.
The Year 8 and 9 students donated 96 pencil cases full of school supplies for the Roma team members to give to children in out-of-home care.
Foster and Kinship Care Practitioner Cassie said that the team is looking forward to future school visits.
"The Children and Families team got to speak to students about the issues that lead to children needing protection and out-of-home care," Cassie said.
"Our volunteer, Liz, also gave them a tour of our Anglican church, as they had heard about its beautiful windows.
"The school chaplain explained to us that their aim for the trip was to encourage the students to visit unfamiliar communities.
"The students were extremely grateful to have had this experience and to understand our work in the community.
"The school is hoping to make this trip an annual excursion and have asked us to inform them of any other necessities our children in care may need.
"We are just in awe of the generosity of this school and their students, and their eagerness to engage with our work and community."
Cannon Hill Anglican College (CHAC) student Emma Seivl said that visiting Anglicare staff in Roma helped connect her to the wider Queensland Anglican community.
"I feel as though Anglicare plays such an important role in my school life, and to have the satisfaction of being able to help give back, not only to the organisation but to children in foster care situations, was simply incredible to experience firsthand," Emma said.
"The importance of donating to regional families in need for me is that it serves as a way of giving back to the Anglican community Australia-wide."
CHAC Chaplain and Director of Mission Brother Nathan James accompanied the students on the Anglicare Roma visit as part of an "Outback Tour" excursion.
Brother Nathan said that the regular tour was paused for several years because of the coronavirus.
"Given the overwhelmingly positive feedback from students who attended this year, we have decided to run the CHAC Outback Tour as a yearly event," Brother Nathan said.
"Due to this pause, the College is working to re-establish relationships within the Roma/Charleville communities.
"We want to move toward a service-learning model that moves from the transactional to the transformational through building relationships.
"The Roma Foster Kinship program was approached to see how our students might support young people of Roma.
"This sparked a College-wide collection of stationery items to support students in need.
"More importantly, our students learned to understand that not every child has the experience and opportunities they have and that being socially minded is important, and that it is also important to engage with the community and understand their needs and not assume we know what they want.
"It is also important that we help our students learn that the communities in which we seek to serve also offer us a rich wealth of knowledge, experience and wisdom that help us to become better neighbours.
Brother Nathan said that CHAC is also hoping to further develop relationships with the Queensland branch of the Royal Flying Doctor Service (RFDS) through their Brisbane and Charleville base connections.
"CHAC was invited by the RFDS to name their new mascot – affectionately named 'Aflie' – after a school-wide competition," Brother Nathan said.
"Alfie is named after Alfred Traeger, inventor of the pedal radio that enabled communication between the RFDS and rural and remote communities.
"In Term 4, the RFDS brought a life-size replica of an aircraft and other equipment used by the RFDS to the College and students had a hands-on experience.
"Students are keen to support the RFDS through fundraising, and also are keen to develop more practical ways to learn from and contribute to this vital service.
Emma said her trip highlight was the quintessential regional hospitality of locals.
"The most memorable event for me was the incredible generosity displayed by the inspirational mother-daughter duo at Mount Abundance Homestead," Emma said.
"Mrs Tite and Helen showed us how valuable hard work and passion are through their admirable work maintaining the 143-year-old heritage-listed homestead.
"Everyone on tour was especially moved by their incredibly hospitable natures."
Jump to next article