Bundaberg soup night highlights
A 27-year-old soup night tradition was celebrated by the Anglican Men's Society, The Parish of Bundaberg and St Luke's Anglican School recently — find out about the highlights of those who served, including Principal Virginia Warner, AMS' Dr Howard Kingston, Bishop Jeremy Greaves and students Sienna and Safi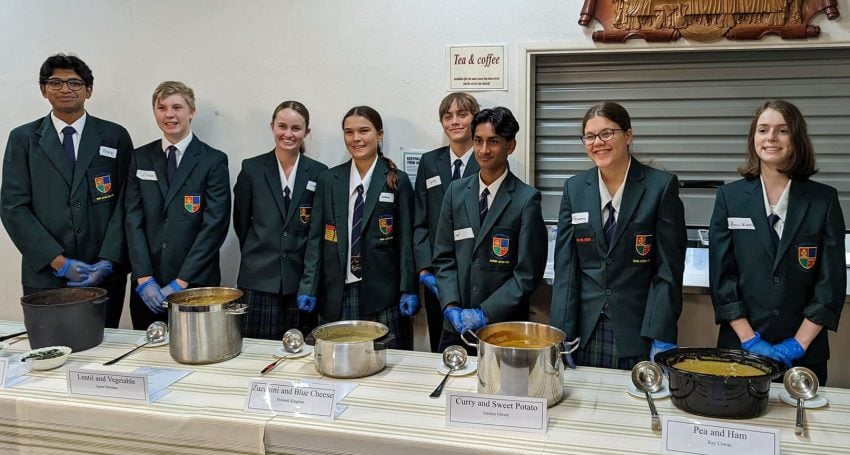 Dr Howard Kingston — Chair, Anglican Men's Society of Bundaberg
The Bundaberg Anglican Men's Society Annual Soup Night commenced 27 years ago when Tony Osborn (who will be 100 in September) conceived an idea for a spartan meal in Lent. Until recently he was the leader of the organising team, always with attention to detail. He continues to contribute, this year with advice and his signature mulligatawny soup. He was unable to attend, but remains an immense inspiration.
I want to see our school, parish and its ministries do more together. The success of the soup night event shows how the school's and parish's missional approaches naturally intersect. If we are to be meaningful in faith we must believe, collaborate and complement each other in our Christian mission. I am confident that we are heading in the right direction in Bundaberg.
Reality hit me as I left the final clean-up. I was challenged by two itinerant men seeking food. I gave them my meagre left-over soup and some bread. There was also a young individual setting up to sleep under the eaves of our hall. Despite a "spartan" meal I was well fed. Here was reality! How to do more?
Virginia Warner — Principal, St Luke's Anglican School and parishioner, The Parish of Bundaberg 
The Anglican Men's Society Lenten Soup Night is a Bundaberg tradition that warms the heart and nourishes the soul. It was a true privilege to attend and to share a meal lovingly prepared by men of the parish who are as rich in spirit as their recipes. The soup was piped in by a local bagpiper and the chefs presented their soups proudly before the St Luke's Anglican School students, under the careful tuition of Russell Cobb.
Witnessing the interactions between our Year 12 students and members of the congregation, and the shared joy and learning, was indeed a special highlight. Bishop Jeremy Greaves spoke about the hope for the future of the Church, and he astutely provoked deep reflection about our church of today and tomorrow. Bishop Jeremy spoke about the dynamic tensions of honouring church traditions and the importance of embracing new ideas and approaches to meeting people where they are instead of waiting for our younger generation to enter the church building on Sunday.
Earlier that day, Mother Kate Ross led our Easter Service at St Luke's, and Jenny Moreny from the congregation received the donations of our Lenten Pantry Appeal. These traditions help to build connections across our flourishing faith communities and reinforce the understanding that we are all part of a wider church.
We are truly blessed to be a connected community that is inclusive and intergenerational. Students are enriched through our worship times at Christ Church, Bundaberg and through the invitation to serve the community through the Anglican Soup Kitchen. It is through our shared experiences and conversations over a meal that we gain a deeper understanding of the diversity of voices and learn so much from one another.
Sienna — Year 12 School Captain, St Luke's Anglican School
For me, the main highlight of the Lenten Soup Night was having meaningful conversations with the people present. I had a very interesting conversation that was filled with much laughter with two people that used to live around the area where I live now. They generously shared stories from when they were my age about how the town used to look and asked about my life. It certainly gave me a great appreciation for the history of our area.
School student collaborating with churches on events like this is important because it shows that students are willing to help out and that they appreciate the opportunity to show their respect to people participating in Lent. Every student that volunteered from St Luke's Anglican School was honoured to give up their time to assist the parish with this event.
It is important to have conversations with people who sleep rough, as going through difficult times alone is unfair for anyone. Talking to the community allows those who are sleeping rough to understand that we are there for and believe in them. Regardless of a person's level of wealth, the opportunity to simply talk to other people is a wonderful way to brighten their day and make them feel worthy. Human connection is so very important.
Bishop Jeremy Greaves — Bishop for the Northern Region; Chair, Anglican Schools Commission; and, National Chair, Anglican Men's Society
Sometimes a small idea takes off in a way that could not have been imagined in the beginning, and that is what I love about the Anglican Men's Society Soup Night in Bundaberg. A simple meal, in Lent, to raise money for and awareness of homelessness in Bundaberg has been going for 27 years and continues to raise valuable funds for The Parish of Bundaberg's outreach to people sleeping rough in the town.
Schools, parishes and other Anglican groups all bring different gifts and experiences and together we can better express God's mission in the world. As we are reminded in 1 Corinthians 12.14-17, "Indeed, the body does not consist of one member but of many. If the foot would say, 'Because I am not a hand, I do not belong to the body,' that would not make it any less a part of the body. And if the ear would say, 'Because I am not an eye, I do not belong to the body,' that would not make it any less a part of the body. If the whole body were an eye, where would the hearing be? If the whole body were hearing, where would the sense of smell be?"
We are better together!
Mother Teresa famously said of the people on the margins with whom she worked that they are "Jesus in distressing disguise". As we live out our faith and the call to love God and love our neighbours, it is the people on the margins, "the little ones", who remind us most clearly what this love looks like in action.
Safi — Year 12 Academic Leader, St Luke's Anglican School
A main highlight of the soup night evening was assisting in the kitchen and having small conversations with the people there. I had the wonderful fortune to reconnect with a past St Luke's staff member, Father Iain Furby. For me it was a wholesome moment because when I first came to Bundaberg, and specifically St Luke's, Father Furby was one of the first people I met. It was lovely talking with him and catching up.
I believe it is really important for school students to collaborate with churches on events such as the Lenten Soup Night. There is a real sense of community here in Bundaberg, and with our city being quite small, it is important to maintain these valuable connections with the Church. By doing so, we can keep generations connected while providing help where it is most needed. Collaborating in these acts of service provides a feeling of fulfillment and is a way of passing on kindness to others.
I think it is extremely important for schools to meet and engage in conversations with people who sleep rough because it gives a first-hand perspective to how lucky we are. It is sad how most people our age are unaware of how many people in our city sleep. Without really speaking to rough sleepers and learning their story, our perception of their situation is flawed. It is important to really understand if we are to encourage others to be more charitable to them. My hope is that through understanding, more students will be enticed to participate in events like the Parish Pantry Appeal.
Jump to next article