Why I am voting "yes" in the referendum: Adrian Malone
"My dad's mum, Nan, taught me Dreaming stories, about animals and language. My mum's dad, Grandad Daylight, taught me stories about the Dreaming, including how the mountains were formed. When I was very young, my aunties and uncles taught me how to fish for whiting and barramundi and how to hunt for turtle and dugong. I learnt a lot from my Old People around the campfire because I listened," says Gubbi Gubbi and Dharumbal man Adrian Malone from Anglicare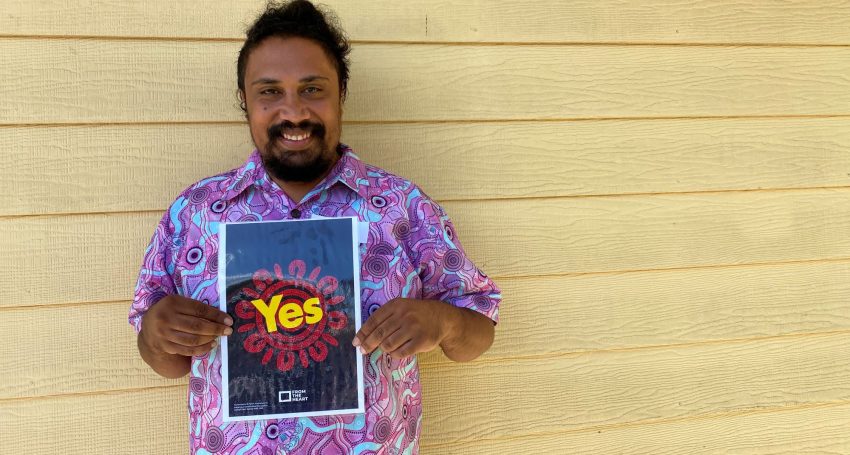 Story Timeline
Why I am voting "yes" in the referendum
My mum is a Gubbi Gubbi woman from Bauple, north of Gympie. My dad is a Dharumbal man from Rockhampton. They and their families had very different experiences growing up at time when various punitive Queensland Acts were in force. Assimilation, including the forced removal of children, was a key part of these Acts, which also controlled where Aboriginal people lived and their movements.
My mother and her family were severely impacted by the Acts. Her family had little say over their lives, and consequently their physical and mental health were impacted. That side of my family died much younger. My mother was "stolen" when she was about 13. She was taken from Emu Park, a beachside town near Rockhampton, along with her younger brothers and brought to St George's Homes, which was run by the Church of England. Her other siblings were immediately "adopted" out and taken to Brisbane.
My father's family was "exempt" from the Act, which meant that they had greater say over their lives, and were consequently healthier, both physically and mentally. My father's grandfather was the first to receive the exemption because he found work on a property around the Rockhampton area. Basically because this side of my family was "exempt" and working on either stations or railways, their children were protected from being "stolen".
When I look at my mum's and dad's families, I see how different the inter-generational health outcomes have been. These outcomes are proportionate to how much say they had over their lives. The 1967 referendum led to the dismantling of these Acts, enabling Aboriginal and Torres Strait Islander peoples to have greater control over their lives. I hope that this year's referendum helps build upon this legacy.
My parents met in Rockhampton through family — their parents were close friends. Despite what my parents went through during the 1960s and 1970s, I was raised in a loving home. I also learnt cultural knowledge through my grandparents from both sides. My dad's mum, Nan, taught me Dreaming stories, about animals and language. My mum's dad, Grandad Daylight, taught me stories about the Dreaming, including how the mountains were formed. When I was very young, my aunties and uncles taught me how to fish for whiting and barramundi and how to hunt for turtle and dugong. I learnt a lot from my Old People around the campfire because I listened.
Constitutional recognition of Aboriginal and Torres Strait Islander peoples through a Voice will invite policy makers to a "campfire" so they can listen to Indigenous leaders from the grassroots share about what their people need. This is important if we are going to close the health and life expectancy gap for good.
Editor's note: This year's National Reconciliation Week (NRW) theme is "Be a Voice for Generations". NRW is held between 27 May and 3 June annually. Visit the National Reconciliation Week website for resources, more information and to register your events.
Editor's note: The Anglican Church Southern Queensland supports the Anglican Board of Mission's 2017 call for "a Constitutionally Entrenched First Nations Voice". The ACSQ also supports the Anglican Church of Australia's Joint Affirmation of Faith and Justice with First Nations Peoples (carried by affirmation at General Synod, Oct 2007), and seeks practical ways to do so, including our association with Reconciliation Australia and the prescribed process of Reconciliation Action Plans.
Editor's note: 21/07/2023: This anglican focus feature, written by The Ven. Geoff Hoyte, The Rev'd Michael Stalley and The Rev'd Rick Gummow, provides a timeline showing how the ACSQ came to its position on recognising Aboriginal and Torres Strait Islander peoples in the Constitution through a Voice to Parliament.
Jump to next article