Why I am voting "yes" in the referendum: Aiden Wu
"I believe that the Voice will help enable more culturally safe and person-centred healthcare because we would be able to better shape the policies that impact us. We need to keep our kids healthy and in school if we are to later see them in university rather than in prison," says Torres Strait Islander man and nursing student Aiden Wu from St John's College within the University of Queensland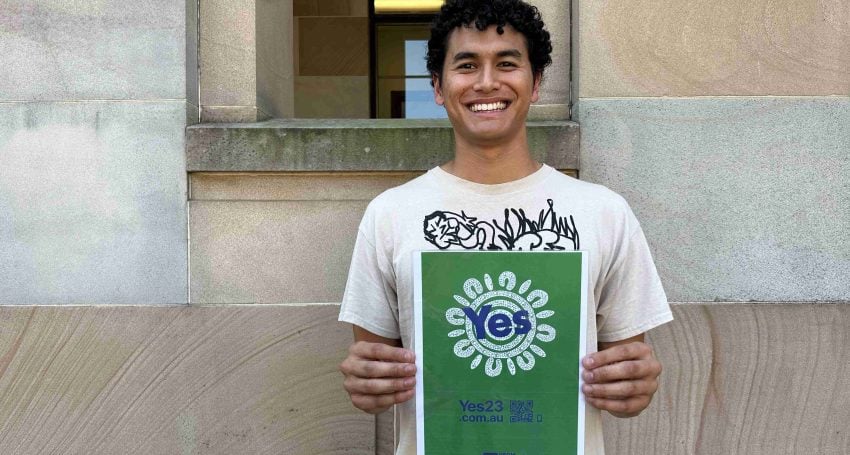 Story Timeline
Why I am voting "yes" in the referendum
My family is from Erub, where the London Missionary Society and Melanesian leaders first brought the Bible to the Torres Strait Islands in 1871.
One day I hope to follow in the footsteps of Australia's first Indigenous surgeon Prof. Kelvin Kong, who is this year's NAIDOC Week Person of the Year. He was recognised for his work with Indigenous children who have a high rate of hearing loss due to middle ear infection that impacts education outcomes.
He has travelled a lot to remote and regional areas, which is a path I am eager to follow. I would love to be a surgeon in a rural or remote community — this is why I decided to pursue healthcare studies. I would especially like to work in the Torres Strait Islands as a doctor.
When I was doing a work experience placement in the Torres Strait Islands I noticed a high prevalence of diabetes and other complex health conditions — it was immediately evident to me. We often hear about the health and life expectancy gap between Indigenous and non-Indigenous Australians, but seeing it firsthand was eye opening and has motivated me to make a difference in my community.
I'm lucky — I've had opportunity. But I've read that a young Indigenous man is more likely to end up in jail than go to university. I grew up learning music and playing sport and am now studying at university — these came from opportunities I had from an early age.
Prof. Kong believes that the medical community has a role to play in supporting constitutional recognition of Aboriginal and Torres Strat Islander peoples through a Voice and that most people would vote yes if they had the right information. I found the Information booklet: Recognising Aboriginal and Torres Strait Islander peoples through a Voice to be helpful because it covers the referendum question, includes the constitutional text, and makes it clear what the Voice is and is not and why the Voice is important. It also explains what would happen after the referendum.
I believe that the Voice will help enable more culturally safe and person-centred healthcare because we would be able to better shape the policies that impact us.
We need to keep our kids healthy and in school if we are to later see them in university rather than in prison. For this to happen, schooling needs to be more culturally safe and our kids need to recover quickly from conditions like middle ear infections instead of ending up with hearing loss and then dropping out of school.
The Voice will be able to offer recommendations because we are the experts when it comes to our own health. So I will be voting yes because I want to see a real difference in the health and education outcomes of Indigenous Australians.
Editor's note: This anglican focus feature, written by The Ven. Geoff Hoyte, The Rev'd Michael Stalley and The Rev'd Rick Gummow, provides a timeline showing how the ACSQ came to its position on recognising Aboriginal and Torres Strait Islander peoples in the Constitution through a Voice to Parliament.
Jump to next article