Anglicare Leaders Forum: Reconciliation insights and learnings
Find out what key insights Anglicare Leaders Forum participants Priya Titus, Dave Williams, Kylie Clark and Rees Maddren took away from this year's event and how they will implement these insights in their work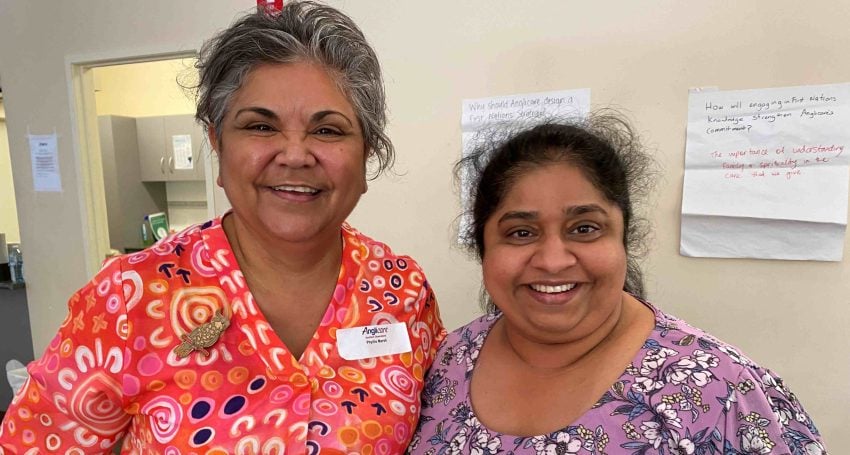 Priya Titus — Specialised Dementia Care Coordinator, St Martin's Residential Care, Taigum (Turrbal Country)
I was fascinated by the stories educator and MaMu woman Phyllis Marsh, from West Moreton Anglican College and Anglicare Southern Queensland's board, shared at the Anglicare Leaders Forum. The stories she told about Country were connected to sites, including ancient fish traps, mountain ranges, rock formations and wetlands. She showed us beautiful images of these places in her PowerPoint presentation. When you go to an outside place, such as a natural landmark, you can only know the ancient Aboriginal or Torres Strait Islander stories attached to such places if you have been told them. The key learning I took away from Phyllis' session is that every natural landmark or place has a story attached to it.
I would like to invite local Elders and other local Traditional Owners to St Martin's Residential Aged Care at least once a year so they can share stories, including about natural Turrbal landmarks and other places, especially those around Taigum.
It is important for St Martin's residents and staff to learn about the ancient stories of Country where they live and work. The more we communicate, the more we will be drawn to each other and each other's cultures. Through communication, we will also be more eager to learn from our Elders and other Traditional Owners. The more we learn, the more we can influence others. We want our local Elders and Traditional Owners to feel that they are part of our residential aged care community.
Dave Williams — Manager, Enterprise Risk Office (Jagera and Turrbal Country)
The forum provided a great opportunity to reflect on and acknowledge the wonderful Country we are so privileged to live on, including Aboriginal and Torres Strait Islander histories and customs and the strong connections they have with the land, sea and sky.
It's easy to take things for granted and live in the now without due respect for, and understanding of, the footsteps of others over thousands of years. It's also important that we acknowledge the negative impacts of both intentional and unintentional actions. The forum provided insightful historical perspectives and context.
We also learned about many customs and values that I personally, and we as Anglicare, can take on board; for example, the strength in family connection and community (solidarity), celebrations and customs (values, behaviours and culture), men's and women's business (education and awareness) and listening sticks (active listening, consultation and informed decision making).
As I reflect on my travels to remote Australia, I recall seeing wonderful communities of wonderful people facing severe challenges who are stifled by a lack of understanding, opportunity and respect. As the forthcoming referendum approaches, I think this is a great time to actively listen to, understand and advocate for First Nations peoples and join together to support a real Voice that will be listened to.
Following the forum, I have been more inspired to ensure that our decisions better consider First Nations persons, cultures and perspectives. So I will be further seeking out and engaging with Howie Vandyke, our First Nations Engagement and Development Advisor, and applying our First Nations Cultural Capability Framework.
The forum reinforced for me that for positive change to occur, we need to be brave and advocate for equality — being a passive bystander, or passenger, does not affect change. As someone said recently, "The behaviour you walk past is the behaviour you accept."
Kylie Clark — Service Manager, Children & Families, Caboolture Kinship & Fostering (Gubbi Gubbi Country)
I had the privilege of attending the annual Anglicare Leaders Forum, which was without doubt the best leadership forum I have attended. I recently returned to Anglicare Southern Queensland. With grace and acceptance, I was welcomed back to an organisation that proudly operationalises our values and our commitment to social justice, including to Reconciliation.
One of the highlights and reflections that I continue to ponder is the concept and action of Reconciliation. Aunty Sandra King, the ACSQ Reconciliation Action Plan Coordinator, spoke about the importance of Reconciliation at the forum.
I have continued to contemplate about Reconciliation over many years, particularly how I action Reconciliation in my role as a leader. My team's leadership framework and the deepest part of my soul acknowledge that Reconciliation calls for action.
Aunty Sandra reminded me that at the heart of it, Reconciliation requires that I stop and listen. I need to be willing to sit and listen to the truth of a colonial history, characterised by violence, dispossession and the tearing apart of families. This truth is hard to hear. I am always in awe at the willingness and generosity of our Elders who share their painful truths in a spirit of Reconciliation.
I have chosen to work in the social services sector — a space that has historically inflicted harm and caused intergenerational trauma to our First Nations children and their families. For the most part, my decision to work within this sector is more of a vocational calling than a profession. As part of this calling, I have always considered Reconciliation as an invitation to give an authentic response, listening with my heart and soul, practising dadirri.
Above all, my commitment to Reconciliation is about fostering and maintaining lasting relationships and friendships, respecting the right of Aboriginal and Torres Strait Islander leaders to care for and advocate for their peoples' needs. Because of this, I support constitutional recognition of Australia's First Peoples through a Voice to Parliament.
In closing, I wish to acknowledge the Elders of the land on which I was raised (in the Blue Mountains) and the incredible women Elders who opened my eyes to the importance of Reconciliation through relationship — Dharug and Wiradjuri Elders.
Rees Maddren — Manager, Insync Youth Service, Mental Health and Wellbeing Portfolio (Yugambeh Country)
The presentation about the importance of the Voice to Parliament was really moving. Aboriginal or Torres Strait Islander peoples have a right to offer a view on matters that impact their communities. It's important that the ability to offer a view through "the Voice to Parliament" is included in the Constitution, rather than legislated, because this will give the Voice stability. The Voice will significantly strengthen the ability of First Nations' grassroots communities to be heard. If the Voice is supported by the Australian people through a referendum, then a major step in the walk towards Reconciliation will be taken.
The talk has further embedded my desire to listen more to First Nations peoples as we work with young people at risk of homelessness. Tania Murray, a proud Gudjal woman, is the Coordinator of Insync's Mt Gravatt and Beenleigh services. Tania has organised regular meetings with Logan Elders to assist us in this year's NAIDOC Week celebrations. We are also seeking advice from Yugambeh Elders as Anglicare creates a new service for young people at risk of homelessness in Logan. Why? Insync works with many First Nations young people and we desire to build the most effective service on Yugambeh Country with the Elders' blessing and assistance.
Building relationships between First Nations peoples and all staff/clergy happens when you know about each other. For me, understanding the truth of their history and cultural practices brings about a desire to share this truth with my friends, family and colleagues.
I want First Nations peoples to have an effective Voice, whether that be in our Parliament, in Anglicare's services or in my home. And while I have a long way to go in my understandings, supporting those Voices will help make them heard a little bit more.
Editor's note: This year's National Reconciliation Week (NRW) theme is "Be a Voice for Generations". NRW is held between 27 May and 3 June annually. Visit the National Reconciliation Week website for resources, more information and to register your events.
Jump to next article