Supporting people in ministry with their self-care and the care of others
"One of the highlights of my role is caring for clergy and helping to resource them so their ministries can flourish. Organising subsidised two-day mental health first aid training courses is one of the ways I implement this," says Wellbeing and Development Officer Rebecca McLean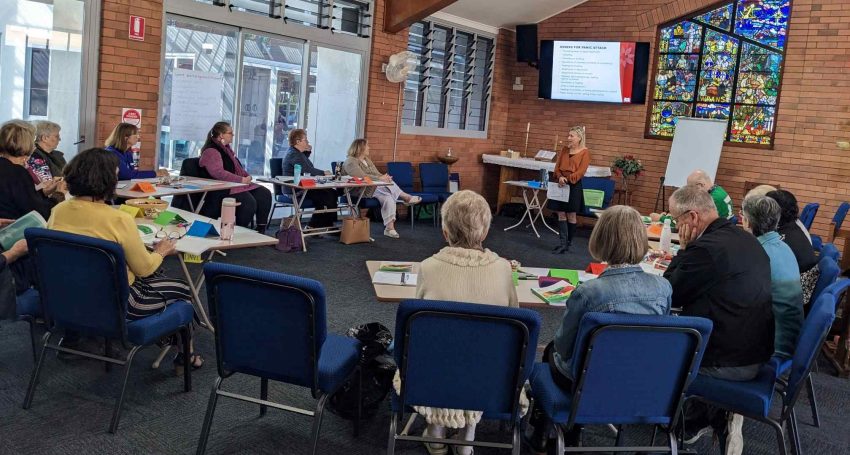 Looking around the St Peter's, Maroochydore church recently watching the faces of clergy and lay people engaged in a mental health first aid course, I was struck by the diverse Anglicans present. Nineteen parish priests, clergy spouses, parish administrators, parish council members and parishioners from across our Northern Region joined in the interactive workshop.
The participants workshopped mental health scenarios using their newly learnt framework, shared stories, asked questions and learnt about selfcare techniques, including building healthy habits.
The Anglican Church Southern Queensland's mental health first aid course facilitator, Donna Thistlethwaite from Mentally Wellthy, is adept at creating a safe space for sharing stories and asking questions in our communities, including our workplaces.
Donna has lived experience of mental health challenges. Five years ago Donna shared on Australian Story about how she attempted to suicide. As explained on Donna's  website:
"No-one could have predicted the mental health crisis that she experienced in response to a workplace challenge. Unfortunately, she didn't reach out for help and those around her were not prepared or equipped for the possibility that she had become suicidal."
Donna has served on the Lifeline frontlines as an employee, undertakes significant keynote speaking and runs courses on resilience and mental health awareness.
Following the Maroochydore course, I received some great feedback, including the following emailed comments:
"I would highly recommend the Mental Health First Aid Course to anyone who is working in a pastoral care role or has direct experience in dealing with mental health. It helps to focus your questions and support in a meaningful, empathetic, non-judgemental way to ensure that the assistance they need can be accessed and provided. Many thanks for the opportunity to explore and better understand this topic."
(Tanya Furby, Spiritual and Pastoral Care Coordinator — Anglicare Southern Queensland's Meilene Residential Aged Care and Parish Administrator/Treasurer — The Parish of Goonaneman).
"I thoroughly recommend this course for any clergyperson or lay leader in the Church. After 33 years in ministry, I cannot say that I learnt a whole lot of new information about mental health, but it helped me to systematise my thinking around it. The Mental Health First Aid Action Plan is worth its weight in gold, as is the manual that came with the course. It is a valuable resource to enable frontline care of those who present with mental health issues. Well worth investing two days in." (The Rev'd Steve Wockner, Holy Trinity, Kawana Waters)
The (anonymous) survey course ratings were high, with the following feedback received:
"An excellent course providing plenty of opportunity for interaction, great utilisation of video clips to cement learning."
"I am empowered to confidently approach someone who is having a crisis moment."
"Good teaching manual. Engaging teacher. Interactive participation encouraged application and repetition through practical tasks. Incorporation of self-care as a very important component."
In my role as Wellbeing and Development Officer I support people in ministry with their self-care and the care of others.
One of the highlights of my role is caring for clergy and helping to resource them so their ministries can flourish.
Organising subsidised two-day mental health first aid training courses is one of the ways I implement this.
Upon successful completion of the course, participants are accredited for three years as a mental health first officer, which is a role that is becoming as important as traditional first aid.
Participants receive a take-home manual, a wallet-sized mental health issue strategy card and, once accreditation is confirmed, a "banner" to add to their email signatures.
The courses are subsided by the Anglican Church Southern Queensland for Anglican community members. The subsidised course fee is $150 (a saving of $100) which includes the manual, course delivery, wallet-size card, accreditation and catering.
The next mental health first aid courses will be held at:
The Parish of Robina on Tuesday 30 to Wednesday 31 May (Southern Region).
St James', Toowoomba on Wednesday 12 to Thursday 13 July (Western Region).
St Francis College course – June dates are now full. Seats available for September and interest pending, a further date to be added.  
Register your interest online now.
Editor's note: Immediate support is available for those who may be distressed by phoning Lifeline 13 11 14; Mensline 1300 789 978; Kids Helpline 1800 551 800; and, beyondblue 1300 224 636.
Jump to next article