Cannon Hill Anglican College and local Zonta club collaborate in support of people recovering from breast cancer
Cannon Hill Anglican College students recently collaborated with the Zonta Club of Brisbane East to assemble 100 breast cushions for people recovering from breast cancer surgery at the Mater Hospital — find out more about the initiative from those who participated, including CHAC Social Justice Coordinator Marion Rutter and students Fionn Espiner and Mischa Mossman-Postula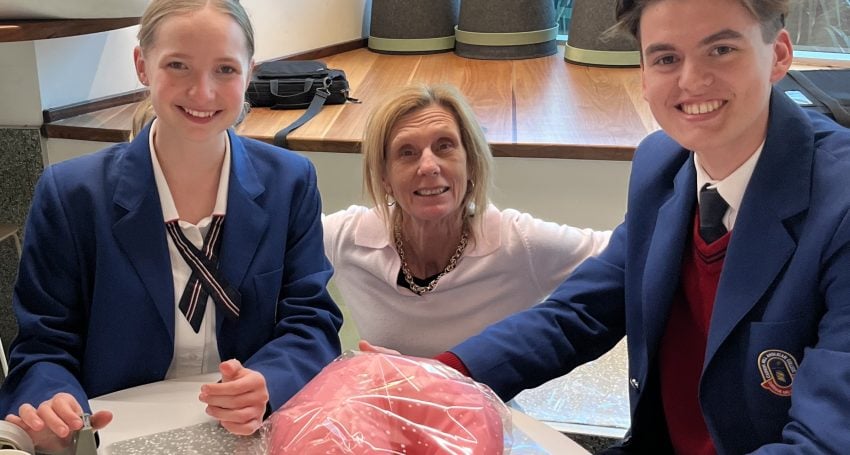 Marion Rutter — Social Justice Coordinator, Cannon Hill Anglican College
At Cannon Hill Anglican College (CHAC), the core values of compassion and service are deeply embedded in our ethos. As part of our unwavering commitment to making a positive impact in our community, our social justice committee is continuing to support Zonta East Brisbane members in their assembly of breast cushions. This activity reflects CHAC's values while exemplifying our dedication to the third of the five Anglican Marks of Mission — "To respond to human need by loving service". The Social Justice Committee empowers our students to make tangible differences in the lives of others, and we are dedicated to continuing this journey of service.
CHAC frequently collaborates with the Zonta Club of Brisbane East, a non-profit organisation of professionals empowering women worldwide through service and advocacy. This Zonta club is a part of the broader Zonta International organisation.
On 23 May, 30 members of the Social Justice Committee joined forces with the Zonta Club of Brisbane East members to assemble 100 breast care cushions, which included stuffing, sewing and carefully wrapping them. The meticulously crafted cushions will be delivered to the Mater Hospital, where they will provide much-needed support and relief to individuals recovering from breast cancer surgery.
These cushions offer comfort to women (and men) in the post-operative phase of breast surgery, helping to alleviate discomfort resulting from the removal of lymph nodes. Recipient feedback has been overwhelmingly positive, with one woman remarking that receiving the cushion was a turning point in changing her outlook and fostering a more positive mindset.
As the Social Justice Coordinator, I am incredibly proud of the way CHAC students respond to the needs of others. Our Social Justice Committee has experienced significant growth, with 90 members now serving from all year levels. It is an inclusive committee where everyone is welcome to participate. Our upcoming service activity will involve assembling birthing kits for women in Africa, as we continue to extend our support to those in need.
Fionn Espiner — Year 11 Student and Social Justice Committee Member, Cannon Hill Anglican College
It was an absolute privilege to collaborate with the Zonta Club of Brisbane East members recently and do our part to help those recovering from breast cancer surgery. I was inspired to get involved in this initiative because of the wonderful Cannon Hill Anglican College staff and students, and the amazing work they have done in the past with Zonta.
Our school's Social Justice Committee is dedicated to doing whatever we can to help our community, and the opportunity to bring about real change for cancer patients with the passionate Zonta Club sounded very worthwhile and rewarding.
A personal highlight of the event was the opportunity for conversation with the Zonta members and understanding the passion that drives them to serve others. While preparing the breast cushions, we spoke one on one with the Zonta members, and hearing about the joy and comfort that the breast cushions bring to those in need motivated us to do all that we could to support the cause. It brought an incredibly cheerful and determined atmosphere to the afternoon and enlightened our Social Justice Committee about the value that can result from simple acts of service.
It's so important for schools to get involved in this initiative because it reminds us of the importance of compassion. In the midst of assessment and school commitments, it can be challenging to find the time to give back to the community. But seeing 30 dedicated members of our college committed to providing support to those in need was so inspiring and reminded us of the importance of responding to human need in loving service. There is real need within our local communities and bringing a smile to one person's face truly makes it all worth it.
Mischa Mossman-Postula — Year 11 Student and Social Justice Committee Member, Cannon Hill Anglican College
I'm thankful for the opportunity to be a part of the CHAC Social Justice Committee because it has significantly widened my own awareness of various initiatives within our local community where we can volunteer our service to help others.
CHAC has helped the Zonta Club of Brisbane East for multiple years now. I feel it is important to continue to show our support because breast cancer is a reality so many women unfortunately experience at some point in their lives, including my own grandmother, who is a breast cancer survivor.
CHAC is a community that encourages students to be supportive and compassionate, and I was motivated to offer my help out of a desire to relieve discomfort for the women struggling with their recovery from surgery. I found the opportunity to speak with the Zonta Club of Brisbane East members valuable because it provided the chance to learn more from them about this cause and further understand their organisation's mission.
Furthermore, looking around on the afternoon, I was struck by how many students of all genders enthusiastically volunteered their time to help, showing the value of community service within our college. Afternoons such as this highlight the importance of schools engaging with their local communities because it forms connections and provides unique and fulfilling experiences for students. I believe that it is vital for students to be aware of and assist in initiatives such as Zonta's to teach us the value of giving back to others and of being an active member in our community.
Overall, the afternoon was an incredibly rewarding experience, providing the opportunity to make a positive difference in the lives of others by simply offering to help.
Jump to next article