Pray Daily: July 2023
Find out our Diocese's July daily prayer points and join our community in intercession this month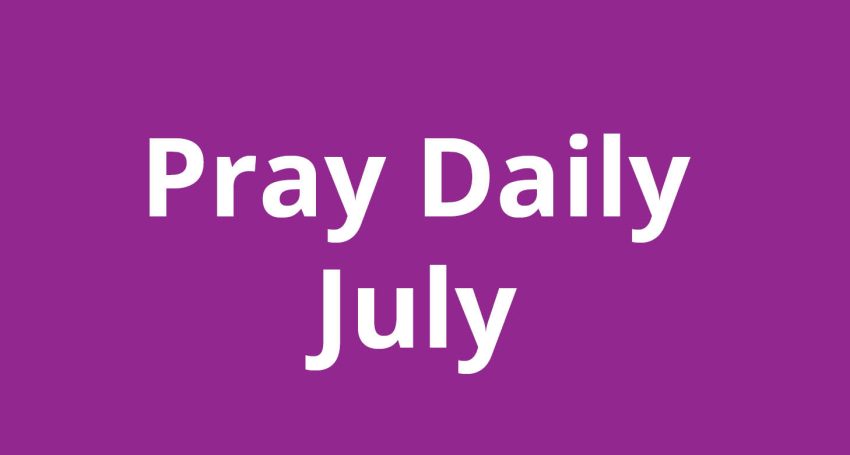 'Pray Daily' is a cycle of suggested daily prayer points for each month. The cycle covers parishes, schools and other entities across the Anglican Church Southern Queensland, as well as other Anglican Dioceses internationally.
Pray Daily can also be downloaded as a PDF  or as a Word doc for easy printing.
Ongoing
Parishes seeking new incumbents: Beaudesert, Beenleigh, Bulimba, Bundaberg, Camp Hill – Norman Park, Charleville, Cunnamulla, Coolum, Everton Park, Gayndah, Gold Coast South, Hendra-Clayfield, Jimboomba, Kenmore-Brookfield, Leichhardt Chinchilla Anglican Mission Area (LCAMA), Manly, Mitchell, Moggill-Mt Crosby, Rosewood, Stafford, The Lakes.
 Saturday 1 July
The Diocese of Udi – The Church of Nigeria (Anglican Communion)
The Diocese of Duk and the ongoing work of peace-making in South Sudan: †Daniel Deng Abot
The Anglican Church of Australia: The Primate – †Geoff Smith; The General Secretary – Anne Hywood; The General Synod and the Standing Committee
The Parish of Leichhardt-Chinchilla Anglican Mission Area (LCAMA): Garth Shaw
Youth, Children's & Families Ministry: Elissa Cotroneo
Anglican Schools Office, Church House: Executive Director – Sherril Butterworth & staff
 Sunday 2 July
Igreja Episcopal Anglicana do Brasil – Province
The Diocese of Adelaide: †Geoff Smith; Assistant Bishops – †Timothy Harris, †Chris McLeod, †Denise Ferguson; Clergy & People
The Parish of Logan: Geoff Hoyte, Robyn Cairns, Ian Chevis, Peter Grevett, Carol Hebron, Dianne Murphy, Mary Smith, Peter Moore, Kevin Bell
Anglicare Anglican Church Southern Qld (ASCQ): Sue Cooke & staff
Anglican Church Grammar School, East Brisbane: Headmaster – Alan Campbell; Chaplain – Jessica Grant; Lay Chaplain – Stephanie Cotroneo; Chair of School Council – Paul de Jersey, members of School Council; staff & students
 Monday 3 July
The Northern Uganda – The Church of the Province of Uganda
The Diocese of Armidale: †Rodney Chiswell; Clergy and People
The Parish of Lutwyche: Jenny Simson, Gary Blundell
Anglicare Australia: Kasy Chambers & staff
Cannon Hill Anglican College, Cannon Hill: Principal – Gary O'Brien; Chaplain – Br Nathan James; Chair of College Council – Bruce Moy; members of College Council; staff & students
 Tuesday 4 July
The Diocese of Ughelli – The Church of Nigeria (Anglican Communion)
The Diocese of Bathurst: †Mark Calder; Clergy and People
The Parish of Maleny: Deborah Bird, Ann Shepperson, Kaye Pitman, Ingrid Busk
Finance and Diocesan Services Commission: Joanne Stone & staff
Canterbury College, Waterford: Principal – Daniel Walker; Chaplain – Dan Talbot; Chair of College Council – Jonathan Waterworth; members of College Council; staff & students
 Wednesday 5 July
The Diocese of Ukwa – The Church of Nigeria (Anglican Communion)
The Diocese of Ballarat: †Garry Weatherill; Clergy and People
The Parish of Manly: Keith Dean-Jones – Locum, Dianne Black, Judith Phillipps
Sunshine Coast hospital ministry: Mary Coates-Kavanagh & volunteers
Coomera Anglican College, Coomera: Principal – Patrick Innes-Hill; Chaplain – Vacant; Lay Chaplaincy Team: Dom Fay and Rachael Stelzer; Chair of School Council – Mary-Anne Rulfs; members of College Council; staff & students
Thursday 6 July
The Diocese of Umuahia – The Church of Nigeria (Anglican Communion)
The Diocese of Bendigo: †Matt Brain; Clergy and People
The Parish of Mitchell: Gerry Bahre
Toowoomba hospital chaplaincy: Peter Mayan & volunteers
Fraser Coast Anglican College, Hervey Bay: Principal – Joe Wright; Chaplain – Jeff Jarvis; Chair of College Council – Kirsti Kee; members of College Council; staff & students
 Friday 7 July
The Diocese of Umzimvubu – The Anglican Church of Southern Africa
The Diocese of Brisbane: Bishop Administrator – †Cameron Venables, Assistant Bishops -†Jeremy Greaves, †John Roundhill; Clergy and People
The Parish of Milton Anglican: Ceri Wynne, †Jonathan Holland, Illtyd Loveluck
Princess Alexandra Hospital and Mater Hospital chaplaincy: Cheryl Selvage, Joanne McDiarmid & volunteers
Hillbrook Anglican School, Enoggera: Principal – Maria Woods; Chaplain – David Adams; Chair of School Council – Robert Seljak; members of School Council; staff & students
 Saturday 8 July
Te Pihopatanga o Upoko o Te Ika – The Anglican Church in Aotearoa, New Zealand and Polynesia
The Diocese of Bunbury: †Ian Coutts; Clergy and People
The Parish of Maroochydore: Tania Eichler, Philip Robinson, James Hall
Royal Brisbane & Women's Hospital: Alex Chuc & volunteers
Matthew Flinders Anglican College, Buderim: Principal – Stuart Meade; Chaplain – Kathrin Koning; Chair of College Council – Peta Grenfell; members of College Council; staff & students
 Sunday 9 July
The Anglican Church of Burundi
The Diocese of Canberra-Goulburn: †Mark Short; Assistant Bishop – †Carol Wagner; Clergy and People
The Parish of Maryborough: Sue Wilson, Jeff Balnaves, Godfrey Gilmour, Andrea Maslin
The Park – Centre for Mental Health, Wacol
St Aidan's Anglican Girls' School, Corinda: Principal – Toni Riordan; Chaplain – Gillian Moses; Chair of School Council – Stephen Green; School Council members; staff & students
 Monday 10 July
The Diocese of Uruguay – The Anglican Church of South America
Ministry to the Defence Force: †Grant Dibden; Chaplains & Members of the Defence Force
The Parish of Millmerran: David Snape – Missioner Locum
Ecumenical Tertiary Chaplaincy
St Andrew's Anglican College, Peregian Springs: Principal – Chris Ivey; Chaplain – Gary McClellan; Chair of College Council – Rosalyn Cheales; members of College Council; staff & students
 Tuesday 11 July
The Diocese of Utah – The Episcopal Church
The Diocese of Gippsland: †Richard Treloar; Clergy and People
The Parish of Moggill-Mt Crosby: Rob Sutherland – Locum, Angela McNeill
Retired clergy in the Diocese
St Hilda's School, Southport: Acting Principal – Amanda Shuttlewood; Chaplain – Patrick Duckworth; Chair of School Council – Catherine O'Sullivan; members of School Council; staff & students
 Wednesday 12 July
The Diocese of Uyo – The Church of Nigeria (Anglican Communion)
The Diocese of Grafton: †Murray Harvey; Clergy and People
The Parish of Morningside: Martyn Hope, Warwick Humphries
Ministry with the Medical Fraternity
St Luke's Anglican School, Bundaberg: Principal – Virginia Warner; Chaplain – Erika Williams; Chair of School Council – Hermina Conradie; members of School Council; staff & students
 Thursday 13 July
The Diocese of Valparaíso – Iglesia Anglicana de Chile
Ministry with the Aboriginal People of Australia: †Chris McLeod
The Parish of Mt Gravatt: Michael Stalley, Gary Tognola, Cheryl Selvage, Trevor Butler
Epic Employment Service Incorporated – Brisbane, Gold Coast, Sunshine Coast, North Brisbane, Fraser Coast, Capricornia
St John's Anglican College, Forest Lake: Head of College – Maria McIvor; Chaplain – Juliana Bate; Chair of College Council – Carla Tromans; members of College Council; staff & students
 Friday 14 July
The Diocese of Vanuatu and New Caledonia – The Anglican Church of Melanesia
Ministry with the Torres Strait Island People of Australia
The Parish of Mudgeeraba: Andrew Schmidt, David Heussler, Geoffrey Bransgrove, Desmond Pritchard
Church Army
St Margaret's Anglican Girls School, Ascot: Principal – Roslyn Curtis; Chaplain – Jasmine Dow; Chair of School Council – Debbie Smith; School Council members; staff & students
 Saturday 15 July
The Diocese of Vellore – The (united) Church of South India
The Diocese of Melbourne: †Philip Freier; Assistant Bishops – †Genieve Blackwell, †Bradly Billings, †Paul Barker, †Kate Prowd; Clergy and People
The Parish of Mundubbera-Eidsvold-Monto: Visiting clergy
Goodna Anglican Welfare Ministries
St Paul's School, Bald Hills: Headmaster – Paul Browning; Chaplain – Mark Leam; Chair of School Council – David Ruthven; members of School Council; staff & students
 Sunday 16 July
The Anglican Church of Canada
The Diocese of Newcastle: †Peter Stuart; Assistant Bishops – †Sonia Roulston, †Charlie Murry; Clergy and People
The Parish of Nambour: Ralph Bowles – Locum, Theodor Svensen, John Graham-Freeman
Retired Bishops
The Glennie School, Toowoomba: Principal – Mary Anne Evans; Chaplain – Sharon Mitchell; Chair of School Council – Paddy Nicholls; members of School Council; staff & students
Monday 17 July
The Diocese of Venezuela – The Episcopal Church
The Diocese of the Northern Territory: †Greg Anderson; Clergy and People
The Parish of Nanango: Robert Chippendale – Locum
Green Hills Anglican Community Caring Ministries
The Southport School, Southport: Headmaster – Andrew Hawkins; Chaplain – John Dougherty; Chair of School Council – Fraser Perrin; members of School Council; staff & students
Tuesday 18 July
The Diocese of Vermont – The Episcopal Church
The Diocese of North Queensland: †Keith Joseph; Clergy and People
The Parish of Nerang: Andrew Schmidt, Joy White, Ross Burnett
Cooloola Community Development Centre
The Springfield Anglican College, Springfield: Principal – Steven Morris; Chaplain – Jonathan Kemp; Chair of College Council – Michael Willis; members of College Council; staff & students
 Wednesday 19 July
The Diocese of Victoria Nyanza – The Anglican Church of Tanzania
The Diocese of North West Australia: †Darrell Parker; Clergy and People
The Parish of New Farm: Olaf Anderson, Ian Mundy, Timothy Booth, Andrew Cooper
Society of the Sacred Advent
Toowoomba Anglican School, Toowoomba: Head of School – Simon Lees; Chaplain – Vacant; Chair of School Council – Mac Drysdale; members of School Council; staff & students
 Thursday 20 July
The Diocese of Virgin Islands – The Episcopal Church
The Diocese of Perth: †Kay Goldsworthy; Assistant Bishops – †Kate Wilmot, †Jeremy James; Clergy and People
The Parish of Noosa: Chris Johnson, Lynda Johnson, Chris Ivey, Brad Henley, Ralph Bowles
Inala Careforce
West Moreton Anglican College, Karrabin: Principal – Geoff McLay; Chaplain – Louise Orpe; Chair of College Council – Bruce Sackson; members of School Council; staff & students
 Friday 21 July
The Diocese of Virginia – The Episcopal Church
The Diocese of Riverina: †Donald Kirk; Clergy and People
The Parish of North Pine: David Ruthven, Bruce Worthington, Dylan Blocksidge
St Francis College Formation students
All Saints Anglican School, Merrimac: Headmaster – Patrick Wallas; Chaplain – Ann McGuinness; Chair of School Council – John Fradgley; members of School Council; staff & students
 Saturday 22 July
The Diocese of Southern Virginia – The Episcopal Church
The Diocese of Rockhampton: †Peter Grice; Clergy and People
The Parish of Nundah: Graham Warren, Imelda O'Loughlin, Rod Winterton, Cathy Laufer
SAILS Anglican Sailing Adventures in Life Skills Ministry – Gold Coast, Bayside, Sunshine Coast
St John's College UQ: Warden – Rose Alwyn; Chaplain – Vacant; Chair of Council – John Peden; members of College Council; staff & students
 Sunday 23 July
The Church of the Province of Central Africa
The Diocese of Sydney: †Kanishka Raffel; Assistant Bishops – †Peter Hayward, †Christopher Edwards, †Peter Lin, †Michael Stead, †Malcolm Richards, †Gary Siew Leong Koo; Clergy and People
The Parish of Oakey: David Snape – Missioner Locum
Ministry with Young Adults
St Francis Theological College, Milton: Principal – Ruth Mathieson; Academic Dean – Peter Kline; staff, sessional lecturers & students
 Monday 24 July
The Diocese of Southwestern Virginia – The Episcopal Church
The Diocese of Tasmania: †Richard Condie; Assistant Bishop – †Chris Jones; Clergy and People
The Parish of Palmwoods: Deborah Bird
Symes Grove Residential Aged Care – Taigum
Anglican Schools Australia Management Committee and Member Schools: President – Peter Laurence
 Tuesday 25 July
The Diocese of West Virginia – The Episcopal Church
The Diocese of The Murray: †Keith Dalby; Clergy and People
The Parish of Pittsworth: Tony Swansson – Locum
Symes Thorpe Residential Aged Care – Toowoomba
All Anglican Schools Business Managers/Bursars and Senior Leaders
 Wednesday 26 July
The Diocese of Waiapu – The Anglican Church in Aotearoa, New Zealand and Polynesia
The Diocese of Wangaratta: †Clarence Bester; Clergy and People
The Parish of Quilpie: Geoff Reeder (Missioner)
Anglicare SQ Community Aged & Disability, Brisbane North (Caboolture)
State School Teachers
Thursday 27 July
The Diocese of Waikato and Taranaki – The Anglican Church in Aotearoa, New Zealand and Polynesia
The Diocese of Willochra: †Jeremy James; Clergy and People
The Parish of Redcliffe: Graheme Baldock, Philip Stewart, Chris Whittall
Anglicare SQ Community Aged & Disability, South Coast
 Friday 28 July
The Diocese of Wandi – The Province of the Episcopal Church of South Sudan
The Parish of Robina: Stewart Perry, Mary-Anne Rulfs, Ron Bundy, Elroy Mee, Robert Wisken, Bowen Miller, Jackson King
Anglicare SQ Community Aged & Disability, South Coast (Robina Respite Centre)
Saturday 29 July
The Diocese of Wang Lei – The Province of the Episcopal Church of South Sudan
The Parish of Rochedale: Ian McGrath, Brian Darbyshire, Michael Bennett
Anglicare SQ Community Aged & Disability, South Coast (Southport Respite Centre)
Sunday 30 July
Iglesia Anglicana de la Region Central de America
The Parish of Roma: Heather Dearden
Anglicare SQ Services, Children and Families Leadership
Monday 31 July
The Diocese of Wangaratta – The Anglican Church of Australia
The Parish of Rosewood: Visiting Clergy
Anglicare SQ Services, Residential Aged Care and Retirement Villages
Jump to next article