Inaugural ASC Traditional Games Festival celebrates Indigenous cultures, sport and community relationships
The inaugural Anglican Schools Commission Traditional Games Festival, recently hosted by Hillbrook Anglican School, attracted over 700 students from six schools for a day of sporting fun and learning about Indigenous cultures and histories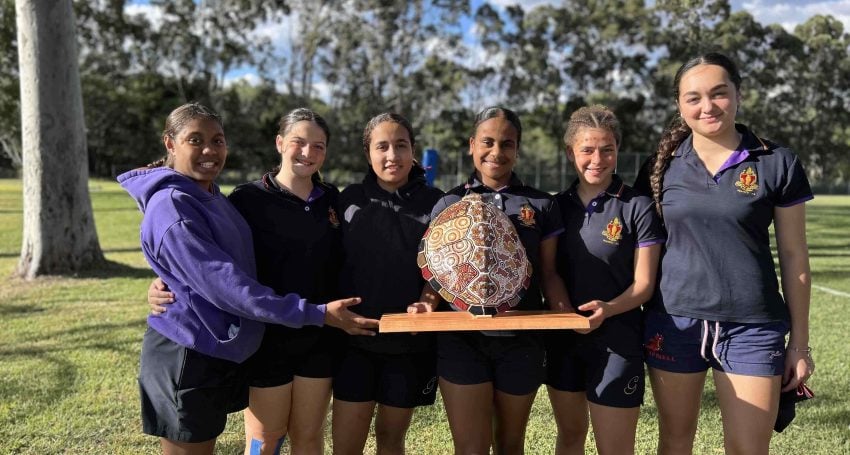 Over 700 students from secondary schools across South East Queensland recently gathered at Hillbrook Anglican School for the inaugural Anglican Schools Commission (ASC) Traditional Games Festival, an all-day sport tournament showcasing Indigenous ball games and cultural heritage, including traditional dancing, singing and arts and crafts.
The festival proved a smash-hit for all attending who were treated to a day of fun, friendly competition and cultural learning, with participating schools — The Glennie School, St Margaret's Anglican Girls School, The Springfield Anglican College (TSAC), Mt Maria College, Ferny Grove State High School and hosts Hillbrook Anglican School —  competing in Buroinjin and Keentan, Indigenous ball games that were traditionally played throughout Queensland.
TSAC Year 8 student Alex Morris said that participating in the games was a valuable blend of learning and fun.
"It was great to learn about fun Aboriginal games; we need to hold these kinds of events because they help us understand Indigenous peoples and cultures, we can see their perspective and enjoy and participate in their games," Alex said.
"The best part of the day was making friendships and showing respect to one another, during and after the games."
The idea for the festival was initiated by Anglican Schools Commission Director of Indigenous Education Paul Paulson, a Mununjali man, as a pilot program while he was teaching at Coomera Anglican College in 1999.
Mr Paulson said that after implementing the games in Anglican schools, the next step in the program's evolution was to have multiple schools participate in this year's inaugural festival on Friday 26 May.
"These games are designed to educate children about an aspect of Indigenous culture, which was important in traditional groups as a means of teaching traditional life," Mr Paulson said.
"My personal highlight of the event was to see the students having fun and learning about Aboriginal cultures at the same time."
Hillbrook Anglican School offered to host and organise this year's games festival, and it was important for organisers Michael Gillard, Head of Community Engagement and Secondary School Teacher, and Rachel Spencer, Community Engagement and Activities Administrator, to ensure the day was an inclusive event with Anglican, Catholic and state schools from the region invited to participate.
"The 2023 Games were established as part of Hillbrook's strategic plan to continue to strengthen relationships, respect, opportunities and learning alongside local First Nations communities," Mr Gillard said.
"We all strive for connection and a sense of belonging, and it was no coincidence the Games were held on Sorry Day.
"It was all about the students and their connection to place — the Games were played on the same fields the Turrbal, Yuggera and Ugarapul peoples played on over 6,000 years ago.
"The students will never forget this day and hopefully will continue to learn and influence others."
Leisure games and sporting activities are deeply embedded within Aboriginal and Torres Strait Islander cultures and histories, and traditional forms of the games were played to enhance children's everyday cultural learning.
There have been hundreds of accounts collected over many years from all parts of Australia, including the mainland and the Torres Strait Islands, about games played, which were used as research to form the modern versions of traditional games like the ones played at Hillbrook Anglican School.
On the day, students played Buroinjin, a running-and-passing ball game similar to touch football that was originally played by the Kabi Kabi people of Southern Queensland, and Keentan, a running, passing and catching keep-away team game similar to netball that was traditionally played in the north west central districts of Queensland.
Years 7 and 8 students from participating schools competed for Keentan and Buroinjin trophies.
"Fair Play" trophies were also awarded based on each team's rating of their opposition's team play, sportspersonship and skills on the field. This year's "Fair Play" winners were The Springfield Anglican College and The Glennie School.
The two "Fair Play" turtle shell trophies were created by Quandamooka artist Nicky Karklis-Jones; the Jones family has a strong connection to Hillbrook Anglican School, with the family hosting cultural tours for the school when visiting Minjerribah.
The Glennie School and Wiradjuri student Téa not only saw her school take home a turtle shell trophy, but also a host of cherished memories.
"We all loved the day and made so many memories that we still laugh about today," Téa said. "We won the very special turtle shell; it has a beautiful story about how we started in tribes in our own land and then travelled and ended up mixing with others.
"The trophy was awarded to a team who had a combination of the highest fair play points, highest number of games won and the spirit of your team. We are very proud of that and of the fact that we were the only team to have all girls in it."
With the successful conclusion of this year's event, the games festival has proven a significant milestone in promoting Indigenous cultures and sports participation to schools, and serves as a catalyst for future festivals.
With discussions already underway about the next games festival, and more schools keen to join in, it is encouraging that future school sports calendars will feature this major addition that celebrates First Nations cultures and Country in a fun and interactive way for students.
Jump to next article