Holy Hermits and Lone Star state forge new Church partnership
A major Australian-US partnership between Holy Hermits Online, St John's Cathedral and the Episcopal Diocese of Texas Mission Amplification Team will see new research, development and resourcing of online ministries in Texas, as well as greater support for Holy Hermits Online's ministry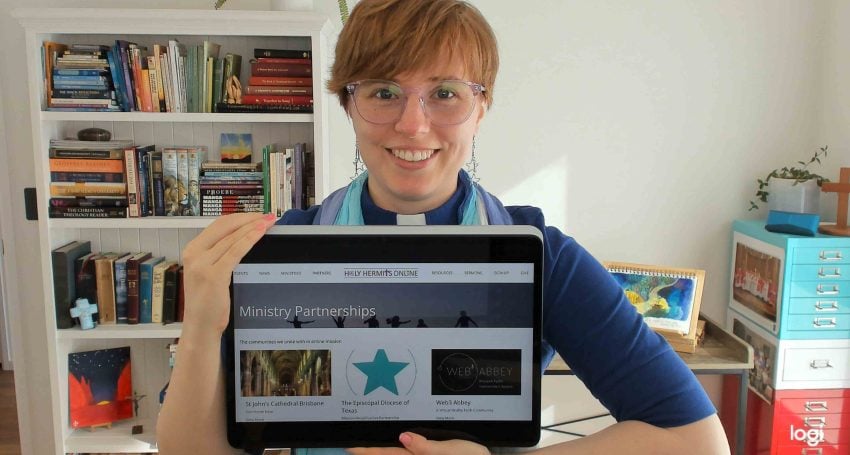 An exciting new partnership between Holy Hermits Online (HHO), St John's Cathedral and the Episcopal Diocese of Texas (EDOT) Mission Amplification Team has been announced to develop new online mission resources and explore strategies for digital ministry growth in both Australia and North America.
The three-year partnership is a major step forward in collaboration for the Dioceses and represents a significant milestone for Holy Hermits Online, which was established by the Anglican Church Southern Queensland in 2020 in response to the pandemic's impact on in-person gathering.
With 20 members regularly serving at Holy Hermits Online weekly worship, and over 140 people signed up to receive resources, the online ministry has attracted people from a wide range of backgrounds across Queensland, as well as a few interstate and international folk.
While HHO is particularly beneficial for those living with chronic illness or disability who find it easier to belong to and serve in an online church setting, it has also drawn interest from those regularly travelling for work who want the convenience of the church experience from their laptop, phone or tablet, as well as seekers trying online church for the first time.
Given the digital nature of both Holy Hermits Online and the partnership's focus areas, it seems only fitting that the partnership's genesis can be traced all the way back to an emailed article sent by Bishop Jeremy Greaves to Holy Hermits Online priest The Rev'd Jamee Callard.
"I was the receiver of one of Bishop Jeremy's e-mailouts that he sometimes shares with his Northern Region clergy," The Rev'd Callard recalled.
"The mailout included an article from TryTank, a collaborative ministry and experimentation lab from the Virginia Theological Seminary and the General Theological Seminary; it's a whole resource base for the Episcopal Church in America to collaboratively experiment with new ministry ideas and new communities.
"I visited the TryTank site and saw that they were starting a new experiment to answer the question: 'What would it look like to bring together a group of trained and experienced Anglicans and create a worship experience inside of the metaverse that was faithful to the gospel and the Anglican tradition?'
"I was really interested in that and wondered how this could help us connect with others who were doing work like ours in Holy Hermits Online, so I was glad to volunteer and become part of the team who formed the Web3 Abbey experiment in 2022."
After the experiment ended, the Web3 Abbey leadership team reported in a summary that, "It is possible to create meaningful connections in a virtual space. It is possible to curate a liturgical space where people connect with the divine and 'feel' like they attend church. This is a great opportunity for collaboration across the Anglican Communion, and to develop spaces and conversations that are truly inter-cultural."
And, one of the participants in the experiment would prove crucial to ensuring that the partnership around online community connections would be borne.
Web3 Abbey was being co-led by St Isidore Episcopal Church (Texas) priest The Rev'd Sean Steele and despite The Rev'd Callard and The Rev'd Steele living on opposite sides of the world in their experiment, the pair soon formed a great rapport, alongside volunteers.
"Sean and I worked really well together in that space and he was very keen on Holy Hermits Online getting a little bit of attention from his Bishop," The Rev'd Callard said.
"He had a conversation with The Right Rev'd C Andrew Doyle, who is the Bishop of the Episcopal Diocese of Texas, and it went from there basically."
After submitting a proposal to the EDOT, a three-year, three-phase partnership was approved.
This included strategic missional grants providing support for a soon-to-be-advertised Holy Hermits Online administration officer position to assist with the community's day-to-day running and to help with the creation of a programme for EDOT clergy and lay people wanting to get involved in online mission.
Now in phase one, which is focused on discernment, recruitment and building, the partnership will later expand over three years to phase two's emphasis on creating resources, such as digital ministry workshops, coaching services and group spaces, and finally phase three's experimentation focus and review of learnings and feedback.
"We're in phase one, which is all about building connections and applying discernment and deep listening; that's about us becoming known to one another," The Rev'd Callard said.
"We're forming relationships and inviting Texan clergy to come and see what HHO is; the same invitation that has also been shared with Anglican Church Southern Queensland clergy and lay people who are always welcome with us online."
Already HHO has welcomed EDOT's Canon for Mission Amplification, The Rev'd Joann Saylors, for a guest preaching visit online when she gave a sermon about taking leaps of faith. A few other Texans have signed up for HHO's regular e-mails, with some even dropping by the online sessions to say hello.
"The relationship building is happening and gradually we're starting to discern what sort of a programme could take shape and how it's going to work," The Rev'd Callard said.
While some may have erroneous stereotyped ideas of Texas as a land of Stetson hats, barbecues and guns, The Rev'd Callard was keen to emphasise that the expression of church in Texas is very similar to her Southern Queensland experience.
"As I'm sharing about the partnership with people in Australia, they're sometimes like, 'Oh, Texas?!' and I say, 'Hold your horses! The Diocese over there is very similar to our own Diocese!'
"In the way they have diversity of expression in church styles and theology, they seem to really value the same things we do, especially a growing move to value lay-led communities that are clergy supported. I have found that we are more similar than we are different.
"I also deeply admire their emphasis on encouraging missional communities to form and the support that they make available for collaboration and emergence: 'Missional communities are spiritual and relational outposts for those that cannot, or will not, participate in a traditional expression of Church.' "
For anglican focus readers keen to support Holy Hermits Online and the new partnership, The Rev'd Callard sees prayer as a major way to help forge new digital ministry territory.
"A call to prayer would be good from readers, particularly because online mission is something that the Church supports with regular prayer and community intercession," she said.
For Holy Hermits Online to only be celebrating its third birthday in September, while simultaneously partnering with a major American Diocese, demonstrates that the future of online mission is full of possibility and global relevance.
"I feel like the partnership has been incredibly affirming of the faithfulness of the HHO community," The Rev'd Callard said.
"We have a group of people who have formed an identity together online, want to stay together online, and also encourage other people to have a go at outreaching online and making that space available for those who need it — who find physically getting to church hard.
"It's very affirming to have been recognised by fellow brothers and sisters in the Episcopal Diocese of Texas who want to work with us to spread online discipleship and outreach in this new age."
Author's note: for more information about Holy Hermits Online, including access to their digital sermons series, visit the Holy Hermits Online website. Information about employment with Holy Hermits Online for their newly created Administration Officer role is also available.
Jump to next article